From the Editor's Desk: Fitness month in full swing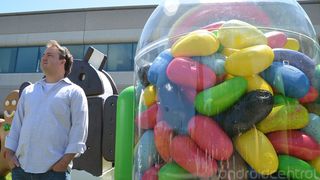 So Mobile Nations Fitness Month is in full swing, for better or worse. Better, because some of us need any help we can get to get off our asses and exercise, even just a little. Worse, because often is a pretty busy month for us, and 2013 has been no exception. I'm trying a Nike Fuel Band this year. The gamification is OK (reaching your Fuel Points goal is fine, I guess), but the bracelet is just plain rigid and uncomfortable. And at $160, it's expensive for what it does. Plus, no Android app, which is lame.
I spent a couple days last week in San Francisco. Travel days are tough for getting any actual exercise. Up too early to catch a transcon flight, and arrive too late get any real walking in. (Of course, that's me making more excuses.) Being on the west coast usually means waking up a couple hours early, and this trip was no exception. So I fired up Ingress and went for a walk at 5:30 a.m. San Francisco is really nice that early in the morning. Plenty of city noise, but not crazy like New York. It also was my first time really playing Ingress in a metro area -- and that makes all the difference in the world. That is, until I discovered there was a Level 8 of the other faction nearby who quickly undid the portals I'd claimed. Such is life for a lowly Level 3.
But it did get me out and walking, and helped me meet my Fuel Band goal for that day. So it's better than nothing. I'll be interesting to see just how much walking I end up doing at Mobile World Congress at the end of the month.
And now, a few more thoughts on the week that was ...
We're two weeks out from Mobile World Congress in Barcelona. We'll have a bigger preview next week, but things are shaping up nicely for LG, Sony, Huawei and ASUS, plus Mozilla and Samsung. It'll be weird not having a big HTC event. And it'll be weird not seeing that awesome Google expo. (In years past it's taken up much of an entire hall.) But I think there's going to be more enough going on at the new Fira to keep us all occupied.
Piracy, it appears, remains alive and well. Don't steal apps.
I'm in the camp of people who believe The Weather Channel shouldn't be naming winter storms. It's great for hashtags and directing coverage back to TWC. But "Nemo" belies the seriousness of weather events. Hope everyone in the Northeast got through it OK.
The Walking Dead is back on tonight. That is all.
Some good responses from Windows Phone's Joe Belfiore about tweeting from a Galaxy S3. I like it when execs have no problem saying they use the competition's products. It cuts through the corporate bullshit and ultimately makes for a better product. Kudos to Joe.
That'll do it for this week. Lots of good stuff ahead, folks.
Sign up for Black Friday email alerts!
Get the hottest deals available in your inbox plus news, reviews, opinion, analysis and more from the Android Central team.