Droid Incredible 2 review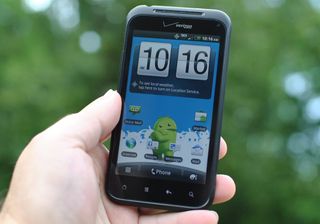 Why mess with a good thing, right? Verizon struck smartphone gold a year ago with the Droid Incredible, a version of the European HTC Desire tweaked for the U.S. market. And so not a whole lot has changed with the follow-up, the Droid Incredible 2.
It actually was an interesting turn of events -- a U.S.-only phone (and one with Verizon's exclusive "Droid" branding at that) -- took its name and design back overseas and was unveiled at Mobile World Congress as the Incredible S. Needless to say, it was a welcome sight for those looking for something a little different from HTC. (Even if it is still a black slab.)
So what's new in the Incredible 2? And is it enough to warrant a purchase? Or does last year's model still have what it takes? Let's find out, after the break.
Droid Incredible 2 Specs | Droid Incredible 2 Forums | Droid Incredible 2 Accessories
Initial hands-on
Youtube link for mobile viewing
The hardware
If you've had, held or just been in the same room as the original Droid Incredible, its new sibling will look and feel very familiar. You've got an HTC black slab with the usual rounded corners, and the rear of the phone has the same plateau design.
It's on front where we find the biggest changes. The DInc 2 now sports a 4-inch display, up from 3.7 inches. It's a SLCD display, which hopefully will help avoid any production shortages like we saw last year when there simply weren't enough AMOLED screens to go around. We're happy with the bump up to 4 inches -- it really is the sweet spot. And as much as we're enjoying some of the newer display types, the LCD screen at 480x800 still gets the job done nicely.
As we noted in our initial review and hands-on, there's a tiny lip between the display and the case that bothered us ever so slightly -- maybe a little more than it should. If you didn't notice it until now, our apologies.
The earpiece houses the notification light, which we're more than happy to see included. Too many phones are doing without notification lights now. But the earpiece has lost its trademark red color, and we're sad to see that go. It's just boring old black now.
Size-wise, the new DInc 2 is 4.75 x 2.52 x .48 inches. That's just a tad bigger in all dimensions than the original Droid Incredible.
A 1.3MP front-facing camera has been added, too, at the top right of the display. If you never need video chat, you'll have little use for the front camera. (It's pretty lousy for self-portraits, even if it is easier to use.)
The Droid Incredible 2 has gotten a pretty big makeover below the screen, too. The optical trackpad and button are both gone. We're a little sorry to see them go, but they've been replaced by a neat little trick. The DInc 2 has lighted capacitive buttons in the home-menu-back-search configuration. And when you rotate the phone to landscape (horizontal) mode, the buttons rotate with you. Sorcery, indeed! But note that they currently only change when you rotate the phone to the left. So if you're one of those people (weirdos!) who rotates the phone to the right, you're out of luck.
And one little niggle we had with our review unit's buttons was apparent inconsistent lighting. It seemed that we had to look straight on the buttons, or they'd go a bit dim -- but only the first three buttons. The search button stayed consistent.
The design on the rest of the phone remains pretty clean. You've got a pinhole mic on the bottom bezel, and another on the top (flanked by the 3.5mm headphone jack and power button for noise-cancellation. The volume rocker and microUSB port are on the left-hand bezel.
Flip the DInc 2 over and ... there's that iconic battery cover! You've got the same plateau effect as on the original Droid Incredible, and we're glad it's stayed. On the rear is where you'll also find the 8MP camera with dual flashes, plus the rear speaker. You'll also find a trio of pinholes -- one next to the camera lens, and two down toward the bottom. They may look like microphones, but open up the battery cover and you'll see they're used for antenna connections.
And speaking of opening up the battery cover, inside you'll find the 1450mAh battery and microSD card (it's spring-loaded and you can remove it without removing the battery). And underneath the battery is a Verizon/Vodafone SIM card. The Droid Incredible 2 is a world phone, meaning you can use it outside the United States on a GSM network.
What's under the hood
The Droid Incredible 2 is powered by a Qualcomm MSM8655 Snapdragon processor running at 1 GHz. It's got 768MB of RAM, and 1GB of program storage for apps and what-not. It's lost the extra 8GB of internal memory that its predecessor had, which is a shame, but it also alleviates some confusion. To make up for that, it'll come with a 16GB microSD card.
That's pretty much par for the course these days. The DInc 2 doesn't have one of the newer dual-core Snapdragon processors that are on the way. But this is your normal, work-a-day phone, and it's plenty fast for anything you're likely to throw at it.
As for battery life, that certainly depends on your usage pattern. But for us -- a whole lot of e-mail, some browsing, search and the occasional phone call -- we were able to eke out nearly a full day's use. You might want to keep a charger handy, or you might make it until you get home.
A quick reminder that this is a 3G phone, and it doesn't work on Verizon's 4G LTE network (despite that it also has a SIM card). And so it doesn't have the same sort of battery drain as you'll see when you're using LTE data.
The software
The Droid Incredible 2 doesn't have the brand-new version of the Sense user interface, and we're not holding our breath for an upgrade. But Sense on the DInc 2 is, well, Sense. If you've used another HTC phone, you'll be right at home. If you're new to Sense, welcome to a wonderful, colorful world of widgets, icons and apps.
You have a series of home screens, grouped into "Scenes." There are seven home screens in each Scene, and the homescreens are preloaded with widgets and icons. The scenes are designed around different uses. The Verizon scene is set by default. There's also an HTC scene, social, work, play and travel.
This version of Sense has most of the settings you'll need to personalize your phone in the aptly named "Personalize" menu. You get to it by tapping the artist easel on the bottom right of the home screen. Another change form other sense phones is that the app drawer doesn't scroll continuously. Rather, it goes page by page.
All of this runs atop Android 2.2.1. No, it's not Gingerbread. It's not even the newest version of Froyo. But for the most part, you'll never notice. Next question, however, is will it be upgraded to Gingerbread in the new future? We certainly hope so, especially because Android 2.3.4, which was only recently released, has support for video chat in Google Talk, and the DInc 2 can take advantage of that with its front-facing camera.
Another train of thought is that carriers and manufacturers will hold off for the "I" version of Android, which will incorporate bits of the Honeycomb version Android. Trust us when we say we'd rather see Gingerbread now then wait on a yet-unannounced version of Android.
Apps, apps and more apps
As always is the case with Verizon phones, the Droid Incredible 2 is laden with pre-loaded applications, and you have full access to the Android Market (and any other Android app markets) to download more. On the phone by default, in addition to the usual Google apps, are:
3G Mobile hotspot (use your phone as a Wifi point for five other devices)
Adobe Reader
Backup Assistant
Blockbuster
City ID
Flashlight
FM Radio
Amazon Kindle
Let's Golf 2
Mobile IM
My Verizon Mobile
NFL Mobile
Need for Speed Shift
Quickoffice
Skype Mobile (which does not yet support video chat)
Slacker Radio
VCAST Apps
VCAST Media
VCAST Music
VCAST Tones
VCAST Videos
VZ Navigator
So some of those you might use, and most of them you probably won't. That's just the trade-off for having a carrier-subsidized phone.
Location services
OMGTHEPHONECANSEEWHEREIAM!
Yes. The Droid Incredible 2 is a smartphone. And one shining feature of smartphones is the ability to know where they are in the world. (Or at least to be told where they are in the world.) But just like every other Android smartphone, you have to give it permission to do so.
The Droid Incredible 2's location services are not turned on by default. You'll have to tell it to use them, either on initial setup, or later in the settings menu. And the DInc 2 goes an extra step, actually explaining which each selection means. That's a nice touch.
The camera(s)
Not a whole lot to say about the Droid Incredible 2's camera. It's an 8MP shooter, and pretty good, at that. HTC's camera software is excellent as well. You have one-touch access to switch between video and still shots, and a host of effects you can apply.
But the proof is in the pudding. The images below open in a new window.
The DInc 2 can shoot video in full 720, though it's set to 480p by default.
720 video test
Front-facing camera (1MP)
Other odds and ends
GPS? Yes, please. It works just fine.
The speakerphone is surprisingly loud. This makes us happy.
Web browsing is done on the standard Webkit-based browser and works just fine.
Hackability? Not so much, yet. But we've got faith.
The wrap up
And that brings us to the following questions: The Droid Incredible 2 is a solid phone, for sure, but it's not a giant leap above its predecessor. That's not to say we're not happy with the larger 4-inch screen and front-facing camera, because we are. But we're left wondering just where the DInc 2 fits into Verizon's lineup.
It doesn't have the largest screen. It doesn't have the fastest processor (Verizon's dual-core Droid Bionic is still coming in one form or another, plus the Droid X 2). It doesn't have 4G LTE data. It is a world phone with GSM capability, but we have to wonder just how large a market that is.
Ask yourself what Verizon's intention was with this phone. As we stated at the outset, Verizon found a winner in the original Droid Incredible, so iteration makes more sense than reinvention. And that's a double-edge sword. If you're content with the original Droid Incredible, there's not much need to go running to the store for this one. But if you're just getting into the Android game you could do a lot worse. Verizon's taken a good thing, tweaked it, and made it that much better.
Get the Android Central Newsletter
Instant access to breaking news, the hottest reviews, great deals and helpful tips.