Dragon's Lore review - a lazy port from Symbian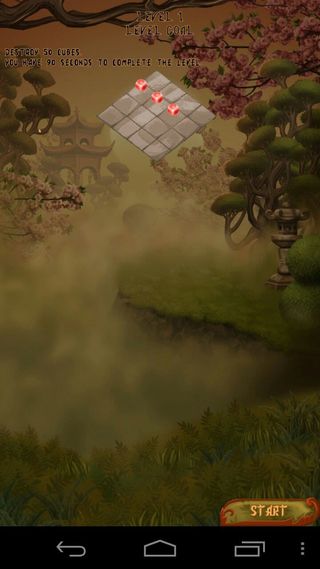 Dragon's Lore (99 cents) is a simple block-matching puzzler that recently launched on Google Play. The game pulls players through a series of islands where they have to overcome a variety of challenges; some of them as simple as wiping out so many blocks, others more specific, such as beating a level within a certain time-frame. A not-so-subtle Chinese theme weaves its way through everything, including the music, block design, and menu styling.
Players slide a random assortment of blocks from one of two axes on a grid in an attempt to have three or more of the same kind matching. There are a bunch of different game modes, including hotseat multiplayer, story, classic, arcade, puzzle and infinity. As you play, you earn coins that can be spent on upgrades that can improve your chances, though if it's taking too long to earn coins, you can always buy more through in-app purchases.
Style
The Chinese look is a good theme to go with, though it's not overdone thanks to a wide variety of high-quality backgrounds. The fonts are really bad in places. It's clear that the developers barely bothered resizing things so they would make any sense on a phone with a reasonably-sized screen. See above.
The animations of sliding blocks are overly simple, and there are few transitions that aren't sharp and jarring; even sliding new blocks into position seems to have a poor framerate and lack any believable sense of momentum. The blocks themselves look pretty enough in a still screenshot, but that's really the best thing going for 'em.
Gameplay and controls
It's painfully obvious that Dragon's Lore was ported from dumbphones, and unfortunately has very few of the required adjustments for an all-touch interface. The fonts are often microscopic, the legacy soft keys at the bottom are dated, and the controls are stiff and obviously built with a physical directional pad in mind.
Besides being hard to read, the few bits of text that do come into gameplay are stiff and hard to understand. For example, there's a toggle in the settings menu for control, that isn't any more descriptive than "Controls 1", "Controls 2" and "Controls 3". Pausing mid-round and selecting "Main Menu" brings up a dialog asking if you'd like to finish the current game, which one would take to mean going back and playing to finish the match if you hit "yes", and not finishing the game and going ahead to the main menu if you hit "no". What it actually means is quit the current game, so the opposite applies. Little things like that can get very frustrating the first go-through.
There are a few good things to be said about the game mechanic itself, though. There's light physics play going on, where blocks without anything behind them are pushed in the direction of an incoming block by one square. Meanwhile, fractured stones provide no resistance whatsoever, and blocks you flick in tear right through them. Wedge-shaped blocks can slip underneath those that are already on the board. Though the untimed matches can be very relaxing, those on a timer are very challenging.
Pros
Challenging, diverse gameplay
Cons
Terrible, dated layout
Stiff control scheme built for feature phones
Conclusion
There are better time-wasters that are available for free. Dragon's Lore is a lazy port of a dated game, and not even worth the time to download if it was free (it costs $0.99 and has IAPs, by the way). Dragon's Lore belongs on BlackBerry, not Android.
Android Central Newsletter
Get instant access to breaking news, the hottest reviews, great deals and helpful tips
Simon has been covering mobile since before the first iPhone came out. After producing news articles, podcasts, review videos, and everything in between, he's now helping industry partners get the word about their latest products. Get in touch with him at simon@futurenet.com.
Reminds me of Cubis from Astraware's heyday. http://www.astraware.com/all/puzzle/cubis?page=description . iOs has Cubis Creatures...been waiting for something like this for Android. I might give it a try.
Android Central Newsletter
Get instant access to breaking news, the hottest reviews, great deals and helpful tips
Thank you for signing up to Android Central. You will receive a verification email shortly.
There was a problem. Please refresh the page and try again.