Do you still root and mod your Android phones?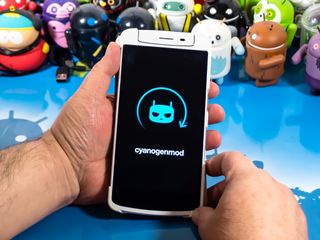 (Image credit: Android Central)
When you think about Android phones, what comes to mind? Maybe it's how customizable the user experience is right out of the box, or perhaps the endless options of devices you have to choose from thanks to the platform's open-source nature.
A few short years ago, one of the big draws to Android was the rooting/modding community. Between custom ROMs and things like the Xposed Framework, there were a lot of things you could do by taking some time to tinker with your phone.
That big appeal to rooting and modding seems to have died down a bit lately, and it's gotten some of our AC forum members talking about it. Here's what they have to say.
What about you? Do you still root and mod your Android phones?
Get the Android Central Newsletter
Instant access to breaking news, the hottest reviews, great deals and helpful tips.
Joe Maring was a Senior Editor for Android Central between 2017 and 2021. You can reach him on Twitter at @JoeMaring1.
I quit rooting my phones a few years ago. I just don't find that there's any need to do that anymore. I also have become more concerned about privacy issues and rooting a phone definitely raises more concerns in that area. I rooted my phones for a number of years back then.

Gave that up when I bought my Moto Nexus 6.

I haven't rooted my last two phones, but i still mod them. My current phone is a Samsung, and while I'm not a fan of them as a company i do love the fact that their software seems to be designed to be modular and moddable. To be honest, rooting got to be more hassle than it's worth. It was fine when you were lucky to get one software update a year, but battling one or two a month is more than i can be bothered with. Add in safety net which killed fingerprint unlock and prevented some apps from even running (Pokémon go was very important at the time) and it makes rooting even more hassle. I miss titanium backup and AdAway though...

you can use bloackada for rootless ad blocking,works like a charm

Roms on my device can pass safetynet with magisk hide

Stopped rooting year's about think when i got my LG G2 had zero need for it and best decision I ever made more hassle than anything and in terms of security it's not the best move if you are looking for security and privacy.

Definitely still root my device. I cannot live without AdAway, titanium backup to freeze unwanted apps as well as V4A (Viper4Android). When the day comes that I can do all of these without root, I'll say goodbye to Magisk. On my work S10, I use PIA's built in MACE to kill ads (it's very clunky and slows down all network data), I use USB Audio Pro to take the place of V4A (but it's interface isn't system wide) and most manufacturers now allow to freeze most unwanted apps (except that damn Bixby!)

You can completely disable Bixby without root. I remapped the Bixby button for other purposes, but you can totally kill the service if you want.

Not since I switched from Note 4 to LG G6 a few years ago. No need since the specs have improved so much.

I did till 5 five months ago on my last moto g5+. Since my new phone is a Samsung, it's hard to find good roms on Samsung mid rangers. Not missing it though, as Samsung's software is great atm.

I rooted my P2XL not because I really had to, but to play with custom kernels and other tweaks. Unless you are a die-hard fan of TiBU, AdAway, V4A or other root-only apps/mods, rooting isn't as important as it used to be. Since owning my Note 10, I have not missed root at all...which kinda surprises me.

I haven't rooted in a while but I do miss the more exciting days of Android. I stopped rooting when Pokemon GO and Snapchat started blocking access. It was also frustrating that it became harder to get AOSP roms for Samsung devices and the roms that were available had sacrifices made to the Camera app. The use cases I miss the most are being able to view saved WiFi passwords and being able to map gamepads to touch screens (gamepad support on Android games is still depressing).

I stopped rooting my phones when I started using apps like Google Pay, Google Authenticatior, etc.

About 6 months into the warranty, if still running as expected, yes. If magisk keeps passing, and Tasker keeps innovating abilities, I'll root.

I only ever dabbled in custom ROMs to get new Android updates and get rid of the horrendous bloat and lag on the entry level Samsung I used back in the day. From the day I got my Nexus 4, that was the end for custom ROMs and rooting for me.

I used to root out of necessity. Nowadays, it more like for hobbyist. Plus, Adguard solved most of my ad problems.

Since I have oneplus, then no. No need on a Oneplus. Most of everything is dark mode, and animations are 0.5 seconds, for faster and smoother performance.

I haven't rooted since my HTC Evo. It started becoming an addiction I had to break

I'm thinking about rooting my OG Pixel since they'll stop supporting it. It doesn't have a working SIM so it's WiFi only.