Disney Movies Anywhere review: unifying your kids' content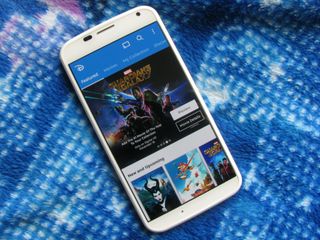 One complaint many a faithful Disney fan (or their DVD-buying parents) have had with buying Disney DVD combo packs is that the digital copies that came with those DVDs for a long, long time were iTunes-only. In February, Disney Movies Anywhere brought those digital copies out of your iTunes library and into their app ... which was an iOS exclusive. So, when you bought Frozen and your kids wanted to watch it in the car on the way to Grandma's, you still had to have an Apple device in order to appease their Elsa cravings.
Well, you can put the iPad down. Disney Movies Anywhere has finally come to Android.
In the interest of full disclosure, I am a lifelong Disney geek and a former employee of the Walt Disney World Resort, where I completed not one but two Disney College Programs. To say that I was happy for this week's announcement is an understatement.
Wishes come true - video content can migrate platforms
I have quite a few Disney digital copies that have been trapped in my iTunes folder for years, and today something I thought would likely never happen did: those films were transferred to my Google Play account. Not only did they show up in my Disney Movies Everywhere collection, they appeared in the Play Movies and TV app, ready to play.
This, right here. This blew my mind.
These act just like any other Google Play purchase, and even if you disconnect your Google Play account immediately afterwards, you will keep those films. However, once you disconnect a Google Play or iTunes account, you can't connect a different account for 180 days, so don't get any ideas about syncing up the whole family's accounts in one fell swoop using this service. It's doable, but it'll certainly be a long con.
The Android app is bright, bold, and very close to the new Material Design guidelines, albeit with iOS-standard icons rather than Android. Once they add in the proper icons and some magical animations, it'll be completely in line with Google's vision, and in the meanwhile, the app is still plenty smooth and soothing to the eyes. Swiping through the sections, the app feels more like a catalog than anything else, with a bevy of new and upcoming films, collections of classics, and advertising Disney Rewards, Disney's points program to earn users exclusive swag and even more films.
In addition, when you purchase Disney movies inside the Disney Movies Anywhere app (which is actually a Google Play Movies purchase), you'll receive Disney Rewards points for them, a varying amount based on if you buy the SD version or spring for HD.
In your collection, you're greeting with a scrolling list of posters for the films you've purchased. There's a simple toggle between browsing your entire library and just downloaded content, or just your favorites, which you can add to by tapping the heart icon in the movie or video's listing. In each movie, we have the film itself, and in most cases we have some bonus features below that we can also watch.
Each poster has a download icon on it, so it's easy to quickly scroll-through your collection or your favorites and queue up a few movies to download while you finish packing the car or waiting for your boarding call in a Wi-Fi-enabled terminal. The actual downloading and storing of your films take place in Play Movies and TV. Hope that airport Wi-Fi is fast, otherwise you're probably going to want to plan ahead or download the SD quality of the film.
Once your film is downloaded, you can watch even while in the deepest darkest cave - or stuck in the tunnel trying to get out of the city for the weekend.
Playback is magic ... as long as you have enough bandwidth
Playback controls in Disney Movies Anywhere differ in a very distinct places from playing back through Play Movies, and that enables us to prioritize which player better suits our viewing desires and habits. In Disney Movies Anywhere, we have regular seeking through the timeline, but we also have the chapter list we can jump around using. In Play Movies, there's no chapter guide, but we have the high-precision scrubbing by moving a finger left or right across the screen. Disney Movies Anywhere offsets this the high speed scrubbing with a quick, 30-second-rewind button.
As an interesting side note, once you download a film, when playing it back on the device, you are limited to the Play Movies interface no matter which app you initiate playback in. No chapter surfing for you. And that's a shame because if you're someone who frequents slow connections, you're going to want to pin a lot of your content. In slow connection environments, if you're lucky the videos play and buffer frequently. If you're not lucky, you just get a DRM error (due to the timeout) and get booted back to the title screen.
Disney Movies Anywhere also came with day one Chromecast support on Android, and it appears Android-exclusive for the moment, but there are still a few bugs with it. Some movies and videos worked, while some simply didn't. It seems Disney Movies Anywhere has a higher required bandwidth than most other services using Chromecast, so be prepared. It's times like these that having the option to also playback or cast through Google Play truly become a godsend if you have a craving for The Little Mermaid you have to satisfy right now.
Family-friendly controls
Device management is something that's a bit odd at first, but it's something that we wouldn't mind seeing come to other services, especially Play Music. You can register up to 16 devices in a single year. Of those 16, only eight can be activated at a time, and once you reach that limit you'll have to deactivate a device before you can activate another. Here's the interesting bit: registering and activating is initiated not when you stream movies via apps or devices, but rather when you download them for offline viewing inside the Disney Movies Anywhere app.
This means that so long as you do not download Disney Movies Anywhere for offline playback inside that app, you can use as many devices as you want. That's the kind of device policy we can get behind, especially for a service that is aimed squarely at families who could easily have a dozen devices and several users.
Speaking of having multiple users and devices, the parental controls that can be put in place give it another small one-up over the Play Movies app. You can limit titles over a certain rating, and you can also disable the sharing button in the app. And most parents will be happy to know that you can disable transactions (read: purchases) within the app using the parental controls, so you don't have to worry about your daughter going crazy and buying every film in the Princess Collection.
You must type in the account password to change these, and once you back out of the parental control page, the controls will lock until you once again put in your password. No time-out periods to wait through before handing over your device to the little tykes.
The biggest complaint I have with Disney Movies Anywhere at the moment, apart from its issues on slower internet connections, is this: I still can't buy most of the movies listed because they're in the Disney Vault. And between you and me, I'm really hoping this one gets out in time for Christmas.
Do you believe in magic?
All in all, though, Disney Movies Anywhere and its integration with Play Movies are a welcome addition to the family tablet, bringing some Disney magic to the young, and the young at heart. So, is this a dream come true for you (and your wallet)? Or do you trust Disney being connected to your Google Play account in this manner? Is it worth it in order to duplicate that digital copy of Captain America from iTunes over to a platform you can play on your phone? Chime in below with the comments.
Sign up for Black Friday email alerts!
Get the hottest deals available in your inbox plus news, reviews, opinion, analysis and more from the Android Central team.
Ara Wagoner was a staff writer at Android Central. She themes phones and pokes YouTube Music with a stick. When she's not writing about cases, Chromebooks, or customization, she's wandering around Walt Disney World. If you see her without headphones, RUN. You can follow her on Twitter at @arawagco.