Disney Movies Anywhere review: unifying your kids' content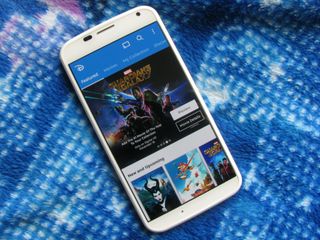 One complaint many a faithful Disney fan (or their DVD-buying parents) have had with buying Disney DVD combo packs is that the digital copies that came with those DVDs for a long, long time were iTunes-only. In February, Disney Movies Anywhere brought those digital copies out of your iTunes library and into their app ... which was an iOS exclusive. So, when you bought Frozen and your kids wanted to watch it in the car on the way to Grandma's, you still had to have an Apple device in order to appease their Elsa cravings.
Well, you can put the iPad down. Disney Movies Anywhere has finally come to Android.
In the interest of full disclosure, I am a lifelong Disney geek and a former employee of the Walt Disney World Resort, where I completed not one but two Disney College Programs. To say that I was happy for this week's announcement is an understatement.
Wishes come true - video content can migrate platforms
I have quite a few Disney digital copies that have been trapped in my iTunes folder for years, and today something I thought would likely never happen did: those films were transferred to my Google Play account. Not only did they show up in my Disney Movies Everywhere collection, they appeared in the Play Movies and TV app, ready to play.
This, right here. This blew my mind.
These act just like any other Google Play purchase, and even if you disconnect your Google Play account immediately afterwards, you will keep those films. However, once you disconnect a Google Play or iTunes account, you can't connect a different account for 180 days, so don't get any ideas about syncing up the whole family's accounts in one fell swoop using this service. It's doable, but it'll certainly be a long con.
The Android app is bright, bold, and very close to the new Material Design guidelines, albeit with iOS-standard icons rather than Android. Once they add in the proper icons and some magical animations, it'll be completely in line with Google's vision, and in the meanwhile, the app is still plenty smooth and soothing to the eyes. Swiping through the sections, the app feels more like a catalog than anything else, with a bevy of new and upcoming films, collections of classics, and advertising Disney Rewards, Disney's points program to earn users exclusive swag and even more films.
In addition, when you purchase Disney movies inside the Disney Movies Anywhere app (which is actually a Google Play Movies purchase), you'll receive Disney Rewards points for them, a varying amount based on if you buy the SD version or spring for HD.
In your collection, you're greeting with a scrolling list of posters for the films you've purchased. There's a simple toggle between browsing your entire library and just downloaded content, or just your favorites, which you can add to by tapping the heart icon in the movie or video's listing. In each movie, we have the film itself, and in most cases we have some bonus features below that we can also watch.
Each poster has a download icon on it, so it's easy to quickly scroll-through your collection or your favorites and queue up a few movies to download while you finish packing the car or waiting for your boarding call in a Wi-Fi-enabled terminal. The actual downloading and storing of your films take place in Play Movies and TV. Hope that airport Wi-Fi is fast, otherwise you're probably going to want to plan ahead or download the SD quality of the film.
Once your film is downloaded, you can watch even while in the deepest darkest cave - or stuck in the tunnel trying to get out of the city for the weekend.
Playback is magic ... as long as you have enough bandwidth
Playback controls in Disney Movies Anywhere differ in a very distinct places from playing back through Play Movies, and that enables us to prioritize which player better suits our viewing desires and habits. In Disney Movies Anywhere, we have regular seeking through the timeline, but we also have the chapter list we can jump around using. In Play Movies, there's no chapter guide, but we have the high-precision scrubbing by moving a finger left or right across the screen. Disney Movies Anywhere offsets this the high speed scrubbing with a quick, 30-second-rewind button.
As an interesting side note, once you download a film, when playing it back on the device, you are limited to the Play Movies interface no matter which app you initiate playback in. No chapter surfing for you. And that's a shame because if you're someone who frequents slow connections, you're going to want to pin a lot of your content. In slow connection environments, if you're lucky the videos play and buffer frequently. If you're not lucky, you just get a DRM error (due to the timeout) and get booted back to the title screen.
Disney Movies Anywhere also came with day one Chromecast support on Android, and it appears Android-exclusive for the moment, but there are still a few bugs with it. Some movies and videos worked, while some simply didn't. It seems Disney Movies Anywhere has a higher required bandwidth than most other services using Chromecast, so be prepared. It's times like these that having the option to also playback or cast through Google Play truly become a godsend if you have a craving for The Little Mermaid you have to satisfy right now.
Family-friendly controls
Device management is something that's a bit odd at first, but it's something that we wouldn't mind seeing come to other services, especially Play Music. You can register up to 16 devices in a single year. Of those 16, only eight can be activated at a time, and once you reach that limit you'll have to deactivate a device before you can activate another. Here's the interesting bit: registering and activating is initiated not when you stream movies via apps or devices, but rather when you download them for offline viewing inside the Disney Movies Anywhere app.
This means that so long as you do not download Disney Movies Anywhere for offline playback inside that app, you can use as many devices as you want. That's the kind of device policy we can get behind, especially for a service that is aimed squarely at families who could easily have a dozen devices and several users.
Speaking of having multiple users and devices, the parental controls that can be put in place give it another small one-up over the Play Movies app. You can limit titles over a certain rating, and you can also disable the sharing button in the app. And most parents will be happy to know that you can disable transactions (read: purchases) within the app using the parental controls, so you don't have to worry about your daughter going crazy and buying every film in the Princess Collection.
You must type in the account password to change these, and once you back out of the parental control page, the controls will lock until you once again put in your password. No time-out periods to wait through before handing over your device to the little tykes.
The biggest complaint I have with Disney Movies Anywhere at the moment, apart from its issues on slower internet connections, is this: I still can't buy most of the movies listed because they're in the Disney Vault. And between you and me, I'm really hoping this one gets out in time for Christmas.
Do you believe in magic?
All in all, though, Disney Movies Anywhere and its integration with Play Movies are a welcome addition to the family tablet, bringing some Disney magic to the young, and the young at heart. So, is this a dream come true for you (and your wallet)? Or do you trust Disney being connected to your Google Play account in this manner? Is it worth it in order to duplicate that digital copy of Captain America from iTunes over to a platform you can play on your phone? Chime in below with the comments.
Android Central Newsletter
Get instant access to breaking news, the hottest reviews, great deals and helpful tips
Ara Wagoner was a staff writer at Android Central. She themes phones and pokes YouTube Music with a stick. When she's not writing about cases, Chromebooks, or customization, she's wandering around Walt Disney World. If you see her without headphones, RUN. You can follow her on Twitter at @arawagco.
Well I'm glad that it's like that. Posted via Nexu...LOOKOUT! ZOMBIE SQUIRRELS!

So you have a favorite Disney movie? I still love the Little Mermaid, though with boys, haven't seen it lately... Posted via the Android Central App

Little Mermaid is my favorite, always and forever, but I'm a fan of most Disney films. Bug's Life was meh, Black Cauldron was a WTF moment when I finally watched it on YouTube, I wish they're put Song of the South in DMA for those of us who actually liked that film, and my least favorite Disney film is Pinocchio even though I love Figaro and Jiminy Cricket.

Before Disney remember when all new Marvel movies released would be fairly priced at just $12.99 for HD? I miss those days. Gone forever is that because Disney is about getting cash. The general rule is the lower the price of a newly released movie the better it did in the theater, it's like that with DVDs & Blu-Ray. So when you see a new movie that's 19.99 for DVD or even more for Blu-Ray at say Walmart, it probably sucked. Anyways side notes. Now the choice will be do I wait for the disc copy that comes with the digital release, or buy the digital release on Google Play that usually releases weeks earlier? Probably going to be the former. Didn't realize how many Disney movies I owned. Although Iron Man 1 & 2, Thor 1, Spiderman 1 - 3 that I got before Disney don't show up in my list. I wish they had Beauty and the Beast and Aladdin... I LOVE those.... I mean my (future) kids LOVE those. The only thing I don't like about digital movies is that the content owner "super" owns the content forever and they can pull it at anytime and you would not get a refund or warning. Disney did this a while back when they pulled Beauty and the Beast and Lion King from iTunes and there wa nothing you could do about it... For a little while at least. A lot of people complained and they did eventually give it back to the people who bought it before they pulled it. I'm sure they did it also because the government probably would step in if movie providers started doing that on the regular. Regardless of the rules of them fully owning them, and the rules you agree to on the digital stores.

The Toby McGuire Spiderman films are not Disney, they're Sony, so they'll never show up in the Disney Movies Anywhere app. And yeah, we're hoping that with people wanting Disney films more than once ever 7 years that they'll finally decommission the Disney Vault system, at least for online purchases.

Ahhh.. That makes sense on the TM Spiderman, XMEN, Blade, HULK, etc. Still not sure why my original Iron Man 1&2 & Thor 1 don't show up though. It shows them as available for purchase, but when I look at my personal movies list in GPlay, I already own them. But I did buy those before Disney was a factor and that was back when those were $12.99 for HD. Now they're all $19.99 HD. Maybe they removed the ones I had for purchase, and then re-released them under Disney with a different item# or something. Not going to hold my breath on Disney's current method of movie releases. They have a certain magic to a few of their films that allows them to be able to do this. They can release the movie pull it off the shelves for years then release it and then we all buy them all over again, all while making the previous ones more valuable to collectors. I know because I have all the original DVDs that they released for the very first time and they sell for quite a bit if I were to sell them. Even though I replaced them all with Blu rays, I'll never sell them. 3D whenever possible on B-Ray.

I might contact the cast members about the purchases not showing up. They might be able to add it manually. Posted via the Android Central App

The question is now will they tie into amazon? Most of my digital purchases are there, sucks that there isn't a better way to do this yet. Though, this sounds surprisingly good for digital

It wouldn't be surprising to see them get Amazon onboard at some point, but the next areas I heard (and this wasn't the most reliable source) were adding Vudu next (Vudu is on almost every Blu-Ray and set-top box in the market) and then getting DMA apps on platforms like Roku and game consoles. If you have a particular direction you want them to head next, give them the feedback, their cast members are very responsive.

You'd think they'd hit amazon since they are on a lot of things as well, including roku and consoles, heh. I haven't really used this feature since I want to move to digital purchases. I've been torn on where I should purchase, this does get a bit fragmented so to speak.

That's a huge part of why people should be paying attention to this. Disney wants you to watch the movies you already own so that you'll buy more but also so you'll buy more merch and take more trips to Disney Parks. I wasn't watching my digital copies because they were stuck in iTunes. Disney Movies Anywhere is in their interest because the more you watch and the more Disney's in your mind, the more likely you are to give them more money. And DMA is in the interest of users because it means that you can access your content in more places and you are not inherently tied into one ecosystem for digital content: Apple. Amazon is available on more TVs and set-top boxes, but Amazon isn't quite as everywhere as you'd think, especially given it's somewhat spotty record with Android up to this point. Besides, I'm not sure how DMA and Amazon Prime would get along and how much Disney content Amazon would want added to the Prime library before they say yes. (Also, Amazon's in bed with Nick for kids content).

I kinda hope Disney's model succeeds. I can buy directly from the production company. It'd be their job to get my content everywhere.

It is on Vudu now, and there is a Vudu app for the Roku.

I suspect Amazon would resist it. They're surprisingly slow to integrate with other platforms.

I added a Disney movie the other day to my VUDU account. When you register the movie online, you get the option to add it to VUDU, amazon and I think some others. The catch is, if you register with one of the other services, the movie is not added to your Disney Movies Anywhere account.

Actually, that's not true. I register my Disney movies with Amazon. When I found out about Disney Everywhere, I figured I wouldn't be able to use the codes that came with my Blu-rays again. I tried my most recent (Maleficent...already redeemed on Amazon), and it worked. It's the same for Frozen. I went back thru my library and added codes for older movies and successfully added them all to my library. The only catch is that not all of them can steam/download to Android. For instance, I can watch Chronicles of Narnia: The Lion...from Disney's site, but not Android. However the 2nd Narnia movie, Prince Caspian, works on both. I was surprised that the code from Bolt, a 2008 release, still worked and streams to Android.

Will this come to the UK? Hope so Posted via Android Central App

I love what Disney has done in working with iTunes and Google Play. Now we just need UltraViolet to do the same thing with both stores; though, I feel that this says more about the influence/power of Disney than anything else.

Well, Disney is the content provider and it's making deals with delivery platforms. Ultraviolet is a delivery platform, and for them to do this they'd have to make deals with content providers (studios/networks) and other delivery platforms (Google/Apple/Amazon).

Yeah, I know. It's really the next step for a lot of us that have significant collections. I'd love to be able to use Google Play Movies rather than Vudu. Posted via Android Central App

Of course now that I can use it, I can't find the insert with the code that came in our copy of Frozen. Posted via a Republic Wireless Moto X using the Android Central App

I know that pain... but that said, if you lost it, you can contact DMA support with other info like your proof of purchase and serial number and they might give you the code again.

Just redeemed 15 DVDs and Blurays. From Frozen to Mickey Mouse Clubhouse. Posted up in da paint!

I normally haven't bought movies but my son is getting ready to turn 3 and I think that's about to change. Anyway, do you think they will ever have an option to rent the movie and then if you like it, apply what you paid for the rental towards your purchase? It would be good because if you kids really don't like the movie, you don't have to buy it, but if they did like it, they can. I see it as a good way to "preview" the movie for their kids.

I don't think that'll ever quite happen, but if it's any consolation, renting through Redbox or the like is still just a buck.

My Google play movies app isn't working right now, so it's annoying that it is the only way to download and play with DMA. Posted via Android Central App

Disney... College programme? Off to Google... Wubba lubba dub dub!

Take a semester off school to go work and play at the parks for minimum wage.

I read the Wikipedia entry... It seems odd, but a pretty cool idea. Anyway, now I've actually finished the article, it seems like Disney have done an incredibly good job on the app. With the exception of the "not available in your country" part. (I probably wouldn't use it anyway though.) Wubba lubba dub dub!

Even if you don't use Disney, the fact that they're willing and able to duplicate our content from one platform to another is still a great accomplishment. We need to push more studios to do this. Posted via the Android Central App

Anyone know how to connect to iTunes? I keep getting an error message. Posted via the Android Central App

Do it from an iOS device or a computer with iTunes. Posted via the Android Central App

Is there a way to add the DVD if it didnt came with a digital code, outside of ripping it? I have so many old disney movies that were bought before online revolution happened? Is there a way to request a code?

Short answer: no. If it's from the pre-code days, you're out of luck. Trust me, I know your pain. I bought the version of Beauty and the Beast without a code a few years ago and I'm still kicking myself for it. Posted via the Android Central App

Who even buys movies anymore lol Posted via the Android Central App

Wait until you have a preschooler.

Disney Movies had finally made the children to realize their dream of having a movie played with their Android App. Such a great news for all parents and kinds!!
http://www.surreelvideo.com/video-services/real-estate-video/

I think it's great that Disney is making their content more accessible, especially for the Android ecosystem. That said, I'm not positive why I would buy from their store rather than buy the disk, rip it, and put it in Plex. Then I can watch it any time on any device I want. I guess that's too much work for some people? I'd be interested to know why some people choose one of those routes over the other.

Storage, convenience, technical savvy, and many still question the legality of ripping even though it is indeed a protected right to make a digital backup. Posted via the Android Central App

I completely agree with the reviewer. This app truly is magical except for bugs. Take the free wreck it Ralph for example. Not only do you get it in play movies but you even get all the bonus features like behind the scenes and making of. Several of the movies in DAM have this. Google lacks this, amazon does, and vudu is very very strict with it for certain movies and only for preorders mostly. There are some movies that don't have bonus features like lilo and stitch the best Disney movie ever. I had an old copy of Alice in wonderland with Jonny depp and got the Disney points and the google play copy. Couldn't believe it. I bought maleficent too and I was able to redeem it with Disney anywhere and vudu. I believe any Disney movie with the digital HD logo on it you can do this with. For all the past digital copies it's only Google play/DAM. Still what Disney is doing is something the others aren't. Giving you multiple digital copies with the bonus features. This is something I wish the other studios were doing. I'm a lifelong Disney fan too so I'll finally buy Disney movies again. And yes for Chromecast Posted via Android Central App

That's pretty sweet. Good to see this kind of progress.

This knee is Satan stop brain washing your offsprings

I'd like to know when it's going to be available for Kindle. It's frustrating to have bought all these movies, thinking they could be watched on our kindle fires, only to find out that I am mistaken.

Hi I am new with the hole digital download thing completely! I have never downloaded a DD before I have thrown away countless DD codes in the past because I didn't have devices that were capable. However we have 4 smart phones (2two active 2 that run off of WiFi) 3 tablets and 2 laptops and 1 hand me down iPod. I have a few questions Disney Anywhere movie questions:
How much data does it use to download a DD ?
Does it use data every time u watch it? If so does it use same amount as the download or less? Vudu questions:
(Some of my movies require a vudu account to download them) all of the same questions above plus .....
Does vudu charge u to have an account?
Is vudu android capable? Please help this digitally challenged mommy out.... Comment here or email me if u know subject line Digital download copies will insure that I read the email
Bnugent96@gmail.com Thanks in advance
Android Central Newsletter
Get instant access to breaking news, the hottest reviews, great deals and helpful tips
Thank you for signing up to Android Central. You will receive a verification email shortly.
There was a problem. Please refresh the page and try again.