DAZN review: A promising preseason in the books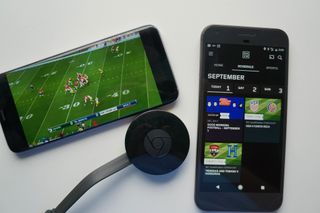 It a special occasion when Canada gets to test drive a new app or service before our neighbors to the South — and it's even rarer for it to be a live and on-demand sports streaming service anchored by the NFL. It's time to enter DAZN (pronounced "Da Zone" 🙄) and get a glimpse at another compelling reason for folks to cut out TV cable and dive into the world of streaming.
DAZN is a premium streaming service for live and on-demand sports that's been operating in European and Japanese markets, and is hoping to find success in North America starting first in Canada. It offers different sports offerings and leagues in different markets, with Canada's service anchored by a five-year deal with the NFL for exclusive broadcast rights to NFL Sunday Ticket and the NFL RedZone channel — the latter being especially important news for fantasy football players. DAZN lets you pay $150 for a full year of service, or has the option to pay $20 a month.
A Hail Mary for cord-cutting football fans
Now I grew up in a household with cable, which really helped me to foster a great love for watching televised sports. Since moving out of my parent's place as a college student I quickly made the decision to ditch cable and rely on the Internet for all my entertainment needs. It was a fairly easy decision to make, financially speaking, but forgoing the ability to just "throw on the game" and chill was easily the toughest loss that came with that decision. Sure, there are always online streams available if you know where to look, but they are of course illegal (and often unreliable).
So DAZN admittedly had me intrigued from the outset as an NFL fan a few years removed from being able to watch NFL games. The NFL Sunday Ticket package was always a premium upgrade through our cable provider and we never had it, so I had to make due with whichever games were broadcast on Sunday. Now I'll be free and clear to watch my Packers play every game this season, whether live or on-demand, along with any other games that catch my attention.
Supported across all your devices
One of the big strengths behind DAZN launching into Canada is the great app support across a wide variety of platforms and consoles. Got a PS4 or XBOX One? Got a Roku TV or Chromecast? Got a Samsung Smart TV? Got an Android phone, tablet, or TV box? There's a DAZN app for nearly any device you own, with support for more devices coming soon.
Not only is it available across all your devices, but you're able to use most of those devices simultaneously to watch multiple games. I was able to stream four NFL games at one time across my NVIDIA Shield, a PC, and two Android smartphones — all using the same DAZN account. This would be great news for anyone planning to share their account amongst family and friends like so many people do with Netflix, though we'll see whether DAZN cracks down on multiple IP addresses connecting to the same account.
It's also worth noting that the stream quality seems to really depend on a number of factors, from the device to your internet connection. I got the best results streaming from the DAZN website on a PC with a hardwired internet connection. Watching games on my NVIDIA Shield connected via Wi-Fi was fairly smooth with no major hiccups, but was pretty far from what I'd call HD quality. Streaming a game to my phone, whether on Wi-Fi or using my data plan, was mostly flawless but also not quite the HD quality advertised.
This could be because it was still preseason, which means the TV broadcasts themselves were second-tier at best. However, DAZN doesn't give you any options for selecting the video quality or any statistics relating to the stream quality so you're left at the whim of whatever you get. It's one of those features that you'd expect to see along with the ability to "follow" a favorite team and get notifications for game start times — not deal breakers, but certainly not what you'd expect from a $20 monthly service
And there are other sports included, too
NFL is obviously the main draw for this Canadian launch, but DAZN has tried to boost the value by including other sports. Along with NFL Game Pass (which includes every NFL game, NFL Network programming, Hard Knocks: 2017 Buccaneers, and NFL Redzone), you also get nine different soccer leagues/competitions, FIBA basketball, a selection of tennis tournaments, KHL hockey, darts, and snooker.
That's probably going to be a bunch noise for many casual sports fans, but the inclusion of KHL games is at least a somewhat intriguing addition for hockey-hungry Canadians. When you subscribe, you also get weekly emails filling you in on some of the more interesting match ups to check out on the app.
But DAZN isn't the first company to offer streaming sports in Canada — Rogers offers NHL Gamecentre Live for Canadian customers on its premium mobile package which gives you access to nearly every game played in a season, including the Stanley Cup Playoffs. Along with on-demand full game replays and highlights, Rogers is leading the way with great features like multiple camera angles and a choice between home, away, and alternate language broadcasts.
Granted we're comparing DAZN to Canada's largest telecommunications company here, but by that comparison, DAZN's offerings so far are pedestrian at best. I love the idea of one subscription service and app that gives me unlimited access to my favorite sports; I hate the idea of five different subscription services for each sport or league I want to follow. Whether DAZN is capable of becoming that all-in-one solution is yet to be seen.
I would love to see DAZN find subscriber success in its first year of its NFL deal and use that success to parlay deals for the streaming broadcast rights to other pro sports leagues in Canada (the CFL and AHL come to mind). NFL viewership in Canada is surprisingly on the rise, so it's a great market to focus on first. It's all a matter of how they plan to expand and improve the service moving forward.
Will DAZN change the way Canada watches sports?
Much like predicting the success of an NFL team during the preseason, it's far too early to know where DAZN is going to be by year's end. They're offering a free 30-day trial for new subscribers, and are pushing that $150 for the year deal pretty hard, but if there are any streaming quality issues or delays, crackdowns on account sharing, and a lack of app support for upgrades or new features, it's easy to imagine people canceling their subscriptions before season's end.
I'm personally loving it so far. Between Spotify Premium, Netflix, and now DAZN, I'm paying roughly $40 a month for near unlimited access to all the music, television shows, and football I can handle. I appreciate the fact that just 5 years ago I was stuck refreshing apps for a scoring update and now I'm able to stream live NFL games wherever I have data service.
So the value is going to remain for as long as the novelty still feels fresh. Instead of having to sneak off to a TV to watch the fourth quarter, I can now just quietly stream it to my phone wherever I am. That's worth the price of admission for me, but once the Super Bowl Champions have been crowned and the offseason sets in, I along with most DAZN subscribers will surely be asking "Okay, so what's on next?".
Have you tried out DAZN?
Calling all Canucks! Have you had a chance to check out DAZN? What have been your experiences? Do you think sports streaming is here to stay?
Be an expert in 5 minutes
Get the latest news from Android Central, your trusted companion in the world of Android
Marc Lagace was an Apps and Games Editor at Android Central between 2016 and 2020. You can reach out to him on Twitter [@spacelagace.