Daydream VR explained: new hardware, new rules, same democratization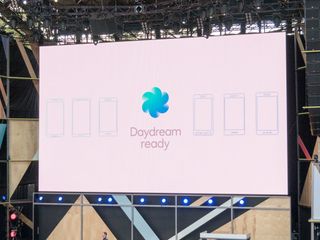 There's been a lot of talk about what Google's next step in VR was going to be. It was suggested "Android VR" was going to be some kind of standalone, Hololens-esque headset, or something you plugged your phone into to power with its own display. It turns out what Google actually had planned is a lot more in line with what the company already stressed was so important about VR — that it be something everyone can enjoy. The announcement of Daydream as the next step for VR at Google surprised a lot of folks, but after a more detailed explanation from the VR session at Google I/O, it's clear Google's plans are much larger than what might seem like a mere upgrade to Cardboard.
Here's what we know so far.
Hardware: VR for many, but not all
Google's announcement for Daydream included the idea that phones would need to meet some sort of minimum system requirements in order to be considered "Daydream Ready" when released. Phones that wanted to include the ability to run Daydream needed to offer a high-end processor, display capable of considerably low persistence, and high-end sensors for accurate head tracking. This means Daydream-compatible phones will be initially only be flagships, and they'll need to be more capable than anything we currently have on the market. Google has positioned the Nexus 6P as the only reference phone for developers to work with until appropriate reference hardware is released, and it is made abundantly clear on the developer site for Daydream that actual Daydream phones will be more powerful and capable.
Here's a rough idea of how Daydream will visually behave at launch: you take your capable phone and put it into a headset that evokes Google Cardboard-esque with a head strap. Unlike Cardboard, which is designed for brief VR experiences while being held up to your eyes, Daydream is meant to be used while connected to your face for extended periods of time. Instead of a Samsung Gear VR-esque control interface on the headset itself, Daydream is going to rely on a separate controller designed by Google for most interactions in the Daydream system. This controller is a requirement for using Daydream at all — you'll need a full Daydream kit in order to play in Google's vision of VR.
Daydream partners will take the reference design offered by Google and build a headset and controller that follows the specification, which means by the time the 2016 holiday season rolls around there are likely to be several options to choose from at a variety of price points. One of those options is going to be made by Google, and likely made available alongside the release of the next Nexus phone (which will be running Android N and be Daydream-ready out of the box). In the meantime, Google has released a test kit for the Nexus 6P and a clever sticker and emulator for using another phone of your choosing as a faux Daydream controller.
Software: A more complete VR experience
As much as Daydream steps up the VR experience with better hardware, the software behind Daydream is more capable as well. Following in the footsteps of Samsung's Gear VR, Daydream will have a full VR menu and store system for interacting with all of your apps and videos. Daydream Home, as it is called, puts you in a VR environment with floating windows for all of your content. Google is pushing the inclusion of the Play Store as a big feature here, and with good reason. Through the Play Store, Daydream can offer developers things like in-app purchases and a more complete way to preview apps and videos before users click the buy button, both of which are things Oculus is not currently offering through their separate store.
Having an app store is great, but you need to have apps in order for that to work out and Google is tackling that problem head-on. HBO, Hulu, Netflix, IMAX, and YouTube are all touted as (/./youtube-offers-sneak-peek-its-immersive-virtual-reality-app) coming to Daydream, with YouTube making a big deal out of how great it will be for developers to build communities out of their 360-video experiences.
Beyond video, Eve: Gunjack Next is prominently featured on every Daydream Home example next to the Daydream Lab. Google already has plenty of great examples of fun games in Cardboard, but Eve: Gunjack Next from CCP Games represents gaming on a level with Samsung's Gear VR. Daydream Lab offers examples of VR experiments not all that different from those seen on the HTC Vive. Google also invited speakers from Unity and Epic Games to share support for Daydream, making it clear all of the tools game developers love to play with will be a part of this experience. When you put all of that together, it's clear the goal is for Daydream to be competitive with Gear VR on day one.
Ambition: The biggest VR push yet
Google's message here couldn't be more clear: Daydream is going to be VR for everyone. You won't have to buy hardware from a single brand, the software will look and feel like the more complex experiences you've probably seen or read about, and it's not going to be very expensive. Even if only half of the high-end phones from every major smartphone manufacturer released next year supported Daydream, that's still at least six phones that are able to offer the exact same VR experience with accessories that are unlikely to cost more than what a Gear VR visor and a Bluetooth controller currently cost. Coupled with apps like YouTube and HBO that no other VR system currently support and the Google Play Store supporting unique ways to immerse users in screenshots before buying, it's not hard to see this platform quickly become popular.
For over a year now there's been a call to see an experience similar to the Gear VR that could work more like Google Cardboard, and Daydream is exactly that — plus a little more. Developers who are able to dive in right now and see what Daydream has in store are going to be in for a real treat, and the rest of us will have to start thinking about whether that "Daydream Ready" branding is a must-have in our next smartphone.
have to upgrade my Nexus 6 if I want to play, hopefully they come out with a worthy successor.

My question is will the Galaxy Note 6 have this or is this tech even beyond that at this point? Should be interesting to say the least moving forward with even more powerful hardware to support Daydream. Can't wait till this happens! On My Note 4

Samsung has likely already finalized the software and hardware for the Note 6. It will probably be physically capable (the Note series generally being the most cutting edge Samsung hardware ). But it won't have it at launch. Weather in lands with the Android N update sometime around December to February, is up to Samsung. Posted via the Android Central App

"Google has positioned the Nexus 6P as the only reference phone for developers to work with until appropriate reference hardware is released, and it is made abundantly clear on the developer site for Daydream that actual Daydream phones will be more powerful and capable." That's the sort of statement that can fuel speculation about a 2016 refresh for the 6P. Not to improve it, but to make it more Daydream capable.

That sort of statement also makes this feel rushed.

My first experience with a VR has been with an GS7, and it was a big disappointment, because even though I was never interested in going the ultra high DPI this made me feel like counting pixels was not just a possibility, it was unavoidable. Other systems seem to have the same problem, the resolution is akin using the first feature phones with colored displays.
Personally I feel that the displays need to go well beyond 4k for the system to feel like little more than a gimmick and I don't see that happening with the next nexus phone.

What? Yes, there be a new Nexus phones in 2016. How is being "more powerful and capable" NOT an improvement?

So does that mean when the Daydream stuff actually comes out that the 6P won't actually be supported?

No. It means that the 6P is the only current Nexus phone to meet the minimum requirements OR that they consider this you be so niche that they aren't going to invest the resources to make it work on the other capable Nexus devices (yet). I personally think it's the first one. Posted via the Android Central App

Does that mean any daydream supported phone will run fast and cool? Because that's a great way to get manufacturers to pull their heads in and get serious about a well performing phone. I dream of a future where you can easily pick a powerful phone from a variety of manufacturers that doesn't over heat if you push it hard. Blackberry Priv
Nvidia Shield "Portable"
Sony Xperia Z3 Tablet Compact

VR uses a lot or processing poser. My GS6 edge struggles with the Samsung VR. Posted via the Android Central App

The specs look almost the same between the s7 and 6p so maybe the s7 will be compatible also.
Android Central Newsletter
Thank you for signing up to Android Central. You will receive a verification email shortly.
There was a problem. Please refresh the page and try again.