Chrome surpasses 1 billion monthly users on Android and iOS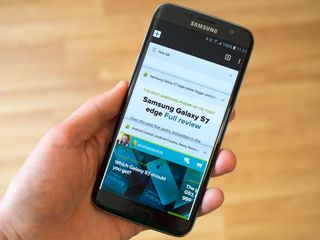 Google has announced that the mobile version of its Chrome browser, running on both Android and iOS, has now passed 1 billion monthly active users. This puts Chrome in the same club as products like YouTube, Maps, and Search, all of which have passed the same milestone.
From TechCrunch:
Google didn't break down of how many people used Chrome on each platform, and while Android no doubt leads those numbers, it's likely that the iOS version has proven popular as well.
This announcement comes just one week after Google released Chrome 50 for desktops.
Get the Android Central Newsletter
Instant access to breaking news, the hottest reviews, great deals and helpful tips.
Great news. I myself however, am using RS browser... Stunning it is! Genuinely faster and also has a dark theme. Check it out. Posted via the Android Central App

I use Dolphin browser as I can side swipe for bookmarks and settings. But I will check out RS!

Brilliant, let us know what you think. Posted via the Android Central App

Yea I like the RS Browser. Sometimes the Adblocking is fussy though but the newest update fixed that for me. Love the dark theme as well on my Nexus 6P #TeamFrosty Nexus 6P

They should also show the iOS separately. Posted via the Android Central App

Who cares about ios. Android is where it's at. Posted via the Android Central App

it's gotten so big and laggy these days though. Samsung Internet browser is so much better Posted via the Android Central App

Lol "big and laggy" Posted from my Nexus 6/Nexus 7 2013/Surface Pro 3

He's right though. The Samsung Browser is much faster on my phone than Chrome, especially with ad block enabled. Posted via the Android Central App

Its horrible on my note 4.

all apps are horrible on note 4 because of lag

It sucked on my note 5 and lgv10 too. I haven't had problems with other apps on my note 4.

Ha, this is funny because I just stopped using chrome yesterday and now I use Samsung's browser. Chrome was draining my battery like crazy and now my phone runs much smoother and battery life is even better. S7 edge/AC app

Sammy browser with adblockfast ftw Posted via the Android Central App

Yes all of this. I also love signing in to websites with my fingerprint. Posted via the Android Central App

You're not the only one, Chrome drains my battery on my Moto X Pure. I ended up disabling the app and poof, better battery life. Posted via the Android Central App

I use Dolphin browser as I can side swipe for bookmarks and settings.

Ever since the updated Samsung browser along w/ad block fast , I switched up from chrome and haven't looked back Posted via the Android Central App

I use Dolphin because it can default to desktop view, use Flash, and has an ad blocker. Chrome is one of the Google apps that I wish I could delete (at least I have it disabled).

Chrome works much faster on Samsung devices is you disable safe browsing under Privacy in settings