Check out Fortnite's full list of 'The Return' limited-time challenges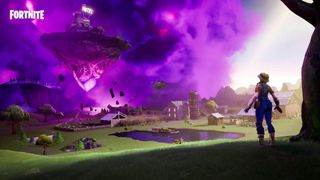 Season X of Fortnite is here, and with it comes significant changes to the way players will be completing challenges. Instead of one week of challenges, players will now be completing missions, which are thematic objectives for those who have the Season X Battle Pass.
However, instead of daily challenges — which have been a mainstay in the game ever since Season 1 — Season X has introduced limited-time, 'Urgent' challenges. These challenges are similar to the daily challenges, except that they pop up once a day throughout the week. Once the week is over, however, the missions disappear and are replaced by new ones. This week's challenges — titled The Return — will go live on Thursday, Sept. 5 at 9:30 a.m. EDT, and one new one will appear each day until Sept. 12.
Twitter user Lucas7yoshi — who is well-known for datamining various Fortnite secrets — uncovered the following list.
Completing the challenges will unlock a variety of rewards, including battle stars, season XP, and a brand new loading screen, which you can see above. Thankfully, none of them are too hard, and you shouldn't be stuck on them for too long. You can check out the full list of challenges below.
The Return Challenges
Sniper rifle eliminations (0/1).
Outlast opponents in solos or duos mode (0/150).
Deal damage with scoped weapons to opponents (0/500).
Search ammo boxes at Fatal Fields or Lonely Lodge (0/7).
Use different throwable items in a single match (0/2).
Land on top of a floating island and a meteor (0/2).
Visit Loot Lake and Sunny Steps in the same match (0/2).
As is the case every season, we'll have challenge guides ready for any challenges that might be extra difficult. In the meantime, head out and start collecting some XP and Battle Stars!
Related: Check out Fortnite's full list of 'Boogie Down' missions
Anthony Nash has been writing about games and the gaming industry for nearly a decade. When he's not writing about games, he's usually playing them. You can find him on Twitter talking about games or sports at @_anthonynash.
Android Central Newsletter
Get the best of Android Central in in your inbox, every day!
Thank you for signing up to Android Central. You will receive a verification email shortly.
There was a problem. Please refresh the page and try again.