Bowling Blocks: physics puzzle fun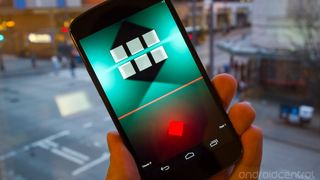 We're always on the lookout for well-made puzzle games and time-wasters, and Bowling Blocks hits that area perfectly. It's a game that's low on frills but has a solid set of fundamentals and an original gameplay idea. The graphics are funky and unique, with a fitting soundtrack that ties it all together as well.
While it's certainly fun, it's also a little physics lesson every level. Hang around after the break to see what Bowling Blocks is all about.
Bowling Blocks takes the idea of bowling and makes a unique puzzle game out of it. The main idea of the game is that you are flinging your red block into a series of other blocks in an attempt to turn any white box in the top half of the screen red. White blocks change color when they come in contact with your original block, or any other block that has been previously touched. A rating of 1 to 3 stars is given based on how many red boxes it took to change every box above the line to red, compared to the "goal" number. Most basic levels require that you complete them with only one box, while the harder ones can afford you half a dozen or more.
The game follows basic physics conventions, where flicking the box harder or softer produces more or less energy and bouncing off of walls creates different angles. There's very little friction on the boxes, which can best be described as something like what you'd see on an air hockey table. As the levels increase in difficulty, Bowling Blocks introduces different obstacle boxes that get in the way. There are blue boxes that are stuck in place, purple that move but very slowly (more friction) and brown that move very quickly (far less friction). Because all of the boxes are... boxes, they spin and move around weirdly as the points catch the obstacles, which makes getting past some of them deceptively hard.
There aren't any settings in Bowling Blocks aside from toggles on the main screen to change whether or not you'd like to hear game sounds and the soundtrack. That's the basic theme of the interface on Bowling Blocks, there aren't any big unnecessary pieces of flair to get in your way. This can hurt usability the first time you play the game because some of the interface elements -- like the throw counter and goal in the bottom corners -- are a bit on the small side. Things like the menu are hidden behind a press of the back button as well, instead of a settings or pause button, which takes a minute to figure out
Bowling Blocks is free to play with no ads, but only has 20 levels available in the free version. Luckily there isn't a very high cost of ownership here -- you can buy a complete unlock of over 200 levels for just $0.99. The in-app purchase to unlock the new levels also makes a "Random Level Generator" available that will take you to levels out of order, which can keep things from getting boring. If you're looking to kill a little time and play a fun casual puzzle game, Bowling Blocks is worth your consideration.
Andrew was an Executive Editor, U.S. at Android Central between 2012 and 2020.
It sort of looks like a rework of Cubes vs. Spheres visually.

Question for AC - Why is the Play Store link for the featured app always at the start of the post instead of at the end?

Tried it. Yawned. Uninstalled.
Android Central Newsletter
Get the best of Android Central in in your inbox, every day!
Thank you for signing up to Android Central. You will receive a verification email shortly.
There was a problem. Please refresh the page and try again.