The best Galaxy S9 features you might've missed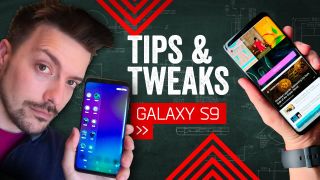 The day has arrived: the Samsung Galaxy S9 is finally, officially on the market. As you already know if you've checked out the full Android Central review, the Galaxy S9 is an excellent smartphone. The thing is, it's also similar enough to its predecessor in appearance that you may be deceived into thinking there's not much new here. But unless you're upgrading from something super-recent like a Galaxy S8, there's actually a ton of updates to uncover, some of which I've been asking Samsung for for years.
So if you're new to the Galaxy S9, new to Samsung, or just hankering for some smartphone nerditude to close out the week, I recommend the following procedure. First, take in the official MrMobile review video. Then, join me for the above walkthrough of my favorite under-represented Galaxy S9 features. And finally, if you've got a favorite Galaxy S9 feature of your own to share, I'd love to hear about them – drop 'em in the comments on YouTube, and be sure to subscribe while you're there.
Stay social, my friends
Android Central Newsletter
Get instant access to breaking news, the hottest reviews, great deals and helpful tips
Here's what I like about Bixby. I couldn't find the transparency setting for the edge panel. So I said to Bixby, "Change edge panel transparency" and it took me to that settings page.

I really like being able to tell big Bixby to search for and install applications with one command.

I find Bixby more useful when it's commands for the phone rather than look something on the web

I don't use Bixby for any web stuff. I use it or system stuff things that Google assistant fails at miserably I think the new options in Google assistant help a little bit but it's still miles away from the universe that bixby can control in your phone on multiple levels.

Exactly. Bixby isn't [yet] a good generic assistant like GA or Alexa. But it's excellent for controlling your phone. I wasn't using it at all until I discovered how well it works for that.

I've tried bixby voice for 3 phone related questions, i.e "adjust this or that"
It's failed 3 times.

Only when you lack the intelligence to use it properly.

Very strange. I've stopped laughing at Bixby and now want Google assistant to include these features.
Knowing Google they will and will probably do it better.
And we will have another duplication in Samsung/Google/Android to discuss the merits off.
Android Central Newsletter
Get instant access to breaking news, the hottest reviews, great deals and helpful tips
Thank you for signing up to Android Central. You will receive a verification email shortly.
There was a problem. Please refresh the page and try again.