Best Drones Under $300 in 2022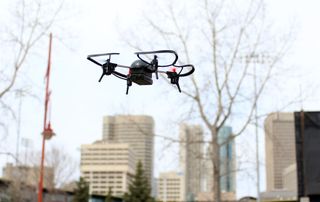 If you're looking to buy your first drone, whether for racing or just for the fun of it, searching for the top-rated drones might result in sticker shock. Sure, the DJI Inspire 1 looks AMAZING, but at nearly $3,000, it's not worth the investment if you're a novice hobbyist.
If you're a beginner, you'll want a drone that's easy enough to fly to get a handle on everything but also tough enough to survive a crash caused by human error or technical malfunction. Fortunately, there are a number of great drone options out there for under $300. They may include cameras (of lesser-quality, of course) and first-person view (FPV) flying options, as well as bumpers to protect the blades and hardware while you're still learning the basics. Then, once you're confident in your skills as a drone pilot, you can decide whether to upgrade to a more expensive, professional drone.
These are all great gift options if you're thinking of buying someone special a drone for Christmas.
DJI Spark Mini Drone
Why you can trust Android Central Our expert reviewers spend hours testing and comparing products and services so you can choose the best for you. Find out more about how we test.
Specs:
Dimensions: 5.6" x 5.6" x 2.2"
Weight: 1 lbs
Camera: Yes, w/ 2-axis gimbal
Average flight time: 20 minutes
Technically, this drone doesn't make the cut of being under $300, but if you can afford to spend the extra $60 you'll get an outstanding drone from the biggest and most trusted drone manufacturer in the world.
The DJI Spark is a capable camera drone that features a 12MP camera mounted on a 2-axis gimbal, allowing for steady footage when recording or snapping photos. This kit does not include a controller so you'll need to connect it to a phone or tablet using the DJI app which includes awesome features like Gesture and TapFly controls and smart object detection functionality. It's available in four funky colors and is a great deal for someone looking for a DJI drone under $500.
Aukey Mohawk
Specs:
Dimensions: 7.7" x 7.7" x 2.6"
Weight: 11.7 ounces
Camera: No
Average flight time: 10 minutes
The Aukey Mohawk offers a great value for anyone looking for a mid-sized, lightweight drone for under $100. Some assembly is required out of the box, as you'll need to install the landing gear and blade guards with the included screwdriver. You'll also need to charge the built-in battery for a few hours before it's ready to fly.
Once it is, you'll get an average of 10 minutes of flight time. The included 2.4 GHz controller all plastic, but capable with switches for calibrating the drone and switching to the headless mode for easier controls. It allows for over 1000 ft of range, and the bright LEDs on the bottom also make night flying an option. You definitely need to take this drone out to a wide-open field and fly it far away from buildings, people, and power lines.
That's sound advice for flying any drone, but especially for the Mohawk — due to its combined power and lightweight, you don't want to lose control of it and cause damage or injury. The onboard 6-axis gyro helps to keep the drone stable in flight — a must-have feature for novice flyers — but can be difficult to control in windy conditions.
Microdrone 3.0
Specs:
Dimensions: 5.7" x 5.7" x 1.9"
Weight: .12 lbs (56 g) without camera, .16 lbs (71 g) with camera
Camera: Yes — removable, shoots 720 x 1080 HD at 30 FPS
Average flight time: 10 minutes (without camera)
The MicroDrone 3.0 raised over $3 million on IndieGoGo and, like the name suggests, is the smallest drone on this list, but don't let its small size fool you. This is a fully-capable drone with a ton of features jam-packed into a small, minimalist package.
Included in the full set combo, now available from Amazon, you get the drone, a 2.4 GHz handset, propeller guards, four replacement blades, four blades for inverted flying, the Wi-Fi Camera module, a smartphone holder that attaches to the handset, as well as a VR headset that holds most smartphones for FPV flying. Basically, it's everything you need to get started.
It's a capable flyer with three control modes (slow, fast, and insane), as well as a toggle switch for stunt mode, which lets you perform impressive flips and rolls. The camera literally snaps on in a second thanks to proprietary magnets that also deliver power to the camera. Connect your phone to the camera's Wi-Fi and control and record video through the Microdrone app.
You can buy your MicroDrone straight from the source or save some money via Amazon.
Syma X8G
Specs:
Dimensions: 19.7" x 19.7" x 7.5"
Weight: 3.4 lbs
Camera: Yes — removable, 8 MP, 120p and 1080p video quality. Also compatible with GoPro cameras
Average flight time: 5-8 minutes
This is another great option for beginners. It flies well right out of the box with a gradual learning curve and a build that's reportedly strong enough to survive multiple crashes into trees. It's also the biggest drone on the list and comes with the best camera with the ability to swap in a GoPro.
You'll get up to eight minutes of flight time on a full battery charge, but you'll want to invest in multiple batteries because it takes up to 3 hours to charge the 2000mAh battery, which is by far the biggest drawback for this drone. Otherwise, given the build, size, and price ($130), this is a fantastic option for a novice drone pilot or someone looking to get sweet aerial shots on the cheap.
Walkera Runner 250
Specs:
Dimensions: 18.5" x 11.3" x 5.2"
Weight: 1.1 lbs
Camera: Yes (800TVL built-in)
Average flight time: 12-15 minutes
If you're interested in the emerging world of drone racing, this would be the drone to start with — but it's not recommended for beginners. Made from lightweight carbon fiber, it's built to take a licking and keep on ticking. It doesn't look as pretty as the other drones on this list, but again, this one is built for speed over style and sure delivers on that front.
The Runner 250 is capable of going extremely fast — up to 24 miles per hour — while still offering good control with up to 1000 meters of range. Flying at those speeds, you'll want to make sure the battery is well secured, as it's been reported to come loose and cut power to the camera after major crashes. Everything comes assembled in the box, along with a toolset for making repairs as needed. Happy racing!
Parrot Bebop 2
Specs:
Dimensions: 20" x 14" x 12"
Weight: 7 lbs
Camera: Yes — 720p HD video
Average flight time: 25 minutes
Parrot is a legacy name in drones, and the Bebop 2 is a pretty good entry point for someone interested in the hobby, and especially interested in first-person drone racing.
This drone is available for just over $250, but you can buy a kit that comes with a physical controller and FPV headset for $425
A great feature with this drone is the ability to prepare autonomous flight plans using the FreeFlight Pro app. It's an in-app purchase to unlock the feature, but its a really cool option so you can enjoy the views without worrying about controlling your drone.
The built-in sensors and navigation system allow the Bebop 2 to maintain stability, even in winds gusting up to 15 miles per hour, so you shouldn't lose control of your drone on a windy day. with a 14MP camera built in and all the cool features included with this drone, it's a really fun
LaTrax Alias Quadcopter
Specs:
Dimensions: 12" x 12" x 1.6"
Weight: .22 lbs (100g)
Camera: No
Average flight time: 10 minutes
This one is a fine option for beginners and experts alike. Built with a solid, molded composite frame, this thing is both rugged and extremely lightweight.
Including a 2.4 GHz handset for controls, this thing is built for speed and stunting. There's no camera or options, so if that's an important feature for you, you'll have to look elsewhere. It does come with multiple flying modes, from an easy mode that keeps the speed in check to a full manual mode that puts you in full control of stabilization and everything.
While the LaTrax Alias lacks features found in other options on this list, the build design and price make this a great option for someone looking for something fast, cheap, and fun to fly.
Holy Stone Predator
Specs:
Dimensions: 5.3" x 1.6" x 5.3"
Weight: 1.42 ounces (42g)
Camera: No
Average flight time: 6 minutes
If you're brand-spanking new to drones and need a cheap drone to practice the Holy Stone Predator is a great option.
It comes with its own controller that simple enough for beginners to pick up and fly, and is capable of pulling off stunts and withstanding light winds for outdoor flights. But the real bonus here is the size. It's small enough to allow for practice indoors if you've got the space. A fully-charged battery supplies six minutes of flight time; with replacement batteries really cheap and easy to swap in and out, this is a cheap drone with affordable accessories.
Altair 818 Hornet
Specs:
Dimensions: 15" x 14" x 5.3"
Weight: 2.9 pounds
Camera: Yes — 720p HD.
Average flight time: 15 minutes
The Altair Hornet is a great example of how these lower-end drones are able to pack in some impressive features. For under $200, you get a camera that's capable of recording 720p HD video attached to a rather sleek-looking drone that's capable of 15-minute flights and a flight range of around 150 meters. That's more than enough for any beginner looking to earn their wings.
While it lacks some of the smarts and sensors of more expensive drones, it does its part to try and mimic smart features like altitude hold and one-button take off and landing. Use a VR headset and your phone and you'll be able to test out some FPV flying. Designed to withstand the crashes of a beginner, this drone is a great gift idea for anyone looking to take up drone flying as a new hobby.
What did we miss?
Are you a drone enthusiast? Got any experience with the drones we've listed here? Got a suggestion for one that we missed? Leave a comment below and let us know!
Updated February 2018: Added the DJI Spark, removed options that were no longer available, and updated pricing information.
Be an expert in 5 minutes
Get the latest news from Android Central, your trusted companion in the world of Android
Marc Lagace was an Apps and Games Editor at Android Central between 2016 and 2020. You can reach out to him on Twitter [@spacelagace.