Best Drones Under $300 in 2022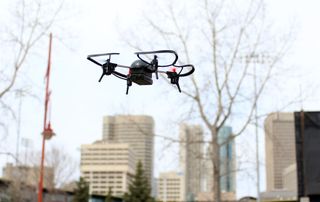 If you're looking to buy your first drone, whether for racing or just for the fun of it, searching for the top-rated drones might result in sticker shock. Sure, the DJI Inspire 1 (opens in new tab) looks AMAZING, but at nearly $3,000, it's not worth the investment if you're a novice hobbyist.
If you're a beginner, you'll want a drone that's easy enough to fly to get a handle on everything but also tough enough to survive a crash caused by human error or technical malfunction. Fortunately, there are a number of great drone options out there for under $300. They may include cameras (of lesser-quality, of course) and first-person view (FPV) flying options, as well as bumpers to protect the blades and hardware while you're still learning the basics. Then, once you're confident in your skills as a drone pilot, you can decide whether to upgrade to a more expensive, professional drone.
These are all great gift options if you're thinking of buying someone special a drone for Christmas.
DJI Spark Mini Drone
Why you can trust Android Central Our expert reviewers spend hours testing and comparing products and services so you can choose the best for you. Find out more about how we test.
Specs:
Dimensions: 5.6" x 5.6" x 2.2"
Weight: 1 lbs
Camera: Yes, w/ 2-axis gimbal
Average flight time: 20 minutes
Technically, this drone doesn't make the cut of being under $300, but if you can afford to spend the extra $60 you'll get an outstanding drone from the biggest and most trusted drone manufacturer in the world.
The DJI Spark is a capable camera drone that features a 12MP camera mounted on a 2-axis gimbal, allowing for steady footage when recording or snapping photos. This kit does not include a controller so you'll need to connect it to a phone or tablet using the DJI app (opens in new tab) which includes awesome features like Gesture and TapFly controls and smart object detection functionality. It's available in four funky colors and is a great deal for someone looking for a DJI drone under $500.
See at Amazon (opens in new tab)
Aukey Mohawk
Specs:
Dimensions: 7.7" x 7.7" x 2.6"
Weight: 11.7 ounces
Camera: No
Average flight time: 10 minutes
The Aukey Mohawk offers a great value for anyone looking for a mid-sized, lightweight drone for under $100. Some assembly is required out of the box, as you'll need to install the landing gear and blade guards with the included screwdriver. You'll also need to charge the built-in battery for a few hours before it's ready to fly.
Once it is, you'll get an average of 10 minutes of flight time. The included 2.4 GHz controller all plastic, but capable with switches for calibrating the drone and switching to the headless mode for easier controls. It allows for over 1000 ft of range, and the bright LEDs on the bottom also make night flying an option. You definitely need to take this drone out to a wide-open field and fly it far away from buildings, people, and power lines.
That's sound advice for flying any drone, but especially for the Mohawk — due to its combined power and lightweight, you don't want to lose control of it and cause damage or injury. The onboard 6-axis gyro helps to keep the drone stable in flight — a must-have feature for novice flyers — but can be difficult to control in windy conditions.
See at Amazon (opens in new tab)
Microdrone 3.0
Specs:
Dimensions: 5.7" x 5.7" x 1.9"
Weight: .12 lbs (56 g) without camera, .16 lbs (71 g) with camera
Camera: Yes — removable, shoots 720 x 1080 HD at 30 FPS
Average flight time: 10 minutes (without camera)
The MicroDrone 3.0 raised over $3 million on IndieGoGo and, like the name suggests, is the smallest drone on this list, but don't let its small size fool you. This is a fully-capable drone with a ton of features jam-packed into a small, minimalist package.
Included in the full set combo, now available from Amazon, you get the drone, a 2.4 GHz handset, propeller guards, four replacement blades, four blades for inverted flying, the Wi-Fi Camera module, a smartphone holder that attaches to the handset, as well as a VR headset that holds most smartphones for FPV flying. Basically, it's everything you need to get started.
It's a capable flyer with three control modes (slow, fast, and insane), as well as a toggle switch for stunt mode, which lets you perform impressive flips and rolls. The camera literally snaps on in a second thanks to proprietary magnets that also deliver power to the camera. Connect your phone to the camera's Wi-Fi and control and record video through the Microdrone app.
You can buy your MicroDrone straight from the source or save some money via Amazon.
See at Amazon (opens in new tab)
Syma X8G
Specs:
Dimensions: 19.7" x 19.7" x 7.5"
Weight: 3.4 lbs
Camera: Yes — removable, 8 MP, 120p and 1080p video quality. Also compatible with GoPro cameras
Average flight time: 5-8 minutes
This is another great option for beginners. It flies well right out of the box with a gradual learning curve and a build that's reportedly strong enough to survive multiple crashes into trees. It's also the biggest drone on the list and comes with the best camera with the ability to swap in a GoPro.
You'll get up to eight minutes of flight time on a full battery charge, but you'll want to invest in multiple batteries because it takes up to 3 hours to charge the 2000mAh battery, which is by far the biggest drawback for this drone. Otherwise, given the build, size, and price ($130), this is a fantastic option for a novice drone pilot or someone looking to get sweet aerial shots on the cheap.
See at Amazon (opens in new tab)
Walkera Runner 250
Specs:
Dimensions: 18.5" x 11.3" x 5.2"
Weight: 1.1 lbs
Camera: Yes (800TVL built-in)
Average flight time: 12-15 minutes
If you're interested in the emerging world of drone racing, this would be the drone to start with — but it's not recommended for beginners. Made from lightweight carbon fiber, it's built to take a licking and keep on ticking. It doesn't look as pretty as the other drones on this list, but again, this one is built for speed over style and sure delivers on that front.
The Runner 250 is capable of going extremely fast — up to 24 miles per hour — while still offering good control with up to 1000 meters of range. Flying at those speeds, you'll want to make sure the battery is well secured, as it's been reported to come loose and cut power to the camera after major crashes. Everything comes assembled in the box, along with a toolset for making repairs as needed. Happy racing!
See at Amazon (opens in new tab)
Parrot Bebop 2
Specs:
Dimensions: 20" x 14" x 12"
Weight: 7 lbs
Camera: Yes — 720p HD video
Average flight time: 25 minutes
Parrot is a legacy name in drones, and the Bebop 2 is a pretty good entry point for someone interested in the hobby, and especially interested in first-person drone racing.
This drone is available for just over $250, but you can buy a kit that comes with a physical controller and FPV headset for $425 (opens in new tab)
A great feature with this drone is the ability to prepare autonomous flight plans using the FreeFlight Pro (opens in new tab) app. It's an in-app purchase to unlock the feature, but its a really cool option so you can enjoy the views without worrying about controlling your drone.
The built-in sensors and navigation system allow the Bebop 2 to maintain stability, even in winds gusting up to 15 miles per hour, so you shouldn't lose control of your drone on a windy day. with a 14MP camera built in and all the cool features included with this drone, it's a really fun
See at Amazon (opens in new tab)
LaTrax Alias Quadcopter
Specs:
Dimensions: 12" x 12" x 1.6"
Weight: .22 lbs (100g)
Camera: No
Average flight time: 10 minutes
This one is a fine option for beginners and experts alike. Built with a solid, molded composite frame, this thing is both rugged and extremely lightweight.
Including a 2.4 GHz handset for controls, this thing is built for speed and stunting. There's no camera or options, so if that's an important feature for you, you'll have to look elsewhere. It does come with multiple flying modes, from an easy mode that keeps the speed in check to a full manual mode that puts you in full control of stabilization and everything.
While the LaTrax Alias lacks features found in other options on this list, the build design and price make this a great option for someone looking for something fast, cheap, and fun to fly.
See at Amazon (opens in new tab)
Holy Stone Predator
Specs:
Dimensions: 5.3" x 1.6" x 5.3"
Weight: 1.42 ounces (42g)
Camera: No
Average flight time: 6 minutes
If you're brand-spanking new to drones and need a cheap drone to practice the Holy Stone Predator is a great option.
It comes with its own controller that simple enough for beginners to pick up and fly, and is capable of pulling off stunts and withstanding light winds for outdoor flights. But the real bonus here is the size. It's small enough to allow for practice indoors if you've got the space. A fully-charged battery supplies six minutes of flight time; with replacement batteries (opens in new tab) really cheap and easy to swap in and out, this is a cheap drone with affordable accessories.
See at Amazon (opens in new tab)
Altair 818 Hornet
Specs:
Dimensions: 15" x 14" x 5.3"
Weight: 2.9 pounds
Camera: Yes — 720p HD.
Average flight time: 15 minutes
The Altair Hornet is a great example of how these lower-end drones are able to pack in some impressive features. For under $200, you get a camera that's capable of recording 720p HD video attached to a rather sleek-looking drone that's capable of 15-minute flights and a flight range of around 150 meters. That's more than enough for any beginner looking to earn their wings.
While it lacks some of the smarts and sensors of more expensive drones, it does its part to try and mimic smart features like altitude hold and one-button take off and landing. Use a VR headset and your phone and you'll be able to test out some FPV flying. Designed to withstand the crashes of a beginner, this drone is a great gift idea for anyone looking to take up drone flying as a new hobby.
See at Amazon (opens in new tab)
What did we miss?
Are you a drone enthusiast? Got any experience with the drones we've listed here? Got a suggestion for one that we missed? Leave a comment below and let us know!
Updated February 2018: Added the DJI Spark, removed options that were no longer available, and updated pricing information.
Android Central Newsletter
Get instant access to breaking news, the hottest reviews, great deals and helpful tips
Marc Lagace was an Apps and Games Editor at Android Central between 2016 and 2020. You can reach out to him on Twitter [@spacelagace.
FAA registration is per pilot, not per aircraft.

I'm from Canada, so I just went off of the FAA website regarding drone registration, which states: "Q5. Do I have to register my sUAS immediately? A. All small unmanned aircraft weighing more than 0.55 pounds must be registered prior to operation outdoors." "Q7. What is the penalty for failing to register? A. Failure to register an aircraft may result in regulatory and criminal sanctions. The FAA may assess civil penalties up to $27,500. Criminal penalties include fines of up to $250,000 and/or imprisonment for up to three years." Everything refers to registering the aircraft, not the pilot. Source: https://www.faa.gov/uas/registration/faqs/

FROM THE SAME WEBSITE: What is the difference between registering a UAS flown for fun vs. UAS flown for work or business?
If you fly your UAS for hobby or recreational purposes and you use the web-based registration process to register your aircraft, you only need to register once and then apply your registration number to as many UAS as you want. Recreational registrants only need to provide their name, address, and email address. The $5 registration fee covers all recreational UAS owned by the registrant.
Unmanned aircraft flown for work or business must be registered individually by the owner, and each registration costs $5. Registrants must supply their name, address, and email address, in addition to the make, model, and serial number (if available) for each UAS they want to fly.

This is just a ploy for the Obama admin. to get more money to pay for the huge deficit they racked up. Besides, now I have to register my drone I just got for Christmas from the wife.....dammit man....

I'd love to get one but 5-10min fly time turns me off Posted via the Android Central App

Don't buy cheap drone that only fly 5-10 mins. Posted via the Android Central App

Which isn't cheap. Usually good things aren't just like our androids though. Maybe I'll bite on a dji or something like it Posted via the Android Central App

On the larger ones you can get a better battery and fly longer. I got the Syma to see what I could do with it. I have replaced the motors and speed control with better 10A 4S capable version. I can get 20 minutes with no camera and 15 with my Hero 3+ The airframe is a total rip off of the original phantom, as a result you can "fit" some things made for it on with little modifications.

Ok good stuff Posted via the Android Central App

Trust me as experienced pilot five to ten minutes is a great flight time any longer than that you are going to want a break Posted via the Android Central App

Ok I can get behind that Posted via the Android Central App

Honestly, when you're first starting out, 5-10 minutes is more than enough time. I've been practising with mine for weeks now, and I've yet to burn through an entire battery charge in one flight without crashing into something. Basically, there's no real reason to get a drone with a battery life longer than that until you're a competent pilot. All these options are great for learning the basics of drone flying, and fun to fly.

Latrax alias
Does in fact support a camera they sell for it. Not too bad either.
I love my latrax alias, it's a lot of fun and there are some great mods and upgrades available. Posted via the Android Central App

I love the title of this post because it implies that everyone is out shopping for a drone (which would be very scary). ....the Drone Wars (I just had to).

Really.. really... why?! Drones are fun, and safe. I would bet that more people get injured by their phones... or even to her people's phones, every year. Drones sound scary, but in the end they are not that bad. At least not at these sizes. My blades won't cut me, and even if it falls from 400 ft up, it wouldn't do anything to anyone other than a bump on the head. Terminal velocity for a object under a pound is very low. By far more random innocent bystanders are injured every year by people on skateboards or roller blades. Don't even get me started on bikers...lol.

Please tell me about bikers?

The Dromida Vista is a great low cost drone to learn how to fly with. You can fly ot indoors and out doors which is great since if its too windy outside, you always have a place to practice. Nearly unbreakable, I crashed mine at various heights, speeds and objects with no damage (aside changing props). $80 without FPV camera and around $120 with, but you can buy and install the cam seperatly if you want. Posted via the Android Central App Battery last 15 min and they are cheap...$10. Charges pretty fast as well.

I'm getting super annoyed with them. First l, I thought it was fun, but It's getting out of control now. Moto XPE/VZW Moto X DE/N7

And if you fly one of these near me, they will be shot down

Haha. You've stated that before right? Posted via the Android Central App

Surely there's easier ways to get yourself arrested. It's best to assume I'm being sarcastic. if I'm ever serious I'll type "/s" to make it clear.

It doesn't require a dangerous weapon to take a drone down. We are all techies, get creative and have some fun with the idea. Water cannon? EMP? Radio Jammer? Throw a net in the air? And I can do it at the expense of others. So drones are going to be fun free entertainment for me, buy'em up! Do I have to post that my property is a no fly zone?

So how did you manage to purchase the airspace above your property? And do your threats apply only to unmanned aircraft, or planes and helicopters as well? Enquiring minds at the FAA want to know.

Watch out, shooting at any aircraft in the United States is a felony.

Drone crashes and fails and a flying dead stuffed cat: https://www.youtube.com/watch?v=zoao_TPtvnA

haha! good stuff, thanks for sharing!

I bought myself the DJI standard and love  :-)

So basically the purpose of a drone is to fly over a neighbour s garden and see her sunbathing topless. Posted via the Android Central App

Yeah, so what? Posted from my Nexus 6/Nexus 7 2013/Surface Pro 3

(sigh) As a drone pilot, no. I use my DJI Phantom 2 Vision to take really nice aerial pictures of scenery, towns, parks, etc. People also like pictures of their houses and property from the air, as well. Please, on behalf of all drone pilots, be responsible, and extremely mindful of peoples' privacy.

Shuuush Johnny! You aren't suppose to say what people are thinking! Whats wrong with society these days, people can't keep their dirty secrets to themselves anymore. Now which direction do I fly for the best video over that fence?

Oh, please. The most you're getting is me planting something in the backyard and then my wife telling me that I did it all wrong. That's then followed by the dogs peeing on it. Wash, Rinse, Repeat.

Hi Marc,
just wondering, have you tested all these drones or you made this list after in depth research on internet? I'm asking this because 4 of 6 drones on this list are same as on my list : www.dronesglobe(DOT)com/affordable-list/under300/ (Syma X8G, Walkera Runner 250, Hawkeye iii and Parrot AR drone). I would be extremely happy if you used my list as a reference, maybe you could think about adding link to it (Source : link) at the end of article? I've subscribed to follow up replies, waiting for your reply :) Best regards,
Ante.

If that's the case, its very sad. Try getting in touch directly since I doubt you will get an answer from them here.

Lol @ people complaining about 5-10min flight time, but have yet to fly anything. It's like they were expecting "all day battery life".

For a cheap fun firsts try check out the blade inductrix and blade inductrix fpv.. Can safely fly indoors.. I use it as my introduction to flying within big commitment.. Locally groups are doing fpv races with these little quads

95% of the articles on this site are now recycled.
Wtf happened to this site

Updated as opposed to recycled. I hope they continue to do so. And 95%?

Save your money and at least get a Phantom 3

Save your money and get a Phantom 4

None of them seems to have GPS. I have a Hubsan with GPS for very under $300

So there's no possible way, as these are instantly simple to control and they have magical powers, that one of these can hit a tree/building /line and fall from a height on to a child or fast flowing multi lane road. Phew. Thank goodness for that.
For a second there I was worried.

I've seen the Walkera 250 on Monoprice.com for closer to $150 when on sale.

It won't be long before there are so many drones in the air it will be like flies on ****.

What do drones have to do with Android? Very off topic, AC.

Not sure why you'd get that Parrot drone when you can get a Bebop for under $200 now. Even the Bebop 2 can be found for under $300.

If you can get your hands on. A Yuneec Typhoon, it's a great starter drone. I had one for a few months and I loved it. I definitely recommend staying away from cheap drones. You will probably not be satisfied and you'll only want a better drone, and they are much less reliable and the quality isn't there.

I just got I to the whole drone world. Right now I picked up a Hubsan x4, 6 batteries, and propellers for 60 bucks on Amazon. This thing has been crashed and beat on and works like it just came out of the box. I I get about 10-15 minutes out of each battery or so depending on how hard I push it. But for a a starter drone I recommend one of these things. Only thing is it doesn't have a camera. But I didn't want one so it works out for me.

This is hand down better than anything on that list: https://www.amazon.com/BRUSHLESS-Quadcopter-Bugs3-Independent-Transmitte...

Though not officially under 300, the are commonly deals on the phantom 3 that can get you right around that price. I might pick one of them up soon.

Quads, drones, UAS, whatever you wanna call them no longer have to be registered:
https://www.recode.net/2017/5/19/15663436/us-drone-registration-rules-faa Also, I'd like to suggest the Hubsan H501S. Great flier for beginners or experienced pilots.

The Parrot Bebop 2 actually can record 1080p HD video, but it can only stream 720p video.

Spark currently is including the remote control for the purchase price, battery life isn't 20 minutes more like 12

As of December 2017 - drones have to be registered - Congress passed new legislation
Android Central Newsletter
Get instant access to breaking news, the hottest reviews, great deals and helpful tips
Thank you for signing up to Android Central. You will receive a verification email shortly.
There was a problem. Please refresh the page and try again.