AT&T has made its bloatware even worse on the LG G5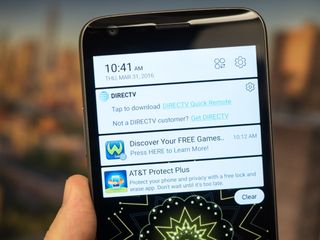 Here we go again. If you caught the saga of AT&T's Galaxy S7, you probably know what's coming. Fire up the operator's version of the LG G5 and marvel in the amount of bloatware packed into a single phone.
Let's take a look at what you'll find, out of the box:
myAT&T: For keeping tabs on your account.
DIRECTV: Can't tell you what it does, because the version of the app that's on the phone is out of date and needs to be updated from the "Android Market." (Which hasn't been called that since 2012.)
Quick Remote: For DIRECTV (seriously, enough with all caps), and is just a stub for the Google Play listing. (By the way, I don't have DIRECTV.)
AT&T Navigator: Because you might not want to use Google Maps, for some reason.
Smart Limits: AT&T's "family smartphone manager" for setting controls on calls, data, texts and more. I'll withhold judgment there, being a parent of two young ones. But still.
AT&T Smart W-Fi: Another stub app for automatically connecting you to approved Wi-Fi hotspots. Or not.
AT&T Protect Plus: For cloud backups, device location and "Pro Tech support." Good if you need it, I guess. But easily replicated by Google and Android itself.
AT&T Family Map: Stub app, again. Let's you know where your family members are for free. For 30 days. After that it's $9.99 a month for two family members. Or up to 5 for $14.99. Ridiculous.
Lookout: The popular virus-scanning app that you don't need, which also includes backup and device location features that0 Google (and AT&T) already do. Oh, and look at that. Another premium plan.
AT&T Locker: More cloud storage in the cloud.
WildTangent Games: Hope you read the full EULA and permissions before following through on this stub app — and I'm not entirely sure from where it downloads its update.
Uber: Whether you want it, or not.
YP: Did you know there used to be things called "telephone books," and that those books contained business listings in yellow pages, which later became Yellow Pages, which is now YP and preloaded on the phone as a stub app?
Plenti: One (more) rewards program to rule them all. And another stub app.
DriveMode: It's bloatware, but smart bloatware, even if most folks won't use it and will probably hate it if they do. It keeps things from working if you're moving more than 15 mph, silences calls and can send auto replies. Or you can just be a responsible adult and not use your freaking phone while you're driving.
That's 15 bullet points — five more than we noted in our AT&T Galaxy S7 bloatware report. And that in and of itself would be impressive if it weren't for the following:
After you do your first boot and go through the setup process and pull down the notification shade for the first time, you're greeted by prompts to download that damned DIRECTV Quick Remote app, Discover your FREE Games and protect your phone and privacy with a free lock and erase app. Don't wait until it's too late.
And that's after you've already been prompted by AT&T to use its restore feature — which followed Google's excellent restore feature.
Derek Kessler summed it up well in his previous piece:
And to reiterate — the main DIRECTV app that's on the phone is already out of date and requires an update on Day 1 of the phone being available.
We're not surprised to see any of this in the GS7, or in the G5, or in whatever phone is next. It's the way things have been for years. And it's the way things will be until someone forces the operators to change their ways.
Our suggestion is and remains to vote with your wallet.
Get the Android Central Newsletter
Instant access to breaking news, the hottest reviews, great deals and helpful tips.