AT&T has made its bloatware even worse on the LG G5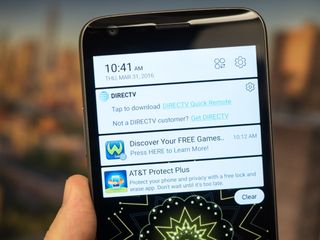 Here we go again. If you caught the saga of AT&T's Galaxy S7, you probably know what's coming. Fire up the operator's version of the LG G5 and marvel in the amount of bloatware packed into a single phone.
Let's take a look at what you'll find, out of the box:
myAT&T: For keeping tabs on your account.
DIRECTV: Can't tell you what it does, because the version of the app that's on the phone is out of date and needs to be updated from the "Android Market." (Which hasn't been called that since 2012.)
Quick Remote: For DIRECTV (seriously, enough with all caps), and is just a stub for the Google Play listing. (By the way, I don't have DIRECTV.)
AT&T Navigator: Because you might not want to use Google Maps, for some reason.
Smart Limits: AT&T's "family smartphone manager" for setting controls on calls, data, texts and more. I'll withhold judgment there, being a parent of two young ones. But still.
AT&T Smart W-Fi: Another stub app for automatically connecting you to approved Wi-Fi hotspots. Or not.
AT&T Protect Plus: For cloud backups, device location and "Pro Tech support." Good if you need it, I guess. But easily replicated by Google and Android itself.
AT&T Family Map: Stub app, again. Let's you know where your family members are for free. For 30 days. After that it's $9.99 a month for two family members. Or up to 5 for $14.99. Ridiculous.
Lookout: The popular virus-scanning app that you don't need, which also includes backup and device location features that0 Google (and AT&T) already do. Oh, and look at that. Another premium plan.
AT&T Locker: More cloud storage in the cloud.
WildTangent Games: Hope you read the full EULA and permissions before following through on this stub app — and I'm not entirely sure from where it downloads its update.
Uber: Whether you want it, or not.
YP: Did you know there used to be things called "telephone books," and that those books contained business listings in yellow pages, which later became Yellow Pages, which is now YP and preloaded on the phone as a stub app?
Plenti: One (more) rewards program to rule them all. And another stub app.
DriveMode: It's bloatware, but smart bloatware, even if most folks won't use it and will probably hate it if they do. It keeps things from working if you're moving more than 15 mph, silences calls and can send auto replies. Or you can just be a responsible adult and not use your freaking phone while you're driving.
That's 15 bullet points — five more than we noted in our AT&T Galaxy S7 bloatware report. And that in and of itself would be impressive if it weren't for the following:
After you do your first boot and go through the setup process and pull down the notification shade for the first time, you're greeted by prompts to download that damned DIRECTV Quick Remote app, Discover your FREE Games and protect your phone and privacy with a free lock and erase app. Don't wait until it's too late.
And that's after you've already been prompted by AT&T to use its restore feature — which followed Google's excellent restore feature.
Derek Kessler summed it up well in his previous piece:
And to reiterate — the main DIRECTV app that's on the phone is already out of date and requires an update on Day 1 of the phone being available.
We're not surprised to see any of this in the GS7, or in the G5, or in whatever phone is next. It's the way things have been for years. And it's the way things will be until someone forces the operators to change their ways.
Our suggestion is and remains to vote with your wallet.
Android Central Newsletter
Get instant access to breaking news, the hottest reviews, great deals and helpful tips
Yikes Posted via the Android Central App

A synopsis still too kind.

Makes me glad I bought unlocked! Posted via the Android Central App

B&H Photo is supposed to start selling them unlocked at midnight tonight.

where did you get it unlocked already I can't find anyone selling it its all just pre order.

So the kings of bloat ware are the LG G5 from AT&T, and the S7 from Verizon lol Posted with ❤love❤

Nah, AT&T is the king of bloat on both. And that makes me disgusted.

Yeah, but its hard to argue with their pricing on GoPhones.

True, and I had to find the de-bloat tool on Xda to make my G4 tolerable.

Verizon STILL has their navigator as bloat today, that's cray cray Posted via the Android Central App

Unlocked or Nexus (or iPhone) is the way to go. I had a cheap Acer tablet that was so riddled with crap-ware the thing actually froze multiple times during setup due to all of the bloat trying to download updates, all while I was trying to desperately disable it.

Hellz Yeah - nexus 5 Posted via Techmology

my phone is locked by Cosmote but the only thing its has its Cosmote custom boot up and shut down animations and of course whatever sony has put in

+1 Posted via the Android Central App

Wow, just wow. Do they even think about the customer service nightmare of fixing phones down the road when the damn things won't run because of all this stuff? Or maybe they are banking on it, then they can push a new device loaded with garbage that will only work for a few months. Posted via the Android Central App

Cause you to buy new one Posted via Techmology

BLOAT-T-&-T Sometimes, you wish a bill was passed in the US that allows bloatware to be freely removed from any phone at will.

BloAT&T would be shorter. Unless you're making it longer to emphasize bloat, then by all means, carry on... lol

If it's shorter, it's not accurate since it doesn't take up much space, unlike AT&T's bloat. :P

Good one. Posted via the Android Central App

Nice Posted via the Android Central App (Motorola Nexus 6 - US Cellular)

Careful there. Things so often go from bad to worse when the government gets involved.

The industry is doing a bang up job regulating itself!

My S6 on VZW did similar things when I purchased it last July. It's one thing to be able to hide apps, but being forced to upgrade (or reminded constantly) an app you don't want or need that has zero to do with normal phone usage, is excessive at best. They are trying to push people to unlocked phones. And when we do that, we miss out on things like Samsung Pay, Android Pay or Wi-fi Calling . If an app is so good, release the apk to Google Play (not Android Market) and let customers decide what they want on their device.

So glad I switched to T-Mobile. For those who like me have been on the fence about that because of their network, they have a new LTE band that is very powerful and supports voice over LTE, that has resolved my call connection and quality issues all together. They have less bloatware, far better pricing on plans, especially if you travel overseas, and so far my switching experience has been excellent 1 month in with a family plan of 4. Posted via the Android Central App

Yeah, that band 12 is amazing. I can use my phone perfectly fine in my basement now. Plus the wifi calling works great if you do lose signal (I work in a hospital basement and no carrier has signal down there).

T-mobile sounds really attractive since my switch of family of 4 to AT&T from Verizon last September has been a customer service atrocity of the highest order. When my port-in credits expire soon, will take a harder look at t-mobile since unlimited plan is $30 cheaper per month for 4 lines.

T-Mobile doesn't get signal in the middle of nowhere, where I do a majority of my work in the summer. That, and the fact that their CEO is a kook, are the two reasons why I wouldn't switch over to T-Mo.

I get the lack of service, but because you have a negative opinion of the CEO wouldn't matter to me. I'm trying to understand how you would not use a service based on that. I wonder if illiterate people get the full effect of alphabet soup

T-Mobile won't sell you a phone or service in my state, for some inexplicable reason. I did, however, order a T-Mobile phone off eBay that I use on AT&T.

No building penetration in Phoenix

It's either a Nexus or iPhone for my next phone. I'm tired of waiting for updates, and dealing with crap like this.

Go Nexus. It's great. Posted via the Android Central App (Motorola Nexus 6 - US Cellular)

There's always that Nexus post in an article that has nothing to do with a Nexus device. We get it. You think your Nexus device is the greatest thing since man discovered fire. But nobody cares that you have one.

You cared enough to reply though.

Correction... You don't care. But you replied so maybe you do. And a lot of us have Nexii and are thinking man. I'm glad I don't have to deal with this bullsh1t. And we voice our opinion. Like you just voiced yours. That's how these things work. Savvy? Posted via the Android Central App

Lol. Go the iPhone route... Soon as the update hits it will be too slow to use and you'll have to upgrade. Happens everytime. Posted via the Android Central App

Lol Posted via the Android Central App

I hate bloat as much as the next android enthusiast, but it always makes me laugh when i see people suggest that it is the reason they avoid these phones. Really? You make a purchasing choice because you don't want to spend 5 minutes disabling apps the day you get your phone? I've used plenty of phones with bloatware, and I forget they ever had bloatware after a couple weeks using them. It's a disgusting short term problem and it is a breath of fresh air when I set up a Nexus/Unlocked/iPhone phone for the first time. However, it just isn't worth the hubbub to me and it certainly isn't going to impact my purchasing decision.

The most bloated phone I have ever used is my mom's Zenfone 2. My god, there's a crapload of crap on that phone. Thankfully, many can be removed, but I had to disable some of them. Took a good 6-8 minutes because there were so many, but once it's done, it feels a lot cleaner.

That phone has horrible bloat. Way worse than anything AT&T put in there. Posted via the Android Central App

The amount of bloat on it is terrible. Clean Master?! ZENCIRCLE?! What kind of crap are these?! Thankfully, many of which can be uninstalled, saving my sanity. Had to disable some of them, but at least my sanity is still here.

I agree. It sucked really bad. Lol Posted via the Android Central App

Probably one of the worst phones when it comes to bloat. Probably THE worst if we count unlocked devices. But, once you get past that, it's actually a pretty solid phone. My mom paid $249 for it and honestly, it's a steal.

Yeah the 64GB makes it not even an issue for me. Still one of the best phones I've owned. Posted via the Android Central App

Yeah, the ZF2 is a great phone, especially for the price.

Asus is pretty notorious for their bloat. Pretty much have a 'Zen' version of every basic smartphone utility. People wonder how a lot of these Chinese companies make money selling dirt cheap hardware Posted from my Droid Turbo

Bloat could maybe be tolerated if you paid $200 for a $700 phone. But when you pay full price for the phone it shouldn't be on there.

Good point. No more subsidized prices, no more bloat! Posted via the Android Central App

I'm sure one of the reasons AT&T delays updates (HTC One M8) is because they want all their crapware to work on the new version. It's not because they think AT&T Navigator is better than Google Maps, they get paid to pre-install those apps on their phones. Please, just offer me the option to pay $25 more for a phone without that chit on it.

Those apps that you "disable" are still taking up precious storage. No thanks! It's the principle of the matter. If they put the bloatware on and you could remove it, that's more acceptable. But in many cases you can't and that just doesn't sit well with a lot of people.

Amen to that. Seriously, with all there is in life, THIS is your hot-button issue? I've had ATT since 2008, and I couldn't agree with you more. It takes me a few minutes at setup to disable or uninstall these things. It's also true for the MANUFACTURER; they put their own bloat on there. Who freaking cares? It takes up very little space, and I don't even remember that it's there.

What happens if you set it up without the AT&T SIM? Posted via the Android Central App

Same bloat will be on it since it's AT&T branded phone.

People really should give T-Mobile a look. The coverage is ro the point where I dont understand why ATT and Verizon customers deal with this stuff. Posted via the Android Central App

Maybe because it's not a big deal to the masses? 5 mins to disable. Done life goes on. Posted via the Android Central App

The difference is disabling it doesnt free up storage. So just because you dont see it doesnt mean its any less inconvenient. Posted via the Android Central App

I'm very well aware the bloat being disabled doesn't free up space. I been with AT&T for almost 15 years so I would know about there bloat. The fact is I don't care. I speak for myself of course. Those apps at most are taking up what 100 maybe 200 MB of space on a 32 GB phone. Big whoop. I'm sorry i don't get bent out of shape about that. I've never had space issue cause I don't walk around with 800 apps, 20K songs and 1 million pics. Again I speak for myself. Am I annoyed, of course, but I don't care. Posted via the Android Central App

Would you care if 7 to 10 of us went to your property where you live and just stood there watching you. After all, you might have 10 acres and each of us is ONLY taking up one square foot. We aren't doing anything, just watching. Every once in a while we yell at your house and ask if you need anything. We keep yelling until you tell us to stop. And if you say yes, we charge you money. You ask us to leave, but we refuse. You call the police and try to have us removed, but they say it is perfectly legal and you will just have to tolerate us. Then your neighbor comes by and you complain to them, but he says he has them too and although annoyed, he doesn't really care. I mean, after all they are only taking up 7sq ft of space on your land, what difference does it make? You paid a lot for all that land and you certainly have the right to expect to not have people camped out on your lawn watching you, yelling at your house. And at least invite only the people you want, when you want. When I pay for something, that is what I expect.

If I could disable all of you like I can the software, I probably wouldn't care all that much Put a plug in your mouth so you can't annoy me, stack you up in a shed out back so I can't see you. Cut off your oxygen (RAM) supply so you can't waste resources. Probably wouldn't bother me all that much.

If you was standing on my land you better hope my aim is off. This is the dumbest analogy.

Can't be that dumb based on your response. So you are saying that you would shoot someone taking up space on land that you bought, even if it was legal for them, but it is perfectly fine if it is a phone you bought. I would say the analogy works fits well. Now lets see if you can follow through on what you have said and make it align with with your earlier comments. Yeah, didn't think so.

First off my land is my property. And to think that you're making up dumb crap about cops talking about its legal is complete asinine. And yes if your on my land Castle Doctrine allows me to shoot you annoying dips. SMH LMAO hipsters. Do you buy smart TVs with services you'll never use? Cable with channels you'll never watch? Cars with satellite radio you'll never use? Yes phones have crap people will never use too. SMH So your analogy is completely stupid. Posted via the Android Central App

Lets put it this way: you have less storage on your S7 than I do despite paying more money for yours. Who voluntarily signs up for that? Posted via the Android Central App

I don't know, maybe a couple of million people who buy these phones? Posted via the Android Central App

Yeah, REAL WORLD PROBLEMS Posted via the Android Central App

That's all well and good, but when the phone has a finite amount of internal storage (even though there is expandable memory), that 32GB with the OS and the bloat is probably more like 20GB. Apps can quickly eat that up. Remove the bloat and you'll get a couple gigs back. Just how I look at it anyways. ~TheRealFixxxer

From what I've heard, the apps are part of the system partition, so uninstalling them wouldn't have an effect on the amount of free space on the "Internal Storage" partition. You're gonna have to reallocate the amount of space the system partition takes up on the phone, and that is actually pretty risky.

Exactly. Those apps aren't taking up GB of space. Lol. Show me those apps that are. ATT protect plus and Lookout take up the biggest space at about 80 MB combines. Most of these other bloat are KB to 2-3 MB at most. I'm using 18GB right now with all my apps on here so no, the bloat is not that extreme. Posted via the Android Central App

Well, there are people who care. Thus, the comments. Posted via the Android Central App

Why would you care about space on your system partition? It's unavailable to you anyways. Posted via the Android Central App

That's the point I was trying to make. Bloat is usually installed as a system app, like the GApps package for those who regularly flash custom firmware/ROMs on their phones. As such, if you root the device and uninstall the bloat, you won't get any of that space back because it's an app installed on the system partition.

OTOH, if it wasn't installed in the first place, the system partition could be smaller. Only a tiny bit smaller, though.

Well of course people are gonna care. They'll complain and still go buy the phone, still love it, glad they bought it, or they'll go buy one unlocked. If you don't deal with carrier bloat, you deal with OEM bloat and you'll complain about that too, while you still have the phone in your hand using it and love it. You get the point? You don't get away from bloat carrier or not. You don't get away from partition unless you root and risk screwing something up. Big deal as far as I'm concerned. Posted via the Android Central App

aitt.... your argument is losing its common sense. You act like it is a given and that people are to stupid to discern the difference. It is not a small thing and it is a perfectly legit to be concerned with and complain about. It is called voicing our wants as a customer. I complain about it, because I am the customer. And my phone has zero bloatware. So you don't have to live with it. And people don't have to line the pockets of any company that abuse it. It is a personal preference as to how much is to much bloatware. There is no single right answer. But your approach and your line of thinking is just pain wrong. People should absolutely voice their opinions.

You can voice all you want. Guess what. I'm still gonna buy that phone. If I want an unlocked. I still gotta deal with that OEM bloat. If I buy a nexus. I STILL gotta deal with a level of bloat. Google just BARELY changed its policy on preloaded app bundles. LOL. Deal with it. Or make your own phone. Case in point. Buy a Zenfone 2 unlocked and see who bloat is worse. Go buy any Oppo phone. Or Huawei and see what bloat is on there. But whatever. Keep believing that unlock phones is gonna save you from bloat. Posted via the Android Central App

All phones have bloat. The iPhone has Apple bloat like the freakin' Tips app. Heck, the Nexus isn't safe from it either. The Google apps that I don't use are classified as bloat to me. (I live by 3 words. fastboot flashing unlock)

Well they're still taking up space, but if it's inaccessible space then there's not much to worry about unless that predefined space is based on the amount of bloat being installed. I don't have enough information to know if the size of the system partition varies from carrier to carrier to unlocked, etc. ~TheRealFixxxer

I'm sure they vary as each carrier and OEM has different amount of bloat to add. Posted via the Android Central App

If that's the case we're back at square one, useless bloat eating up internal storage needlessly. But this (S5) being my first Android phone since the very first Xperia, I've learned some valuable lessons that will certainly help me avoid bloat issues in the future. Here's to hoping the next Nexus phone release is good because that's the direction I'm leaning towards. ~TheRealFixxxer

I'd also pay attention to the cache they build up. Some apps cache a lot over time not even using them Posted via the Android Central App

Would phones that aren't carrier specific have different parameters set for the system partition? If an unlocked phone doesn't have bloat would the system partition still be as large as that of a phone from AT&T or Verizon? Or is the system partition one size fits all? ~TheRealFixxxer

I was just gonna mention the same thing. Delete or disable and they are still on the partition not gaining you gb of memory. Posted via the Android Central App

Nope. Still varies a lot by region. In Arizona, both Verizon and AT&T offer much better coverage. Posted via the Android Central App

Please, their coverage is still a joke compared to ATT and Verizon, it might be sufficient for you but for many people it's not. Posted via the Android Central App

TMo sucks at my job so many people here with no bars. Posted via the Android Central App

I would, but T-Mobile coverage where I live is nonexistent. And that's 20 minutes outside the 2nd largest city in my state. Verizon and ATT are my only major carrier options. Verizon is by far the best. I don't like the pricing, but I rely on my cell phone my business and I can't afford to have missed or dropped calls due to poor coverage.

Nah. Same network since '94(even if it changed names) and never had issues. I'll cut my corners elsewhere Posted from my Droid Turbo

Coverage is still an issue in many parts of the country.

This is why I will not buy any carer branded phone every !!
I will continue to buy unlocked phones!

Suckers Posted via Nexus 6 running on any data plan I want

I see you changed your pic. Royals are still team to beat. Tigers if they stay relatively healthy should give you a run for your money. White Sox actually scare me this year, probably best pitching staff in the Central. Few more days the fun begins. Posted via Nexus 6 running on any data plan I want

Agreed.. Going to be a great season. I will be at the Mets vs Royals game. Got 4 tickets for the family. Not the price I really wanted to pay!!! For a home opener though, it's worth it.... Posted via the Android Central App

That is an impressive list of worthless bullshit. Posted via the Android Central App

Does it download all the bloat after you install the sim or is it baked into the rom? I am guessing it is baked in knowing AT&T but I am just curious because I know stuff can be downloaded after the fact based on sim and that could be deleted. Even unlocked phones will have a lot of what people call bloat (there are like 10+ galaxy apps on Samsung phone for instance that you may not want) but the carrier bloat is the worst.

Yeah, the unlocked Z3C I used to use was absolutely riddled with Sony apps, only one of which I ever used. I don't even want to think about the amount of crap that must've been on the carrier-branded Z3.

It's baked in. As long as you disable them them and never open the apps, it won't download additional data for the apps that use them. That's always the first thing I do is disable them. So there's no to get rid of them. Which sucks. Posted via the Android Central App

You are right, they are baked into the rom and there is no way to get rid of them. Been a AT&T customer for 18 years and dozens of phones. Some of these have been around since Microsoft's windows 6 back in the mid 2005 range before touch smart phones. They don't interfere much, but god help you if you launch one by mistake. It starts a chain reaction and enables different things on the phone. They will even start emailing you, thinking your interested in the feature. It is crazy. AT&T has just increasingly become a unrelenting marketer that has tossed privacy out the window. They add things to your account, take your money at every opportunity and fee you to death. They monitor usage and content, slow down and even block Android upgrades. Their prices are high. Needless to say, the bloatware is only a symptom of a much larger disease. It all came to a head when I paid them $38 to change my number and they give me one that is riddled with telemarketing calls and they want me to pay another fee to change it again. After all these years of over paying, I switched to Cricket a few weeks ago and it works identical and saves me $95 a month. Add that up over 18 years! I paid them over $68,000 for AT&T services. Yes, I know Cricket uses AT&T and is owned by them, but then I never had a problem with my service.. Buy unlocked and don't be fooled into thinking you get what you pay for. Not always true.

Exactly!! just buy your phone cash.

That's why you root it if possible

i know this will sound trivial, but this is one of the reasons I jumped to tmobile fr att after 10+ years (mainly for no overage fees w having kids n 5 lines..freedom). The arrogance and attitude att has toward customers is pretty much embarrassing. i know tmo also installs bloat but not even close to what att and ver do. I maybe have 4-5 pre-installed apps which a couple I would have installed anyway like the "account" app. no carrier branding on the device back for a clean look and tmo does not alter the setting menu...idk...the answer, buy nexus or unlocked devices and throw the sim card in.

I kicked buying carrier phones to the curb over 3 years ago. And I definitely don't miss it!

They can't do this on iOS or Windows Phone so they loooad up Android. It's sad. The only way to stop this is for everyone to stop buying carrier branded phones. This will obviously never happen, so here we are. Posted via the Android Central App

Very true. They put them on Windows but they were able to always uninstall. Posted via the Android Central App

They can't do this on iOS because Apple won't allow them to. The only thing carriers can do with iPhones is sell them. I'm not that experienced on Windows Phones, so I'm not sure how Microsoft regulates bloatware on their platform, but I've heard that you can uninstall them.

There is no bloat. Just installed apps except for MS baked in apps. Anything the OEM or Carrier add can be removed. Posted via the Android Central App

That's pretty nifty, actually. Shame WP still doesn't have the app selection and library to compete. *sigh*

That is partly why Apple phones are more expensive. You are paying up front to not be marketed too. Android is free, so the phones are cheaper up front because the manufacturers and carriers make money marketing to you. At least that is how it was originally, but with Samsung reaching Apple phone prices, they are double dipping. Getting money up front, while the carriers get to install bloatware on their phones and make money on the backside. Yeah, it ain't right and I think it will bite them in the rear, if it hasn't already. People are sheep only to a point.

I disabled the AT&T apps and forgot about them long ago. Once in a while they will take away a good OEM app that competes, like trying to force you to use Drivemode instead of HTC's Car app. Even though AT&T hides the Car app, you can launch it with an NFC tag, lol. Still, I think I'm going to go factory unlocked next time. AT&T Navigator was ok on feature phones, but redundant on smartphones. I don't know why it would be there, except to trap the two people who don't know about Google Maps into paying $9.99. At least it's not Apple Maps. I'll never forget the sinking feeling of Apple Maps guiding me to a vacant road behind a golf course, and telling me I had arrived at my destination which was actually four miles away. Posted via the Android Central App

I just use HERE Maps due to its offline navigation feature. I still prefer the visual style of GMaps, but HERE is pretty darn good too. Helped us out a lot in areas with spotty cellular coverage and especially when travelling to a foreign country.

Hmm, I'll keep that in mind. Posted via the Android Central App

I dare you to click on one. Just pretend it was a mistake. Watch the changes the phone makes automatically. We are more informed then the average user and will notice. Suddenly you will start getting emails from them telling you what a great feature it is. Many times you will start getting odd notifications on the phone. You might think these apps aren't doing anything, but they are baked into the OS and they poke holes in privacy for the sake of marketing. Worse yet, some chinese manufacturers put innocent looking bloat on phones that turn out to be malware. So you are depending on AT&T to know where that very blurry line is. Be assured, even in AT&T's case, they are well thought out and likely not as dormant as you might think.

Excellent post. Posted from my Droid Turbo

Come on y'all...not everyone buys unlocked devices and not everyone will think its bloat if they use the apps included...

I'm actually more concerned about AT&T being dead last with updates. Come on... the other carriers took care of business with Marshmallow and are done with it. Posted via the Android Central App

You're so right...AT&T is the worst with updates.

Still waiting on VZW S6 update here..

wow. Went Blu phone. Doubt I'll ever be going back.

This is one reason I will not get the G5.
I hope LG makes an unlocked US version

B&H photo sells the unbranded North American version with warranty.

YEP, unlocked. Can't wait to see how it performs compared to the carrier versions. Hopefully it will be a trimmed down OS and will be quicker, plus have all the needed bands for service. It will be the only way I will buy a G5. Until I can put a custom rom on it, if and when one is ever done for it. No more bloat for me.

That's why is stick to Nexus devices. Had a N5 now I have an awesome 6P. Screw the carrier's. My employer issued phone was a Verizon Moto droid with 13 bloatware apps including zappos. Ridiculous. Posted via the Android Central App

With the Nexus 6P, if you are ok with that size, is the obvious choice. But if you like a smaller phone, the 5X just isn't an option if you want power and metal finish. The G5 is sold unlocked, so you don't have to buy a AT&T version with the bloat.

And yet clueless buyers still buy carrier branded phones and they don't care how much ever crap these useless carriers put or put ugly logos on phones. God help them !!! Carriers are having a great time and sad part is probably 90% of android central viewers also don't care about these carrier crap.

Of course we don't care. That's why we continue to buy. *shrugs* Posted via the Android Central App

Lol. Yeah, some of us are so clueless. I can't believe I need to spend 2 minutes disabling apps and then go on forums to make a huge deal about it as if it actually hinders my experience at all. And then I complain even more because I can only disable instead of uninstall them because that 100mb of space it takes up is so precious. Then after complaining about storage limitations, I talk about how great the Nexus line is even though they don't put SD card expansion in their phones. I also like to bash non nexus users because they don't get timely updates, but then complain when a new version comes out and apps don't work and there are bugs. Stupid "clueless buyers." Choice as a consumer is an amazing thing.... Edit: I forgot to add how stupid people are that buy carrier branded phones that get a 1 year warranty with them. I mean come on, just go grab the international unlocked version on ebay that you don't get a warranty with. Just get one through square and pay extra money, It's so simple. Edit 2: And then there's that Samsung Pay thing, that I personally think is so stupid. You can't get that on the unlocked version, but I don't care, cause I think it's stupid. Oh and HD Voice? Also stupid. I hate hearing people more clearly. But don't worry, when google implements something on the Nexus line that is similar, I'm going to praise it like there's no tomorrow.

LOL is right, you buy the carrier branded crap because you are uninformed. I think that was his point. If you were informed, you would know you can buy the G5 with a full warranty unlocked without Bloatware. You don't have to buy International versions in many phones to get unlocked. And if you were not so busy ranting about Nexus buyers, you might realize that your carrier phone, riddled with bloatware watching your ever move is also a security risk from lack of updates. Updates manufacturers are releasing on time, but your beloved carriers are delaying or not releasing at all because they don't care. Oh, and that disabled bloat? You mean the same bloat that you think is gone, but gets reactivated with each terribly late update? The same updates that add even more bloat and changes your settings back to what the carrier wants so they can market even more crap to you. Yeah, great move. You have convinced me that I am missing so much by buying unlocked or a Nexus. OK, please step down from the soap box before you hurt yourself. You are getting kind of wobbly up there.

Your favorite quote " realize that your carrier phone, riddled with bloatware watching your ever move is also a security risk from lack of updates." Is this really your only argument? Paranoid much? Notice the ONE thing you did not address in Sher the love post...LACK of expendable storage on the Nexus line. One of my very own reason why I will NOT use the Nexus line. Maybe it is YOUR carrier, but, my AT&T Note 4 has NEVER re-enabled disabled apps after an update! Another frequent lie you keep re-posting. Just because a person chooses a Carrier phone doesn't make them clueless or uninformed. Call people names if you like, vote me down too, I just don't give a rats ass about you. But I do take offence when you have to resort to name calling or belittling a person because you disagree. That's being clueless and uninformed!

Rocketcuse.........Paranoid to you, but informed to those who know. Yep, lack of updates is real. Yep, security risk. You got it right, that is one of my arguments for sure. Among others if you read my comments. All facts. Very real and very substantial. I never said a person who buys a carrier phone is clueless or uninformed. I am just saying that you are uninformed based on your comments. There are plenty of reasons to buy a carrier phone, but few will try to defend it like you have. They understand what they are getting and accept it. You are pretending like those problems don't exist. Just because your phone doesn't get updates. Or updates that reset settings, doesn't mean it is a lie. If you worked in software of any kind, it is a pretty well known fact that this happens. Sometimes by accident and sometime on purpose. As to the name calling, I don't see it in my post. You will have to point that out. Nexus having expandable storage isn't part of this article or the topic. You guys are the ones ranting about Nexus. Everything I have posted is pretty well known, so if you choose to defend Samsung about bloatware or that a carrier version is just as good as unlocked, you are just going to look foolish. If you want to defend it because it is a great phone, you like TW and on that alone, you wouldn't get any argument from me.

My post was directed at bhatech for accusing people of being uninformed and acting like it's the end of the world when people buy carrier phones, so I responded with an over the top and purposelessly irrational response. While there is some truth to what I said in certain aspects, I'm sorry you didn't get the humor. And I'm pretty sure I'm aware of the bloat on my phone, considering I made a post about how easy it is to disable it. I've also never had it come back after an update. Lack of updates being a security risk? Yes, that I agree with. I'm also not trying to convince anyone of buying a carrier phone, as you seem to think. I mentioned as consumers, we have choices. Buy what ever fits your needs. I'm not going to tell you what your needs are. If bloat annoys you, then buy unlocked. If not and you want things like Samsung Pay and HD voice, buy a carrier phone. Again, it's your choice as consumer, but to come on here attacking people of being "uninformed" is ridiculous, so I'll respond just as ridiculous. By the way, parts of your post also sound as ridiculous as mine, but mine wasn't meant to be taken seriously.

Just because you think a decent feature like Samsung Pay is "stupid" doesn't mean others do. It's actually quite useful. Your post loses credibility when you go on like that.

The WildTangent crap reminds of the WildTangent Games HP included on all of their Windows 7 PCs circa 2010. HP and AT$T belong in the same jail cell. What a joke those two companies have become.

I remember fondly spending 9 hours uninstalling every WildTangent game from several HP desktops and laptops. Ahh, the good old days. Posted via the Android Central App

I bet you had a lot of fun those days! Nothing like spending 9 hours uninstalling useless crap.

Well said Phil. Hopefully with your influence you can help us customers get this junk off our phones.

So lets play devil's advocate. If your phone is non-branded and places apps in the partition... And my carrier branded phone puts apps in the storage partition... Then buyers of non-branded phones really have no advantage in these terms. Thus the argument is null. Posted via the Android Central App

The bootloader's unlockable on the tmobile g5, so there's luck that it will get root. At&t , take notice, you'll cannibalize your sales, for this phone.

It's not unlockable. UPDATE: Nevermind, scratch that. I just found out that it IS unlockable after all. Interesting turn of events.

And this is why I don't buy a phone I can't root.

If you're interested, the T-Mobile G5 is confirmed to have an unlockable bootloader.

Thanks, good to know. I also like the removable battery. But the LCD screen is a dealbreaker. After 3 phones in a row now with OLED I could never go back to LCD.

I don't mind either, since I can get used to both. I'm usually an IPS LCD guy, but the latest rounds of OLED panels, especially the ones on Samsung's recent phones are really good, so much so that I may have been converted to an OLED guy. But it's just personal preference at the end of the day to me. I can live with either.

Root may come for this a lot quicker than the s7. Don't give up hope.

Why aren't iphones crammed with this ****? I can't stand iphones, but appreciate they don't have all this ****. Posted via the Android Central App

I have an iPhone and I can't delete, disable, or hide Apple Maps, Reminders, Compass, Apple News, Tips, voice memos, the Apple Watch app, Facetime, iBooks, Apple Wallet, Stocks, Game Center, Find Friends, or Notes. I have used the Compass app to check if a surface was level twice in two years, but the rest of them serve no purpose. I guess I could use Apple Maps as a game: Have it guide you somewhere, then you and your friends have to figure out where you ACTUALLY are ;)

Friends don't let friends use Apple Maps. Posted via the Android Central App

Everyone basically creates a folder to dump all of the useless apple apps in one spot. Posted from my Droid Turbo

I don't understand, you have to pay full price for the phones now anyways... why would anyone with half a brain in their skull buy a carrier branded phone!? ESPECIALLY when you're on AT&T and can easily use unbranded phones!!!

These bloatware apps are more devious than just taking up storage or slowing down the device and its updates. On Verizon we were being charged $5 for the family base app (on just one phone) and $5 per line (4 lines) for Verizon's navigation app, even though we opted out of it, and disabled the app. They stopped charging for the Nav app once I switched to a Nexus 6P. I didn't catch it as I was not the account manager, and couldn't see the bill details. I caught it once I was cancelling to switch to Project Fi. Best. Decision. Ever. tldr; Check your bills for monthly charges for the bloatware! Family base, Navigation, etc

Here in NZ we only have about 2 apps, if not 1, added by the carrier's. That phone software looks horiffic! Nexus is the way to go! Posted via the Android Central App

No matter how horrific, the tmobile version gives you hope that, in time, with the help of xda dev's, that you'll have the opportunity to make it your way.

I have found that Nexus devices are best concerning Android. No bloat, unlocked, no issues Posted via the Android Central App

This is exactly why I have a Nexus 6P and will never by another phone through my carrier again.

I have a 6P, and a T-Mobile S7 Edge. Guess what? I'm not unhappy with either of them. Posted via the Android Central App

I don't care what bloatware is on the phone, what I care about is that I can't uninstall it like any other app, Google needs to do something about this. The disabling idea was too little and stupid.

Be thankful most of those are just stub apps. Think how much space they'd take up if they pre-loaded the whole thing.

Came for the article, staying for the comment, *gets popcorn*

Holy molly Posted via the Android Central App

What's a 'stub' app? Posted from my Droid Turbo

In many countries , governments force them not to preload any carrier app. Sad to see that many here in US Posted via the Android Central App

Well, "Corporations are People, too!" so they can do whatever the *hell* they want.

So are the OEMs getting money for this? I can't imagine they wouldn't want a clean device.

It seems to have less bloat them my V10 Posted via the Android Central App

I have Directtv but no ATT. Now I am inundated with ATT BS in my email and via phone calls. I had an obnoxious call from an Att marketeer that said I could not live with out ATT now that I had DIRECTTV. I politely told him to F*** off. I am attempting to stop all the emails with limited success . I just got a nice SONY Android TV and I love it. I can get most of what I get on ATTTV on the Sony so I may tell Direct to F*** off.

An amazing app called "Package Disabler Pro" can be found in Google Play ... but it ONLY works on Samsung devices, for reasons unbeknownst to me. It does not require root. This tool can stop any app or process from running. So far as I, a non-expert can tell, nothing is immune. Use with caution, or you can break your phone. Pluto is STILL a planet!

So the suggestion is to not buy this phone because of all the bloatware. I can't argue with that, but almost all phones are like this, right? Posted via the Android Central App

My understanding is all phones offered by carriers are like this. If you buy them unlocked they do not contain bloat and your Nexus line of phones also contain no bloat regardless of where you buy it. That's my understanding, anyways. I could be off base. ~TheRealFixxxer

Who'd want to use AT&T? And DON'T use the "They have better coverage, X carrier doesn't serve me" BS.

The LG G5 is the Ford Pinto of the smartphone world - it looked really convincing on paper, but it's bad. Really bad. DISASTROUSLY bad. Like WTF-did-they-do-this-time-and-its-a-mess bad. And THIS proves it.

How long have you had your G5, and what modules did you get with it? Posted via the Android Central App

This is why I will never upgrade with my carrier ever again... Unlocked phones are much better even with having to pay full price for the device right up front Posted via the Android Central App

T-Mobile's installed apps are minimal in comparison, and a few of those are even pretty useful....

At&t the King of bloatware and then you ask why people switch to iOS. Smh this is horrible lol

When will marshmallow be coming to the v10 AT&T? Posted via the Android Central App

Thank God for phones like the Nexus and the Moto x pure. And now with the carriers even charging and upgrade fee to upgrade on their installment plans... This is bs. Buying unlocked is the way to go... Cheaper and better user experience. Posted via the Android Central App

Of those how many can be:
1) Uninstalled
2) Disabled

This is just one of the reasons I went with T-Mobile on my new G5.....

So it's true. This is why AT&T isn't putting up the HTC 10 in their shelves. Because they wanted to fill it up with all this trash and HTC gave them the finger. Good to know.
Android Central Newsletter
Get instant access to breaking news, the hottest reviews, great deals and helpful tips
Thank you for signing up to Android Central. You will receive a verification email shortly.
There was a problem. Please refresh the page and try again.