ASUS MeMo Pad Smart 10 review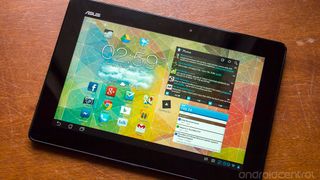 When it comes to 10-inch Android tablets, there's no doubt that ASUS has been leading the pack when it comes to features, build quality and choice of form factors. From the Google-sanctioned Nexus 7 to the highest end Transformer Pad Infinity, the manufacturer surely knows it's stuff. While other manufacturers seem to make Android tablets as an afterthought, ASUS puts a lot of weight behind its entire tablet lineup.
With this, the MeMo Pad Smart 10 (and smaller brother the 7-inch MeMo Pad), ASUS is hoping to offer the same appealing package of quality specs and build of its high-end devices, but cut back in just a few areas to make it more affordable. The MeMo Pad Smart 10 is retailing at just $299, which certainly sounds like a great deal, so stick around after the break and see how it holds up.
Pros
The MeMo Pad Smart 10 has a case and build quality that feels nearly on par with its more expensive counterparts. The combination of a Tegra 3 processor, 1GB of RAM and 16GB of storage is more than you would expect for the price as well. For a 10-inch tablet, it is also quite light and easy to hold. Camera quality is surprisingly good in proper lighting.
Cons
It's clear that the screen, at just 1280x800 resolution, is the big place ASUS chose to save costs. The panel has great viewing angles and brightness, but at this size text and images come out looking grainy. There are at least two better places on the tablet to put the power button when it comes to usability as well.
The Bottom Line
At $299, it's hard not to recommend someone look at the MeMo Pad Smart 10 if they are considering a 10-inch Android tablet. If the lower resolution display doesn't bother, the specs are certainly higher than the price warrants. The one hang-up is whether or not anyone should be considering a 10-inch tablet in the first place. Even with the great tablet improvements in Jelly Bean, Android and its apps just aren't quite up to par on a larger screen yet.
ASUS MeMo Pad Smart hardware
For just $299, ASUS has managed to put a very solid spec sheet in the Memo Pad Smart 10 (model number ME301T, if you were wondering). We're looking at a Tegra 3 quad-core processor clocked at 1.2GHz, 1GB of RAM and an acceptable 16GB of internal storage. To help with storage, ASUS is also including 5GB of lifetime cloud storage through its own "Webstorage" option, as well as a microSD card slot that supports SDXC cards. The tablet has a 1280x800 Super IPS display, with great viewing angles and 400 nit brightness.
The MeMo Pad Smart 10 has a good set of ports, with Micro USB (for both charge and data), Micro HDMI 1.4 for full video out, the aforementioned microSD slot and a 3.5mm headphone & mic jack. There are also stereo speakers on the back.
Build quality
From the front, the MeMo Pad Smart 10 looks just like every other 10-inch ASUS tablet out there. It's just a big, black rectangle with moderate bezels, and an ASUS logo in the top left corner. Around the back, it loses the concentric circle metal backplate that is found on some of the high-end ASUS tablets and swaps in a hard plastic shell. Our review unit was a very handsom "Midnight Blue" color, but there will also be "Crystal White" and "Fuchsia Pink" varieties available. The back of the tablet isn't exactly a soft touch material, but does have some grip and is easy to hold even in one hand if needed.
On the left side of the tablet, you will find the Micro HDMI and USB ports at the top, as well as microphone ports. Exactly mirrored on the top right are the volume rocker and 3.5mm headphone jack. The power button is on the top left of the device, which doesn't seem like the most efficient place to put it -- we'd probably prefer it on one of the sides for ease of use.
Around the back you'll find stereo speakers near the right and left edges. The speakers are almost surprisingly loud, and don't distort noticeably even at the highest volume levels. The speaker placement is a bit of a double-edged sword -- when you're casually using the tablet your palms cup over the speakers and help push sound towards you, but when you're playing games and gripping it tighter, your hands tend to smother the speakers.
Overall, the MeMo Pad Smart 10 doesn't feel like a cheap tablet. The back plate can feel a little hollow if you tap on it, but it doesn't feel flimsy or too flexible when you're using the device. The design is muted but nice -- at least in this dark blue -- and is free of any unnecessary flair, which is just fine.
Display
ASUS has done a great job with its tablet displays, and the panel on the MeMo Pad Smart 10 is no exception -- except for the resolution. We're looking at the same Super IPS display as its other tablets, with 400 nits of brightness, that has great viewing angles (ASUS says 170 degrees) and color reproduction. But ASUS has cut the costs notably by dropping the resolution down to 1280x800. That's a far cry from the 1920x1200 (or higher) displays we're seeing in other 10-inch tablets, and it's definitely noticeable.
It's not something that you'd necessarily see if you hadn't gotten used to higher resolution displays, but it's one of those things that can't be unseen once you notice it. Graphics in games and icons on the homescreen aren't terrible, but when you're reading text you can see jagged lines, which really kills the experience. This isn't going to be a good tablet choice for resolution snobs.
Radios and Battery life
The MeMo Pad Smart 10 has the requisite sensors inside, as well as Bluetooth, Wifi and GPS. We had no issues with any of the radios here.
ASUS quotes 8.5 hours of usage for the tablet, which we found to be conservative to its actual life. If you've used a 10-inch tablet recently, you know that they often have no problem going days without a charge because of their large batteries and relatively low power consumption from radios (when compared to phones with mobile data). For specs sake, the tablet has a 19Wh lithium polymer battery under the case.
ASUS MeMo Pad Smart software
We're looking at just about the same software setup as every other ASUS tablet out right now -- Android 4.1 Jelly Bean with a good helping of included apps, each of varying usefulness.
Launcher and interface
The MeMo Pad Smart 10 has the standard user interface that Android offers, and on 4.1 that means you still have the "old" 10-inch UI with navigation keys on the bottom left and notification/status bar on the bottom right. This really wasn't a good idea back on Honeycomb and still isn't a good idea now. That will of course improve if and when the tablet receives a 4.2 update, but we don't quite know what the timeframe for that update is.
ASUS has added a couple of its customizations to the basic UI. One is the inclusion of a navigation lock at the bottom center of the navigation bar -- tap and then slide the lock over, and the navigation controls are now locked. This would be a great option when handing your device to a child to keep unnecessary taps from happening, or for games when you may accidentally hit the navigation bar when playing. ASUS has also customized the notification tray in the same way it has with its other devices, with slightly different styling, quick settings toggles and a brightness slider.
Overall the software is a pretty clean and usable experience, and there's nothing in the system of this tablet that isn't also in the other ASUS models. There's nothing that ASUS could have done to make up for the shortfalls of Android on a 10-inch tablet, which is unfortunate. The shortcomings of the Android UI, along with the lack of quality apps that take advantage of the extra screen real estate, end up making a generally lackluster experience. This isn't the fault of ASUS or the MeMo Pad Smart 10, but will still effect consumer's choice of whether or not to buy these tablets.
Bundled apps
The MeMo Pad Smart 10 has a wide array of bundled apps -- we found nearly 20 -- that are pre-installed. Some are from ASUS itself, and others are partner apps that could be downloaded from the Play Store but simply ship with the device. Apps like App Locker, File Manager and WebStorage are quite useful, but we could do without things like Amazon Kindle, My BitCast and Netflix being on the tablet out of the box.
ASUS also includes several of its own widgets, which we probably wouldn't notice if they were gone. There are some nice weather and clock widgets available, such as the one that's pre-loaded on the homescreen out of the box, but nothing that's going to rival what's available in the Play Store if you're a widget fanatic.
Performance and usability
The Tegra 3 and 1GB of RAM are more than enough hardware to power the MeMo Pad Smart 10, especially when taking into account the lower screen resolution. Games played smoothly, and daily use apps like Google+, Chrome and Google Talk worked just how they should. These specs are more than enough to handle anything you'll throw at a tablet nowadays. Larger tablets are most often used for gaming and media playback, and the Tegra 3 is a good match for those uses.
ASUS MeMo Pad Smart cameras
Rear camera
Yes, the MeMo Pad Smart 10 has a rear camera. No, you probably shouldn't use it out in public. The 5MP autofocus unit takes acceptable pictures, but the idea of holding up such a large device to take pictures still doesn't sit right in anyone's eyes. As far as the quality goes, you'll actually get good shots if you happen to need to use it. The pictures I took were much higher quality than I expected for a low-price tablet.
Click on images to view larger versions
The camera UI isn't all that pretty to look at, but has a lot of functionality. You have quick access to live filters as well as deeper image adjustments like white balance and exposure, all available on the left hand side of the interface. Long-pressing the shutter key gives a burst mode, and shots taken in burst mode are nicely grouped into one set in the gallery where you can view and choose the best one separate from your other pictures.
The MeMo Pad Smart 10 shoots 1080P video on the rear camera, and unlike some tablets and phones the 1080P option is actually selected by default. There are also 720P and 480P settings available if you want to conserve space. Video looks pretty good and doesn't stutter or shake. White balance and exposure change automatically and quickly when changing scenery.
Front camera
There's a 1.3MP front-facing camera here, with 720P video as well. Pictures are grainy like you'd expect from a 1.3MP shooter, the video will look fine for Skype and Google Talk, but it isn't useful for much else.
Me, slightly bearded
The bottom line
The bottom line
The ASUS MeMo Pad Smart 10 offers a great value of specs for the money, assuming the lower resolution screen isn't a burden on your eyes. You're getting a quality set of hardware specs inside of a lightweight, attractive and well built case -- and it's at least $100 cheaper than other 10-inch offerings from major manufacturers. Make no mistake, you're not getting this year's specs, but you're definitely getting more than the price would lead you to expect.
Whether or not that means you should consider a 10-inch Android tablet in the first place is still up in the air for us. Even with Jelly Bean on board, it still feels like Google hasn't completely figured out the 10-inch tablet interface. ASUS does what it can with the software and apps it includes, which definitely help, but it can't make developers consider the 10-inch interface when designing their apps -- and its apparent that most still haven't thought about tablets.
If you've got your mind made up on buying a 10-inch tablet, you may want to give the MeMo Pad Smart 10 a look and save a few dollars when you finally make that purchase. It's set to go on sale in North America the first week of March.
Andrew was an Executive Editor, U.S. at Android Central between 2012 and 2020.
"Whether or not that means you should consider a 10-inch Android tablet in the first place is still up in the air for us." I've heard this on the most recent podcast's too. Not everybody needs the portability of the 7 inch offerings, and not everybody wants to carry around a laptop all day. The 10 inch tablet is the perfect device for those folks, like me, in a professional setting, that need (and prefer) a bigger screen to use from meeting to meeting, and need the battery life to stay connected all day. A laptop is no longer convenient to do that, and a 7-inch tablet is too small a screen to stare at all day. I was an early adopter of the Galaxy 10.1 and have now upgraded to the Nexus 10. I used the Nexus 7 for a little while, but it was impossible to use everyday in a business setting, unlike my Nexus 10. So while it might not be ideal for a blogger or journo that runs around the world each month, the 10 inch tablet IS ideal for other types of professionals.

There are also those of us who want a portable machine, but find 7" to be WAY too small. I tried the 7" tablet game with a modded nook color, and I found myself wondering why I didn't just use my phone sometimes. 10"ers are far more portable than most laptops, and often much lighter. The only advantage a 7"er has over a 10" device is the ability to fit in a pocket. That does not automatically mean a 10" device isn't portable. As a college student, I'm finding my Nexus 10 + bluetooth keyboard combo much better than the now dead laptop it replaced. Takes a few more seconds to get set up, but its faster, has a longer lasting battery and the lack of moving parts means it'll be more reliable long term. The bigger screen means I can see more text at once, or not have to zoom in on web pages, flaws which I found to be deal breaking on every 7" tablet I've tried. For actual work, 7" devices are nigh useless.

A lot of our opinion is garnered by the fact that a vast portion of Android apps just aren't ready, still, for a large screen form factor

I am still waiting to buy my first 10" pad, waiting for the reformed nexus 10 with the updated processor, also there aren't many apps formatted for the 10 inch tablets.
At this rate, I may just get one of the plug in Android sticks that will plug into my HDTV and use it as a large tablet with a controller keyboard and game controller, plus they will be around $150

I disagree, I use a wide range of apps that are available and look great on my phone AND 10" tablet. iPhone has been spreading this tripe for years. Apple needs to get a new line as to why their straight jacket products are better for their sheeple.

What is going to be the difference between this and the TF300? $50 for a keyboard docking port? Or am I missing something?

Pretty much the Asus Transformer Prime, minus the keyboard option. If it's the same screen that Asus had on that device, I never had any issues with it. It was really bright and looked pretty great. Not a bad price overall.

Its more comparable to the TF300 actually. The prime had 1.4ghz quad core with 600 nits super ips display.

Last year Best Buy had the Asus TF300T on clearance for $250 and just this year the keyboard dock was on sale for $50. I didn't bother getting it, but my friend did get 2 of them. Does this offer any advantages over the TF300T? If not I would probably wait for a Tegra 4 device or another big clearance.

I dont see any advantage to it but more of a slight disadvantage. And not having the option to add a kb dock kills it. The only advantage that may come out of it is if Asus have fixed the IO issue that plagues their previous 10" tablets.

Differences from TF300 / TF201... TF201/TF300 have 8M camera. MeMo has 5M camera. TF201/TF300 have a single speaker on the back. MeMo has two speakers. TF201/TF300 have metal back. MeMo has plastic. MeMo doesn't have the keyboard dock.

TF300T has a plastic back as well.
The TF700, which is the upgrade to the TF201, has metal. Main differences I see between this and the TF300: MeMo--5gb Asus cloud storage, TF300--8gb
MeMo--5MP rear camera, TF300--8MP
MeMo--8.5-hr battery, TF300--10-hour
MeMo--no docking (unless Bluetooth), TF300--dockable with extra battery and ports TF300 also has 32Gb and LTE versions.

I really don't care about any of it unless Asus fixed their atrocious I/O performance issues. A slow internal drive combined with Tegra3's restrictive memory pipe makes me a sad panda.

I really enjoyed the opening paragraph, ASUS really knows its stuff and throw a lot of weight behind their tablets. *YAWN* It was nice to have the camera go out on my Prime and send it in for RMA, only to have the bootloader locked up by the RMA with NO chance to unlock it. This was a selling feature of the tablet (although coming with the standard "rooting" disclaimers). Not only does ASUS turn a blind ear to these issues, they have been irresponsible in not backing up the Prime, which should have been recalled with GPS, WiFi and I/O issues. The Nexus 7 in our family? Awesome, if just a little lacking in the screen resolution. I would never buy an ASUS tablet again outside of a 10" Nexus model.

I cannot complain about the 10" Android tablet. I have owned the Asus Transformer Prime, and then swapped that for an Asus Transformer Infinity 6 months ago and I use it everyday. I have never watched so much Netflix as I used to before having a 10-inch tablet. Hulu+ and YouTube look stunnig as well. Web browsing could be better because it can get sluggish. However overall, I think Android 10" tablets are great devices. My mom bought my dad a Nexus 10 for Christmas and he has been using it everyday. He watched the entire Battlestar Galactica series on Netflix (78 eposides) excluviley on the tablet, and is now watching the spin-off Caprica, and will be moving on to Breaking Bad and The Walking Dead afterwards. And he's no spring chick at 55-years-old. We recently all put money together to send one to a disabled cousin in Florida. He is wheelchair bound and has mobility and dexterity issues but he loves his Nexus 10. Don't sell these devices short. Once people get used to them.. they have get used alot.

I have and use the TF300T all the time, my Tablet build quality looks similar to this, it does not have gorilla glass, which is a pity. Sometimes the connection between tablet and keyboard can feel a bit floppy. Personally I find the ASUS firmware a bit less robust than Samsung, but otherwise it is a nice budget tablet. This new one seems to have stereo speakers which is a nice. Does it have gorilla glass?

Okay, does anyone know where I can find that wallpaper? I'm seeing it everywhere :(

It's engaging, isn't it, Chris? The designer, Simon C. Page, is based in the UK and calls this series of geometric wallpapers "CUBEN." I usually Google his name or the series' name when I can't get to my Google Bookmarks, but here's the direct link: http://simoncpage.co.uk/blog/2012/03/ipad-hd-retina-wallpaper/

I love my 10 inch tablet and wonder why any would choose a 7", other than the portability.

Precisely, the portability.

But why is the System Bar not a good idea?

I own a TF300T and the MeMo appears to be very similar to the TF300T. However, the TF300T needs to be charged via a proprietary connector/cable, while the MeMo appears to be chargeable through a standard micro usb cable. That is an advantage the MeMo has over the TF300T. Asus is charging SGD$70 for the charging cable in Singapore, which I feel is daylight robbery. I wish my TF300T can be charged using a usb cable than Asus proprietary cable. Then, I don't have to always carry the proprietary cable everywhere.

I recently bought the MemoPad From ASUS. It has 4.1 jelly bean android. It is a very good tablet for the 299$ price. It has a slim design and very very light weight. THe screen resolution is great and it runs smoothly. I recommend this to any tablet buyer. CHEAPER THAN IPAD. SAME THING

Do you have accessories for it because I'm trying to find a case for it.. Also do you know if any 10 in screen protector would fit this?

i bought this tablet and i got a leather folio case for it that was made for the TF300t,its has the same demensions.

also the same for screen protector..anything that is made for the tf300t can fit this tablet. i see no problem with the tablet so far..having had for over a week. everybody complains that it doesnt have the same resolution as the nexus 10 or the ipad...so what? are u literally holding the tablet to you nose? viewing angle is great. It wasnt made to rule the world, just to entertain..so far it does a great job at that!

Hi. In Thailand this ASUS MeMo Pad Smart 10 appeared in March at 11'900 THB.
Since this week we find it at 9'700 THB and available in big popular shopping malls.
It's a price drop of +18% and make this tablet a lot of more interesting :)
For comparison, the Nexus 7 32/3G recently drop from 11'900 THB too to 10'900.

I need some advice how to use this, cuz everytime when I tap it, it won't work! This Asus Memo pad smart, pissed me off!

pls, reply. And thanks! :|
Android Central Newsletter
Get the best of Android Central in in your inbox, every day!
Thank you for signing up to Android Central. You will receive a verification email shortly.
There was a problem. Please refresh the page and try again.