Are you happy with the current state of YouTube Music?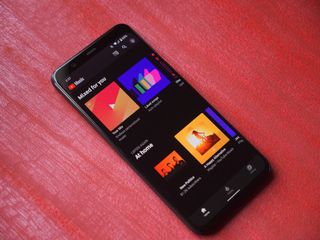 (Image credit: Joe Maring / Android Central)
Following a long and dragged-out process, Google Play Music is finally no more. At a little under nine years old, Google's first attempt at a major music streaming service has since been replaced in its entirety by YouTube Music. As you might expect, this is a transition that has come with a lot of mixed feelings.
YouTube Music was kind of a mess when it went through its major re-launch in 2018, but over two years later, it's seen countless improvements that have fleshed-out the service considerably. Even so, not everyone is thrilled about being forced to switch.
Taking a look through the AC forums, here's what some of our members have to say about the whole situation:
Now, we want to hear from you — Are you happy with the current state of YouTube Music?
Joe Maring was a Senior Editor for Android Central between 2017 and 2021. You can reach him on Twitter at @JoeMaring1.
I don't like it. When I play an endless mix, it plays the same songs over and over, then it ends. WTH is that? Endless my a$$.

Don't like it at all. Liked Play music so much better.

It feels like a significant downgrade... I tried for days to play my own music "on device" which I could do with Google play, no such luck.

I am happy with YouTube Music. It is so much better than it was when I first started using it in 2016 on my OG Pixel. This past weekend I noticed that Youtube music seems to have started going through my liked YouTube videos because it started adding songs (old favorites) that I have not listened to in a long time. Only thing I can think of is that YT Music is starting to dig through my old activity on Youtube to get a better understanding of what I like and don't like to listen to.

I'm not crazy about it. It still has major usability issues. The heart of any good music app is quickly serving up the stuff I most recently played and letting me scroll through that before I delve deeper into my library. YT Music doesn't do that. The home screen is led by "Your Favorites" which are not necessarily the most recently played stuff. To get to THAT, I have to tap "Library", then horizontally scroll through one oversized album cover after another. It's tedious. GP Music served it to me immediately with smaller album covers vertically scrolling in two columns. Way easier to navigate. Another usability issue is that downloaded music is boxed off. A perfect example is that a band I like's new album simply doesn't show up at all on YT Music for me to add to my library, so I bought it directly from them on Bandcamp and downloaded it. Great! Except I can't see it when I search for that band. So to get to THAT album, I try "Library > Downloads"....but that is empty. No, to find the record, I have to go "Library > Albums". Then, switch over to the "Uploads" tab. Imagine trying to do this with the Android Auto version on the fly. It sucks! The only reason I use YT Music is that I don't want to deal with a flood of ads when watching YouTube videos, and I don't want to pay for a family YouTubePremium plan for my wife and kids AND pay for another family plan for Spotify or whatever. I'm very unhappy YouTube music user feeling trapped by Google refusing to separate the two.... :-(

I'm getting use to it and it's getting better. Google music is going to be hard to beat, as long as they keep updating YouTube music I will be ok with it.

I don't like it, not at all. I had Playlists consisting of my uploaded music and available tracks on the service. It sometimes skips one of each. Songs that were available on PlayMusic aren't on Youtube Music. It shows my Played songs as recommendations on my YouTube. I not only dislike this feature, I downright hate it. Me listening to some Random songs on "Radio" doesn't mean I want to watch the video clips or am even interested in the artist. "Radio" seems to be broken, the songs aren't random and most of the times it's the same songs in the list. Artist is shown as available, but all I can do is follow...When I check the channel on youtube video, the artist has the label "Songs" on their and I can listen to the album. It refers me to youtube music and there is nothing. THAT IS Frustrating. I honestly aren't using Youtube music as much as I did Google Play Music. I have a family account and with Youtube music I have Youtube Premium. My Family members enjoy the premium features so much I am not cancelling and putting up with the terrible terrible terrible Youtube music. I don't get it at all. The UI is terrible, it was not good with Play Music but, I wouldn't have imagined it to get worse. You have a working, not perfect but working system....why did you feel the need to change it? Even if you change it...use whats there. Would it have hurt any user if they would have, rebranded it? "Hi...Google Play Music will be Youtube music. Same experience you know in a new shine" Change the colour palette, change the name, leave the rest. Ugh...So so so much more but saying this is for naught.

I don't like the fact that I can't use a brand account (ie. the one without my real name) to upload my own music. My YouTube history and playlists are on that account and I shouldn't be forced to switch, in my opinion. I also don't like the fact that the Now Playing screen shown on Apple CarPlay has no way to thumbs up/down a song, and that the Apple Watch app lags significantly when displaying Now Playing info. Other than that, I like it just fine.

It's slightly different to navigate through, I thought GPM was easier. I'm getting use to it though. I hope they would integrate Google Podcast so I don't have to jump between the two.
They could have just renamed GPM to YTM and left everything else the same.

Nope, still hate it and I've finally just given up. I've got a OnePlus 7 Pro, so plenty of space. I just gave up and put all of my music on my phone. It's a lot less convenient, but it beats YT Music.

I have a very limited use of it, just as I did with GPM. I rarely listen to anything I don't own. I listen in the car, at my desk, and occasionally casted to a Chromecast or Google Home mini. Having to always switch to uploaded music after searching is a minor annoyance each time, but a major one when you do more than a single search. I typically just go to my library and set it to shuffle all songs. GPM topped out around a couple of thousand songs. YTM doesn't seem to have the limit which is nice. But GPM had a way to undo removing songs from that list to add them back. YTM does not. On some devices I can navigate away from YTM when it's playing, on others not at all. Vertical scrolling is horrendous for searching through music. It doesn't create auto playlists, like last added etc. It also seems to be slow switching from YTM library to my uploaded library just for the sake of being slow as it does this on every device and in browser. The one thing I'll give it is that uploading music is far more consistent than it ever was with GPM using the music manager or website. There seems to be some limits on the metadata for YTM but I can't find a list anywhere describing what they are. The settings are also less descriptive. What is the difference between "normal" and "high" quality streaming? No description anywhere. At this point I'm considering buying a large micro sd card (400GB +) to use a different player as YTM is just too limiting.

I don't like it. The feature set has completely different priorities from what I enjoyed on GPM.

I moved my tunes to YouTube but I almost exclusively use iTunes. I really just use Google Play--->YouTube as a back-up.

I don't like it at all. In countries that don't support youtube music we are forced to use other non google apps like VLC. Some don't have a music player any more because of play music being closed.

I totally hate it. I enjoyed Google Play much more, as it was more intuitive to use. You get ads with YouTube Music, something that I didn't get with Google Play. YouTube has to make some major changes with their app in order for it to be enjoyable to use.
Android Central Newsletter
Thank you for signing up to Android Central. You will receive a verification email shortly.
There was a problem. Please refresh the page and try again.