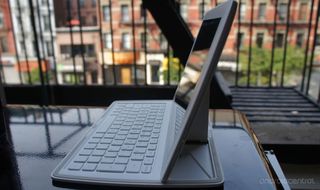 With the introduction of its brand new Gen10 XS line, Archos is reminding the world today that the Android tablet market is not limited to a couple of high roller manufacturers. It's latest flagship, the 101 XS, is a tablet that shies away from competing with the likes of Samsung and Motorola and enters a niche that gives Archos an opportunity to cement its name in the mobile computing world. The Gen10 XS line is Archos' attempt at replacing your laptop, and while its goals might be lofty, the French manufacturer has at least stepped out of the box.
Pros
The 101 XS performs admirably well, and its onboard OMAP processor rarely stumbles. Archos has been known to be prompt with Android updates, and the company says Jelly Bean is right around the corner. The Coverboard-included price of $399 is a deal.
Cons
The 101 XS' display is really, really terrible. The Coverboard works well enough under perfect conditions, but all too often fails when needed. Furthermore, it doesn't remain attached to the 101 XS when not in use.
The Bottom Line
The 101 XS is a nice step up from Archos G9 series, and its budget friendly price gets you a lot of hardware for your buck. The Coverboard is a unique idea and it's great that Archos is including it in the $399 pricetag, but at this time you'll be hard pressed to replace your keyboard with it. If you can get past the screen, though, the 101 XS is a well-performing Android tablet at an affordable price.
Swipe to scroll horizontally
Hardware
The 101 XS looks nothing like anything Archos has released to date, which is actually a good thing for the company. Archos has released some pretty generic, industrial-looking tablets in the past (see: G9 series), so the Gen10 XS line's revamped design is a welcome change. The 101 XS is remarkably thin and light at 21 ounces and 0.31 inches, yet its hybrid finish of aluminum and plastic feel sturdier than you'd expect. The finish is quite prone to scratches and scuffs, as you can see in some of the photos, so you'll likely want to pick up one of Archos' sleeve if you're not the most careful of gadget owners. The tablet's front is occupied by a 10.1-inch display at 1200 x 800 resolution (more on that in a bit), stereo speakers, and a front-facing camera. Power button and volume rocker are located on the right side, while the left is home to the 101 XS's plethora of connectivity ports, including Micro USB, MicroSD, and Mini HDMI. The 101 XS does not sport a rear camera.
Inside, the 101 XS is packed with a dual-core 1.2 GHz OMAP 4470 CPU with PowerVR SGX544 GPU and 1 GB of RAM. This OMAP chip is the successor to the 4460 included in the Galaxy Nexus, and Archos cited the chip's superior compatibility with stock Ice Cream Sandwich as one of the reasons for the pick. True to form, the 101 XS' processor performs surprisingly well (albeit not as tight as the Galaxy Nexus)—benchmarks won't blow you out of the water, but swiping through home screens, launching apps, and multitasking were fast, fluid, and smooth.
Now, a few more words on that display: Archos has included a fairly standard LCD screen here, so if you're looking for IPS technology or Retina-like resolution, you'll be left sorely disappointed. I, too, am disappointed by this display, as I believe it is a true hindrance to the 101 XS's ability to compete in the big leagues. Taking my kid gloves off, I'll go as far as to say this display is one of the worst I've seen since early generations of Android devices. Viewing angles are abysmal, colors are distorted, and the screen has a general bluish-hue that is both distracting and inexcusable. The 1200 x 800 resolution here is a step up from the 1024 x 600 display on Archos' last generation of tablets, though its worse than you would think, and you'd have to be blind to miss the pixelation apparent here. Even firing up the display is a test of patience, as I've counted a full two seconds for the display to turn on. This is a true miss on an otherwise admirable device.
What sets the Gen10 XS line apart from its competitors is the included "Coverboard", a 0.2-inch thick glorified screen protector that doubles as a full-sized, fully-functional keyboard. It attaches to the 101 XS magnetically, though a Smart Cover this is not. Instead of falling into place cleanly, the Coverboard requires some shimmying, resulting in a less-than-intuitive process. The Coverboard, when removed from the face of the tablet, does not remain attached, so you'll need a place to set it down when using the tablet without it. I wish Archos would have thought about building the Coverboard right into the hardware of the 101 XS, as I misplaced it upon setting it down on more than one occasion.
Connect the Coverboard to the tablet via the connectivity dock on the 101 XS's bottom and it transforms into a honest-to-goodness keyboard, complete with shortcut keys custom tailored to Android 4.0. Conceivably, you can avoid touch contact entirely when the 101 XS is connected to the keyboard, though I found that old habits do indeed die hard. The keyboard has a bit of a learning curve in terms of shortcut placement, and the keys are a bit cramped to be called truly comfortable, but once you get used to it, it actually does do a nice job.
The Coverboard certainly sets the 101 XS apart from the competition, though it remains to be seen whether or not it's good enough to really replace your laptop. I've spent the past week with the 101 XS and I honestly don't see myself traveling with it in my MacBook's stead. For basic internet browsing and word processing, the Gen10 XS line delivers, though I'd hesitate to rely on it as my sole keyboarded device.
Software
Something I have always liked about Archos tablets is the nearly-stock Android experience-- Archos is leaving custom skin development up to those companies with a bit more spending money.
Instead, we've got stock Ice Cream Sandwich, which as stated earlier performs really well when paired with the TI OMAP chip. I expect Jelly Bean to perform even better, and luckily Archos is porting it to the 101 XS as we speak, with an expected arrival in early Q4. Archos deserves to be commended for their fast port of ICS onto their last generation G9 series, so I'll take their word for it this time around.
Archos did choose to include OfficeSuite Pro 6 here to reiterate the 101 XS' purpose as a productivity tablet. It works well and just may be my favorite Android office suite. (Being free doesn't hurt either-- Office Suite Pro 6 would regularly set you back $14.99). Archos has also included its own media player chock full of codecs as well as a fancy-looking video carousel to house all of your movies. Archos' media center supports wireless streaming to compatible devices as well as an increasingly-standard remote control app. Not to beat a dead horse, but I doubt you'll rely on the 101 XS for media consumption, considering the pixilated display and the stereo speakers, which suffer from distortion and low top-end volume.
Archos also chose to include a scattering of hand-picked apps, including Angry Birds, Asphalt 6, Fruit Ninja, Spider Man, and Zinio, though it's unclear which of these will make the final cut when the 101 XS is finally released.
Wrap-up
You really can't know what Archos did here, and with Jelly Bean currently in the works, the Gen10 XS line has some serious potential. Archos will be releasing a whole host of accessories for the Gen10 XS line, including a speaker dock, a docking station, and a number of cases and pouches. In addition, the line will expand later this year with both a 97 XS 9.7-inch model and an 80 XS 8-inch model.
That said, is the Gen10 XS line worth buying into? For one, rest assured that Archos products tend to stand the test of time, thanks to the company's commitment to fast Android upgrades and an upcoming focus on accessories. I really like the concept of the Coverboard and I appreciate Archos attempt at transforming the tablet from toy to tool, but I wish the execution was a bit better. The Coverboard is great for sending an email or typing on an internet form, but for heavy-duty word processing, there's just not enough room to let your fingers fly comfortably. I am also really disappointed by the Coverboard's cumbersome attachment and the fact that it does not stay connected to the 101 XS unless connected via the tablet's port.
For $399, it's hard to knock Archos for not including top-of-the-line components, especially considering the 101 XS doesn't pretend to be a top-of-the-line tablet. But that doesn't take away the sting of that display. It's something you must see first before you dive in, and if you can get past it, all the power to you. With an included keyboard dock, the Gen101XS is certainly a value hard to ignore, but only if you can ignore its shortcomings.
Be an expert in 5 minutes
Get the latest news from Android Central, your trusted companion in the world of Android