Android Wallpaper Review: Haunted House HD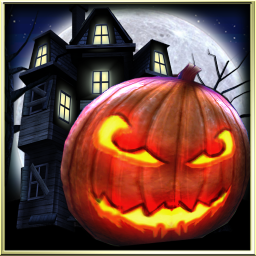 I love Halloween. It's my second favorite holiday only to Christmas, but holds a special place in my heart because I get back-to-back goodness from my birthday and then, 24 hours later, all the goodness Halloween brings.
The folks at DualBoot Games (creators of other live wallpapers like Celtic Garden HD) have whipped up another for us, this time all haunted and creepy, just in time for Halloween. It's called Haunted House HD, and as far as live wallpapers go, despite it being time-sensitive, it's probably one of the most detailed I've come across.
From the moment you pop open the live wallpaper selector and choose Haunted House HD, the Halloween vibe will wash over you. A camera pans by a creepy house, shrouded in fog, as the lights flicker on and off intermittently. Jack-o-lanterns guard the doorway and frightening messages appear over the door in blood.
Everything is pretty smooth, despite the fact there's so much going on. The door opens and closes by itself while the camera sweeps back, the lights turn on, revealing a silhouette in the window, and the flag on the mailbox moves up and down of its own accord.
If you want to go inside of the house, you'll have to jump into the completely loaded settings menu and change the camera view.
The inside of the house is just as (if not more) busy than the exteriour. Lights continue to flicker, the fire is a pale, ghostly blue, and paintings have skulls superimposed over the subject's face. Ethereal footsteps pulse and disappear on the floor, and strange breezes toss the chandalier around. It's a lot to take in, but it's still great fun.
Back to the settings menu, when I said loaded, I meant it. You can pick your camera view, set the name for the mailbox and doorway, pick the kind of face you want for the pumpkins, and individually enable or disable every variable the wallpaper has to offer.
If you feel like getting in the holiday spirit, Haunted House HD is $1.99 in the Android Market.
We've got more pictures and download links after the break.
I was all set to download it till I saw it's pay-for.

Your boss was all set to hire you til he he realized he had to pay you. Money is how world goes 'round - cheap**s!

+1 what pearlvr4 said... jeese!

Its the cost of a cheeseburger. If that is too much to spend, you shouldn't own a Smartphone.

Did you really think such a detailed piece of software was gonna be free? Besides most of the free stuff is riddled with ads. I personally prefer paid items.

This is a beautiful app with lots of features and options but is it worth the price for one month? I guess you could use it every year if you don't get bored easily. It does have a lot of options so you can mix it up to make it a little different every year. Here the link to the video. http://www.youtube.com/watch?v=EQbIzN_UNrE

As well written as Josh's posts are, I feel that videos do the live wallpapers and video games justice more so than the descriptive posts. So thanks for the link.

A buck ninety nine is not really much of a price... Hell if I can spend near hundred bucks for some good liquor then I can def splurge a few pennies.. If ya question every penny you spend then you'll never really live.. BTW the video made me buy it lol thanks!

The cost for only a month of the season? Yes because with most of the games I buy they only last me a month then I never play them again....hell same goes for a $60 PC game...so this cost is just fine.

didn't know that Halloween was a holiday ... lol (couldn't resist but I get the gist of what you me Joshua ;))

Halloween isn't a holiday?

LoL Halloween is a Holiday!! Where you been ? :)

Well, I gave the Dev the required payment ;) And it's pretty awesome. 1 drawback though, on some custom Roms/kernels, about every 1.5 days, your tab will freeze (usually after sleeping or at the lockscreen after boot). Forcing you to do the "double long press) on the power to reboot it. Third time it happened, today, after boot, the beautiful halloween live wallpaper, vanished, replaced by the stock HC. Oh Well...... But everybody thought it was cool though!!!
Android Central Newsletter
Thank you for signing up to Android Central. You will receive a verification email shortly.
There was a problem. Please refresh the page and try again.