Android Wallpaper Review: Haunted House HD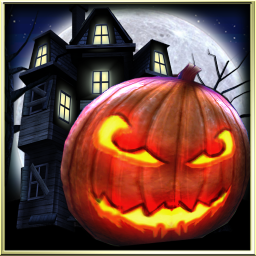 I love Halloween. It's my second favorite holiday only to Christmas, but holds a special place in my heart because I get back-to-back goodness from my birthday and then, 24 hours later, all the goodness Halloween brings.
The folks at DualBoot Games (creators of other live wallpapers like Celtic Garden HD) have whipped up another for us, this time all haunted and creepy, just in time for Halloween. It's called Haunted House HD, and as far as live wallpapers go, despite it being time-sensitive, it's probably one of the most detailed I've come across.
From the moment you pop open the live wallpaper selector and choose Haunted House HD, the Halloween vibe will wash over you. A camera pans by a creepy house, shrouded in fog, as the lights flicker on and off intermittently. Jack-o-lanterns guard the doorway and frightening messages appear over the door in blood.
Everything is pretty smooth, despite the fact there's so much going on. The door opens and closes by itself while the camera sweeps back, the lights turn on, revealing a silhouette in the window, and the flag on the mailbox moves up and down of its own accord.
If you want to go inside of the house, you'll have to jump into the completely loaded settings menu and change the camera view.
The inside of the house is just as (if not more) busy than the exteriour. Lights continue to flicker, the fire is a pale, ghostly blue, and paintings have skulls superimposed over the subject's face. Ethereal footsteps pulse and disappear on the floor, and strange breezes toss the chandalier around. It's a lot to take in, but it's still great fun.
Back to the settings menu, when I said loaded, I meant it. You can pick your camera view, set the name for the mailbox and doorway, pick the kind of face you want for the pumpkins, and individually enable or disable every variable the wallpaper has to offer.
If you feel like getting in the holiday spirit, Haunted House HD is $1.99 in the Android Market.
We've got more pictures and download links after the break.
Sign up for Black Friday email alerts!
Get the hottest deals available in your inbox plus news, reviews, opinion, analysis and more from the Android Central team.