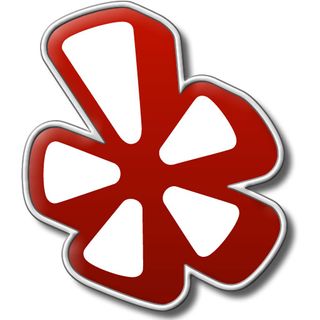 Chances are, most of you have heard of (and probably used) Yelp. Whether it's been their initial online presence, their myriad phone apps, or just a friend raving about it, Yelp is the top dog in finding delicious eateries on-the-go.
Opening up the Android app, you'll notice six large, friendly looking icons to choose from. Nearby, Check-Ins, About Me, Bookmarks, Monocle, and Deals. A few of those are pretty self-explanatory, and one of them you just need to see to believe.
Nearby is going to use your cell phone's location (rough or precise, up to you) to show you a list of everything around you. It doesn't discriminate by style or genre, so if you're just curious to see what's delish, this is definitely the way to go. Check-Ins is Yelp's version of Foursqaure/Gowalla/Places/Latitude. You can check-in to bars, restaurants and what-have-you, but I'm not sure why. Yes, you can become mayor or king or top dog or iron chef (not really, on the last one), but maybe there's coupons involved.
Speaking of coupons, Deals is just that. If you want to know where you can save a buck, get something for free, or see what other promotions are going on, click on Deals and know you'll be saving some greenbacks.
About Me and Bookmarks both require that you have a Yelp account, and if you do, they'll prompt you to log in. This allows you to check-in and leave reviews (and ensures you get credit to your Yelp account, for what it's worth) and also lets you view your list of Bookmarks if you've got a hankering for one of your favorite places that you've conveniently forgotten the address of.
The thing that really does it for me (although it's usefulness is debatable) is Monocle. Monocle pulls you into an augmented reality environment, where, as you move your camera around, restaurants and such pop up on your screen, along with their rating, distance, and cost. I couldn't get a good screenshot without some wicked tearing, so just check it out for yourself.
There's also the standard search bar at the top of the page, and you choose to search a name or style either based on current location, but also anything else, like a city or a zip code. It's the simplest way, but it's how things got started and it still works.
So, if you like both 1.) food and 2.) saving money, Yelp should definitely be installed on your device. It's free, it's quick, and it's easy, plus, it's proven.
More screenshots and download links are after the break.
Reviews for this app state it needs access to your contact information, that's a little much for me to handle.

I use this and foursquare.
I find more deals on foursquare then I do in yelp.
Problem that yelp doesn't address with this app is that you cannot review places from the mobile app. It saves them as drafts.
You can only review places from the browser. If yelp allowed this, I can see it being an invaluable tool.
Problem is some companies like (starbucks used to) Dunkin Donuts, etc. have hitched on Foursquare's wagon while others are banking on yelp.

The reviews also say ads in the notification bar! No thanks! Was interested til I read that.

Here is what they said to me about both of those issues earlier today... Thanks for the email! Regarding uploading reviews from the app, check out our blog post on the topic: http://officialblog.yelp.com/2009/12/ask-yelp-why-cant-i-write-reviews-f... Regarding your contact data question, I definitely understand your concern and am happy to share exactly how we use this info. If you are logged in to the Yelp app, we'll give you an option to find new Yelp friends using your contacts list. So if anyone in your contacts is already using Yelp, we'll tell you that and you can decide whether to add them as friends. No emails are sent to anyone in your address book without your explicit authorization and we never store your contacts. Hope this helps clarify things! So in other words, No reviewing from app!
Android Central Newsletter
Get the best of Android Central in in your inbox, every day!
Thank you for signing up to Android Central. You will receive a verification email shortly.
There was a problem. Please refresh the page and try again.