Android Quick App: ROM Manager 4.0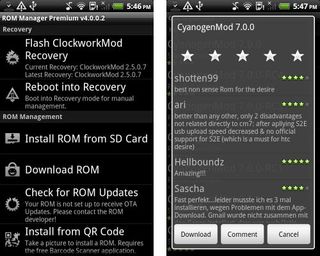 ROM Manager has always been an indispensable tool for those of us with an unhealthy obsession with constantly juggling various ROMs between our phones. Now, the latest version of the app for rooted phones adds some interesting new functionality alongside a welcome visual refresh. Read on to find out what's new.
ROM Manager's main purpose is helping you get new custom ROMs onto your phone, and little has changed in that respect. The app still allows you to get custom firmware loaded from a variety of sources, including the app's built-in ROM listings area. This is a market of sorts for custom firmware, and ROM Manager will detect your hardware and offer up a list of compatible ROMs.
Version 4.0 adds the ability to rate and comment on ROMs for the first time, something which is particularly useful if you're flashing CyanogenMod nightlies and want to see which ones are the most stable. ClockworkMod's Koushik Dutta has also hinted that this new functionality could see ROM Manager extended beyond a simple app to a web-based portal for custom Android ROMs. This is something we'd love to see.
On a more superficial level, there's also some new fresh eye candy in ROM Manager 4.0, in the form of stylish, redesigned icons throughout the UI.
ROM Manager's slew of other useful features haven't gone anywhere, though. You can still use the app to keep your custom recovery up-to-date, as well as manage your Nandroid backups from within the OS. There's even the option to create EXT partitions on your SD card, something which is a blessing for Windows users, as doing this without access to a Linux machine can be particularly tedious.
So, some great improvements across the board in the latest version of ROM Manager, in addition to a great catalog of useful features that will be familiar to many. We look forward to seeing what the ClockworkMod team can bring to the table in future versions. Market links and QR codes can be found below.
Alex was with Android Central for over a decade, producing written and video content for the site, and served as global Executive Editor from 2016 to 2022.
CM7 is awesome, but unusable on my Dinc. It takes forever to charge, and drains waaaaaaaaaaay too fast. I have found some Sense ROMs in there that are pretty nice though. I always end up back on stock though.

You must be using the wrong kernel. CM7 works great on my dinc and the battery life has never been better. I'm currently using Chad's Incredikernel Preview 3. http://chad0989.dyndns.org/incredikernel-preview3.zip

Save your money and learn how to flash recovery manually.

Save your money and don't buy a COMPLETELY FREE app?

The app is free however to get the full list if optionss you must spend five bucks.

There's a free version which has most of the features you would need. I paid for the premium to support the developer.

Totally worth 5 bucks so I can tell my phone to automatically back up and flash a rom and a kernel and continue working on other things for 5 minutes every time I want to switch things up. 5 minutes twice a week means I've saved about 2.5 hours this year.

unable to flash backwards to the 2.5.x.x recoveries. gives me an error message both times.

Tim242, I have the same issues with cm7, must be some phones dont cooperate. Try omfbg, great gingerbread rom. Rom manager is well worth the money. Download, backup, wipe and flash quickly.
Essential to rom swapping addicts!

I paid for the premium version, but it doesn't give me a list of ROMs to download. Why is that?
Joe

Koush, the developer must support the ROM developer. You well not see every option.

Not enough options...still needs a little work

Just goes to show you each phone, even the same model, can be different. I've been running CM7 nightly's on my DInc since about about Nightly 10 or 11. Not a problem with any of them and I get better battery life from it than most of the sense roms.

If it wasn't for Rom Manager, I don't know that I would have ever flashed an alternate rom. I flash other ways alot now, but it is very useful for back ups and other things. kudos to R.M.

I had a nightmare experience, literally losing a night's sleep trying to use this to backup my EVO and switch to CM7 two weekend's back due to the ClockworkMod 3.x.x.x not working and throwing the phone into eternal bootloop or frozen white HTC screens. Back-revving to 2.5.0.7 worked, but I was done with it by then and switched to Amon_Ra's RA Recovery 2.3 which has been fine, albeit less gooey (i.e. GUI) for use. At least it works. Darn shame that EVO's are out in the cold.

@psitech: Thanks. I'll try that. I assumed that CM7 had an efficient kernel.

I recently took the plunge and went to CM7 on my Dink. I can't believe how much better it is over the stock 2.2. I have one the Best Buy free ones they were offering at Christmas time. The screen would always lock and I would have to shut the screen off and turn it back on. Thought it was a hardware issue. Apparently not, because CM7 cured the issue.

Not sure if this is only for Epic 4g users, but under "download roms" there are no roms.. only cool stuff, gapps, and kernels. Any ideas?

Try to uninstall and reinstall it.

I have this same issue on my Samsung Captivate

I only use Rom manager for the fix permissions option. I came into the game when we did everything manually. I personally feel as though these automated apps make it too easy for people who probably shouldn't root to get in trouble.

ROM MGR has worked great. Now I have a seemingly simple question that I cant figure out. I have the premium version. It asked me which phone I have ( Samsung NOTE) but I mistakenly hit another phone and now it lists all ROMS available for that phone. How can I change it back? I would be most grateful for an answer.
Android Central Newsletter
Get the best of Android Central in in your inbox, every day!
Thank you for signing up to Android Central. You will receive a verification email shortly.
There was a problem. Please refresh the page and try again.