Android Quick App: Better YouMail (beta)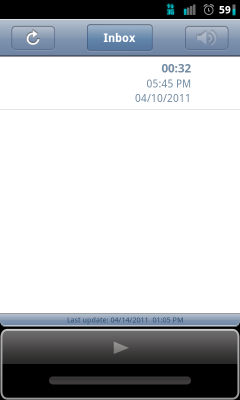 Everyone knows us Android users love the visual voicemail, but if YouMail Visual Voicemail leaves you wanting, then you're definitely going to want to check out Better YouMail.
Say the developers, Best IT Guys:
Let's examine some of these extra features after the break.
To say there's a heavy iPhone influence on the UI is an understatement. Despite that, I've got to commend Best IT Guys for their work. This layout is much more appealing to navigate through and definitely more efficient.
To start, the message player is underneath your messages list. This might not seem groundbreaking, but it's actually a wonder more visual voicemail apps don't incorporate it. It allows you to instantly start listening to your message when you select it and saves you a press on your 'Back' key because a new menu doesn't open.
You can also see that there are "Call" and "Delete" buttons right on the message player. This is another one of those "Why didn't I think of that?" options. While you probably never noticed other apps don't support this, once you use it, it's one feature you'll not want to live without.
Perhaps my favorite addition to Better YouMail, though, is the "Call & Delete" option. You can access this one of two ways: either via the menu by long-pressing any message or by swiping from the 'Call' button to the "Delete" button on the message player. Both are very fast and it's a really neat idea that takes one less step out of dealing with your voice messages.
Better YouMail also supports all of the standard YouMail greetings options and message transcription (if you choose to pay for it) and has an included widget that displays the number of new voicemails you have.
At $2.99, Best IT Guys might be asking for a bit much for a visual voicemail app, but with these additions to the already stellar YouMail client (and I'm sure more are on the way), Better YouMail is definitely the way to go if you're looking for one of the best visual voicemail experiences on Android.
Pretty nice! I use GVoice now but may have to take this for a spin.

I can't understand why the developers couldn't simply take a moment to read Android's updated Human user interface guidelines, then analyze some great apps such as Twitter, Shopsavvy , Gowalla (Their ANDROID versions) and simply design an UI that's less.. well... Phony. I bet it would have actually been easier.

I dismissed this app as soon as I saw the iphony graphics. I'm glad I read the article becuase it does seem like a great app. I want, but don't need this app so I will wait for some better graphics before I get it.

I tried this about a year ago, and when I dug down into the fine print of their user agreement, it turns out by using their service you agree to let them collect data on the people that call you for advertising. I wasn't willing to subject my friends to that so I stopped using it and been using GV since.

I personally prefer good ol dial 1 for voicemail... Also, on the plus side no one can tell me they know I got their vmail....
Android Central Newsletter
Get the best of Android Central in in your inbox, every day!
Thank you for signing up to Android Central. You will receive a verification email shortly.
There was a problem. Please refresh the page and try again.