Razer Phone now being updated to Android 8.1 Oreo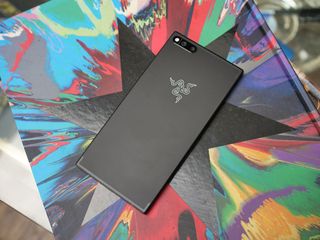 The Razer Phone, the ultimate phone for gamers, is now getting better across the board thanks to Android Oreo. Razer announced at the end of March that this month would see Android 8.1 Oreo make its way to the device, and now that day has come.
Although Razer's initiating the update today, it may be a few more days before it actually arrives on your unit. Razer says that 8.1 will be available on all Razer Phones "over the coming weeks", so be sure to keep tapping that "Check for update" button every now and then.
When Oreo does arrive on your handset, you'll have a lot to check out. Per Razer –
If you've got the Razer Phone, have you been graced with the Oreo update yet?
Joe Maring was a Senior Editor for Android Central between 2017 and 2021. You can reach him on Twitter at @JoeMaring1.
What other smartphones were updated to 8.1 apart from the Pixels?

My Essential phone has 8.1

My Nokia 8 got 8.1 in February and got 8.0 in October. Now I am waiting for this 8.1 update on my Razer phone.

At the rate these updates are going it won't even be a full Oreo by the time my phone gets it. People love Oreos.

Its nice they're going with 8.1 unlike Samsung.

Been debating on splurging for this phone, or a more wallet friendly Nokia/Essential Phone, or going with an Xperia XA for SailfishOS as my upgrade from a Nexus 5. Wonder if the Razer is root-able, have to go check XDA now.

Too bad it will most likely suffer from 8.1's multi touch issues, making it frustrating to enjoy games. Both my PH1 and P2XL suffer from it, making games such as PUBG nearly impossible to enjoy.

And just finished the update so far so good seems a little bit faster and refresh settings menus are an improvement.

Hi Joe, today I happen to update my Razer Phone to Android Oreo and now multiple apps including Instagram and Spotify when opened simply displays a white blank screen on startup and crash itself after few second any idea how to fix it?

Updated about 2-3 hours after it was announced. No issues yet. Just wish miracast was available (most of my TVs support miracast natively)

Just updated two hours ago. No hiccups and the menus are easier to navigate. They fixed the Netflix and Dolby Atmos issues so everything is working as it should be.

Update: If you have a Nabu watch, the app and your phone will disconnect altogether. The temp fix is to disable call notifications and everything else will work....hope Razer fixes this soon
Android Central Newsletter
Thank you for signing up to Android Central. You will receive a verification email shortly.
There was a problem. Please refresh the page and try again.