Android O Developer Preview 4 is out, public version imminent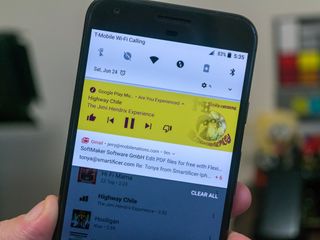 It's Monday, which means Google is releasing another version of the Android O Developer Preview.
The fourth issue is the last, cleaning up any remaining bugs and allowing Google to now move forward to the final release, which, according to the post on the Android Developer Blog, is imminent.
According to Google, Developer Preview 4 is a "release candidate," meaning that despite it still being aimed at developers, early adopters and beta testers should feel comfortable loading it on a production device. It is available for Pixel, Pixel XL, Nexus 6P, Nexus 5X, Nexus Player, Pixel C, and Android Emulator.
Google released final Android O APIs in the previous Developer Preview, so it is encouraging developers to test their apps against these mature hooks to make sure that, when Android O is publicly released in the next few weeks, apps take advantage of new features like notification channels, background location limits and an improved implementation of Doze.
The fourth beta also introduces a bunch of new developer tools. Google again:
If you're not a developer, you can always install the final preview using the Android Beta program. If you're already in the beta, you'll get an over-the-air update "in the next few days," according to Google. Don't want to wait? Follow the link below.
How to get the Android O beta 4 on your device right now
We still don't know what Android O will be called, but we're holding out hope for some delicious news this week!
Daniel Bader was a former Android Central Editor-in-Chief and Executive Editor for iMore and Windows Central.
I am downloading it now on my Nexus 6P. The file is 205.4 MB.

Which version are you updating from?

It's there a version for Shamu? Nexus 6...

I'm going from 7.1.2 to the public beta on my Pixel. Download size is 943.1 MB.

On my Pixel XL, currently on 7.1.2 with the July security patches, the update size is 956.0 MB. I've had Developer Preview 3 on my backup phone (a Nexus 6P) and it has been very stable. I also have the DP3 on a Pixel C tablet. I've got some updating to do.

Can you let us know if you see the Bluetooth changes that Jerry talked about? I am considering installing DP4 on my daily driver.

I just tested connecting my Pixel XL to both a 2012 Chevy Volt and Pioneer AVH-4100NEX via Bluetooth. It connected to both very quickly and the audio quality was good. I expect that the Bluetooth enhancements are likely present in DP4, but I don't have any means to test audio latency. The import part is that it connects quickly and sounds good.

DP4 has NOT solved the bluetooth issues with my car. I have two headsets that work OK but neither DP3 nor DP4 work with my 2015 Mini. My Pixel connects OK but I don't get any sound or track info. I briefly restored sound on DP3 by forgetting and re-pairing the phone but sound stopped working the next day and subsequent attempts to re-pair the phone have not fixed the sound. I didn't have any of these problems with 7.1.2.

My 2016 1 Series has the same issues. Im trying a full factory reset at the moment

Exact same conditions and update size on my Pixel XL as well.

Cool. Something to play with tonight! I was convinced we'd get nothing new til August.

Just installed on my daily driver, so far so good. Haptic feedback while typing is more pronounced. A few janks here and there but I'm sure that will get ironed out for the final release. No major issues so far.

A few janks here and there? If they aren't reported, they won't be fixed.

Is light flow going to require a persistent notification now? If so I'll pass on Android O.

Check out the article at Android Police regarding Android O notifications.

So I use an app that changes the color of my nav bar based on the app I'm in. I was able to get rid of the persistent notification while swiping to the right and touching the gear. Worked like a charm. Edit: The gist of the article the other person was referring to basically says yes, you can hide them again.

Bluetooth finally works with my Honda! Well, so far anyway. Fingers crossed.

I have never had a N6P bootloop issue and have been participating in the beta program since the start. While there has been some stuttering here or thereor the occasional f/c these are expected on early releases. Really, absolutely no unexpected problems. Seriously recommend the first thing you do is wipe cache after every install.

Can anyone confirm if it works with Android Auto? I couldn't get the previous developer version to connect to my VW Golf r.

I guess I'll answer my own question. I downloaded and it still doesn't work.

Android auto still doesn't work

I was able to get it to work after following a suggestion in reddit. I changed the usb setting from mtp to ptp. Everything seemed to work fine after the change.

http://i.imgur.com/7OKKgRl.png So, battery life might be a bit of a concern...

Regarding battery life, do a factory reset. I had horrible drain with dp4 and overheating while charging. I did a factory reset and all is well again. Pixel

Ah crap, I was afraid of that. I was really hoping to avoid doing a factory reset, but you just described my issue very well, so I suppose I'll have to. It hit 110 F while charging a bit ago. No good. Thanks for the tip.

Did the reset work for you? I am in the process of doing an all apps battery optimization which worked for some on 7.

I ended up not having to do a reset. It turned out that the overwhelming bulk of the battery drain was coming from the Pebble app, which is an issue affecting all Pebble users who are on the O beta. So I'm just not using my Pebble until they fix the bug (which, surprisingly, they have actually announced that they're going to do). Since disconnecting the Pebble, battery life has been about equivalent to what I saw with 7.1.x.

Android Auto still not working!

Regarding battery life, do a factory reset. I had horrible drain with dp4 and overheating while charging. I did a factory reset and all is well again. Pixel

I assume you mean that plugging your phone into an Android Auto car display doesn't work. Just so no one is confused, the Android Auto app (what you use if you are putting your phone in a car mount) works just fine.

Android auto works just fine for me

Doesn't work on my car infotainment system and was working on 7.1.2

When I first plugged my phone in, it told me no device was found. I just had to click on "select device" like I did the first time I set up Android auto and simply selected my device. After that it worked fine. I have a 2016 GTI btw, not sure if car brand makes a difference or not

It has started to work now. I enabled USB debugging and then switched the USB connection mode to charge only then back to MTP.

Have to say the bluetooth reliability so far is significantly better. Connections on all 4 of my devices has been rock solid. I uninstalled DP3 as it was just unusable for me.

Just reverted back to stable on my Pixel XL, overall it ran pretty well but battery life seemed to take a major hit for me. Very excited for the stable release though.

I tried it for a few days and reverted back to stable Friday. The differences in the notification channels didn't like my fitness tracker and I was missing calls/texts. But other than that it was really nice.
Android Central Newsletter
Get the best of Android Central in in your inbox, every day!
Thank you for signing up to Android Central. You will receive a verification email shortly.
There was a problem. Please refresh the page and try again.