The Android Central CES Podcast: NVIDIA brings Tegra 4 and Project Shield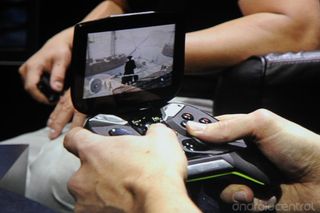 That's it, folks. NVIDIA dares you to top it this CES. Having thrown Tegra 4, the NVIDIA Grid and Project Shield our way tonight at the Palms in Las Vegas, we're more than a little excited about the processing power that promises to propel phones in 2013 and beyond. Alliterations aside (whoops), here comes our first podcast of the week, with yours truly, Simon Sage and Alex Dobie breaking down what we saw tonight -- and what it promises for the future.
Dont really see the point of this when you can just hook up your dualshock 3 on your phone. Unless there's a lot of free games included and it's priced right

PC gaming on a handheld device. That's what the point is. If I can play Assassin's Creed III on a 720p screen while on the toilet, I'm going to do it.

My Wii U basically already does that, and the controller on it feels a lot more comfortable than that thing looks.

The Wii U controller is a huge monster compared to this device lol and the SHIELD can do way more.

Thanks guys for a really interesting podcast. I'm sucking up everything you guys do at CES. Keep up the great job! Alex, hope you'll have time to enjoy Vegas a bit.... it's crazy!
Android Central Newsletter
Get the best of Android Central in in your inbox, every day!
Thank you for signing up to Android Central. You will receive a verification email shortly.
There was a problem. Please refresh the page and try again.