Android 4.1.2 pushing out to AOSP today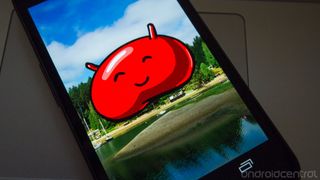 Google's Jean-Baptiste Queru has announced today on the Android Building group mailing list that a small revision to Jelly Bean -- Android 4.1.2, build JZO54K -- is pushing out to AOSP (Android Open Source Project) right now. While the Android world is still spinning following a the leaking of a whole bunch of LG Nexus pictures showing 4.1.2 on-board, JBQ's only comments in terms of this 4.1.2 release are in reference to the Nexus 7. His warning to community builders of software for the Nexus 7 is that future variants of the device are coming with a different power management chip, one that is completely incompatible with the current 4.1.1 builds of the software.
Details are sparse at the moment, but we'll keep you posted as we do some digging and find out what this means as far as changes and updates go. If there are changes or fixes relating to other Nexus devices, you can bet we'll see OTAs start to roll out in due course.
Source: Android Building
Andrew was an Executive Editor, U.S. at Android Central between 2012 and 2020.
Hm sounds like maybe the tablets need there own build. That would solve the confusion. But then we have fragmentation brought up. Tablets only apps tablet only os come on

Well.. Nexus 7 ROMs don't work on Galaxy Nexus ROMs and vice-versa.. Or are you somehow suggesting that tablets and phones need different versioning? If so, no.

So is this update just getting Android ready to support different chip sets on Jellybean? That's what my interpretation was. However, I don't really know.

JBQ is referring specifically to a power management chip change in new Nexus 7 units. As for anything else, we don't know at this moment.

Been thinking about unrooting and going stock on my N7. This will give me reason to.

It adds horizontal launcher rotation to the N7 which is a big deal and about damn time!

"If there are changes or fixes relating to other Nexus devices, you can bet we'll see OTAs start to roll out in due course." Unless you are on Verizon.

In which case, if you really care, you'll unlock. That, or you're already unlocked. At which point in time, you'll wait for the devs to build you a ROM for use and be just as happy without having to wait on Big Red.

While that is true that does not jusify the absolute train wreck that has been the Nexus on Verizon. It's a complete joke that they don't update along with the GSM version. Yes I blame Verizon but Google is just as much to blame IMO as they are allowing Verizon to control it way too much.

My Verizon Nexus is fine.

Change log (technical) www.funkyandroid.com/aosp-JRO03R-JZO54K.html Quite a few small fixes.. 4.1.1is uberstable here so not that suprised.

Besides the landscape mode, what other fixes will there be? Just checked my N7, no update available yet.
Android Central Newsletter
Thank you for signing up to Android Central. You will receive a verification email shortly.
There was a problem. Please refresh the page and try again.