Alcatel Onetouch announces Pixi 3 series phones, 'affordable' smartwatch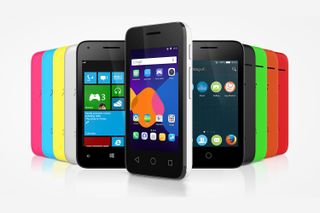 Alcatel Onetouch has announced some of what they plan to show next week at CES 2015. The company will debut its latest Pixi 3 series of smartphones, as well as their WATCH smartwatch.
The Pixi 3 series comes in 3.5-inch, 4-inch, 4.5-inch, and 5-inch models, the last three of which are LTE-capable. The line is also platform-agnostic, running on Android, Firefox OS, and Windows Phone. The Alcatel Onetouch Watch is a circular, metal device. While no price has been announced, Alcatel Onetouch says that they aim to create an affordable device.
Press release:
ALCATEL ONETOUCH at CES 2015:
Opening Access to the Latest Technology to Everyone
4G LTE connectivity is now within everyone's reach
OS-agnostic smartphones available on Firefox, Windows, or Android
The ALCATEL ONETOUCH WATCH opens up a new smartwatch category
Color Run makes the ALCATEL ONETOUCH booth a blast
CES - Las Vegas, January 2, 2015 – With a series of announcements at the International CES, ALCATEL ONETOUCH, one of the world's largest smartphone brands, makes good on its commitment to offer the latest technological innovations to all.
The brand's new PIXI smartphones make mobile Internet available to everyone, while offering another innovative feature of OS-agnostic. It is available with Firefox, Windows or Android, providing the flexibility to all consumers. What's more? The smartly priced WATCH creates a newly attainable smartwatch category.
4G LTE at an affordable price
First among ALCATEL ONETOUCH's announcements at CES, the smartphone brand is launching its affordable PIXI 3 series, ranging from a pocket-friendly 3.5-inch display to a larger 5-inch display. Offering both 3G and 4G LTE connectivity for the PIXI 3 (4"), (4.5") and (5") and 3G for the PIXI 3 (3.5"), the PIXI 3 series further features easy customization and the most popular applications pre-loaded.
OS-agnostic - Firefox, Windows or Android
Besides being the first among the PIXIs to offer 4G, the PIXI 3 series is also first to be compatible with three major operating systems: Firefox, Windows and Android. "Our users do not want complicated systems — they want something familiar from their work environment in the office, but also on a smartphone," said ALCATEL ONETOUCH Chief Marketing Officer Dan Dery.
Cross-device integration, from smartphones through to PCs. PIXI 3 series offers consumers simplicity of use and the reassurance of having the same system at home, at the office and on the go. With its OS-agnostic PIXI 3 series, ALCATEL ONETOUCH presents operating-system choices to its customers. This continues the efforts begun last year, when the brand teamed with Mozilla to launch the Firefox OS on its FIRE series of smartphones.
A Smartwatch at a Smart Price
It looks like a watch and feels like a watch but it's much smarter than that. ALCATEL ONETOUCH introduces the WATCH series, a smartwatch that puts a premium on elegant design at a very accessible price. In launching the WATCH, ALCATEL ONETOUCH creates a new market segment: the affordable smartwatch.
Offering the WATCH at a fraction of the cost of competitors, the smartphone brand has implemented its compact design expertise to offer a series of fine finishing that meet the demands of everyone looking for the same look and feel as a traditional watch.
While offering choices and styles, the WATCH is also packed with sensors and apps that allow users to monitor daily activity, and connects to Android smartphones to control music, take photos, receive notifications and more.
Visitors to ALCATEL ONETOUCH's CES booth will not only be able to test the brand's products but also really get in the game with activities such as the Interactive Color Run. Color Run is a five-kilometer race during which runners are doused with color at every kilometer. In this virtual version, a video wall will display landscape at a scrolling speed that matches the runner's speed. To win points, players will be able to throw colored sand at the images of other people as they run. Four different smartwatch functions will also display onscreen.
Android Central Newsletter
Get instant access to breaking news, the hottest reviews, great deals and helpful tips
The One Touch Fierce 1 was a great device for the price...
Let's hope these 2015 devices stay in the same vein...

Pixi? wasnt that a palm device?........

It was...which makes some sense. Posted via the Android Central App

So that explains Alcatel buying up the Palm trademarks.

They bought it just to name a device pixi? Posted via Android Central App on 1+1

It won't be a real Pixi until they add the physical keyboard....

Take notes moto on how not to have the ugly black bar at the bottom of the circle!

Yeah! When the bezel is white, make the bar white too! You tell 'em! Via AC app on my HP TouchPad (Schizoid PAC-ROM 4.2.2)

I wonder what they consider to be a fraction of what the competitors charge for their watch. It must be $150 or less, even though under $150 is extremely unlikely. Hopefully availability is widespread if it turns out good cuz the current options I'd want, the zenwatch or smartwatch 3, aren't available on amazon. The Sony is just from them or Verizon in the us which makes basically no sense since its available from amazon in Europe

Xbabax......here u go at amazon, the zen watch in the USA ....
Amazon.com
Asus Zenwatch Smart Watch by Asus http://www.amazon.com/dp/B00PXMWULC/ref=cm_sw_r_udp_awd_imTPub1VJ2Q2S?ta... Posted via the Android Central App

Thanks, but I should have specified sold by amazon since it makes zero sense to pay over retail for something, or in the case of the sony, retail but not direct to have a guaranteed warranty since I doubt the seller is an authorized seller. Best buy has the zenwatch for $200 but I prefer using Amazon gift cards instead of cash

Why would he buy from a third party reseller that's selling it for $60 more than the Play Store (where it's in stock)? The point of Amazon is that it has Prime shipping and is the same/lower price than the Play Store. Posted via the finally lag-free LG G3 on CM12

I completely forgot about google play for all the options lol. But its the same situation as buying from Sony/Verizon/best buy except without free shipping or a store for quick returns if necessary. Either way, I did a little more research on this Alcatel watch and every other site is saying it doesn't run Android wear, plus even the press release doesn't mention it. That really sucks cuz I imagine it won't be any good with a custom os

Makes no sense paying over 199 when you can get a Best Buy for 199. Posted via the Android Central App

I got lg g watch for $80 Posted via Android Central App on 1+1

Those android on screen buttons are huge on that little screen lol

I'm intrigued about that Alcatel Watch. If the price point and the features (please have decent battery life!) it has are decent, could be my next smartwatch to own in 2015. :-)

The watch ISNT android wear keep in mind. At least everything I have been reading about it so far is showing that to be true. " Alcatel's doesn't run Android Wear, and the company is content that its battery-sipping interface will exceed Google's software efforts, at least initially. There's no word as to when this magical device will head to retail, but the company believes that when it does, it'll be priced up at €99 -- which all seems far too good to be true." Source: http://www.engadget.com/2014/09/04/alcatel-hero-2-hero-8-smartwatch/

From the article you're commenting on:
"The Alcatel Onetouch Watch is a metal, circular Android Wear device." The source you gave is much older. Maybe things have changed.

The way that press image looks, Wear is unlikely. Possible, but unlikely.

I got lg g watch for $80, I will waiting for technology to mature and prices go down before I buy one Posted via Android Central App on 1+1

How is the lg g watch? Planning on getting one to play around with.

It is a pretty generic android wear watch. I wish it had a pulse monitor but I only paid $80 for mine so I am ok with it.
Let's see... It's an android wear watch, I find I pull out my phone less often when I can read an reply to notifications on my wrist.
Battery life had been lasting all day (with screen on and low usage), the first few days were terrible for my watch and phone's battery but now everything has settled down.
I noticed that it likes to disconnect when I ask it a question, idk if that is the watch's fault or not. I denied google services to wake up my phone so that could be interfering with the watch. Posted via Android Central App on 1+1

Has the pricing for the Pixi 3 been revealed yet? I might be interested in getting one for their size options; I hate large phones.
Android Central Newsletter
Get instant access to breaking news, the hottest reviews, great deals and helpful tips
Thank you for signing up to Android Central. You will receive a verification email shortly.
There was a problem. Please refresh the page and try again.