ADW Launcher comes back from the dead with a new update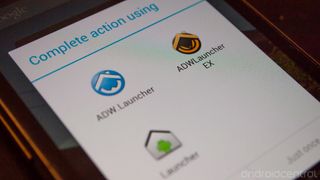 Just in time for Halloween, ADW Launcher is back from the dead. One of the more popular launchers all the way back in the days of Android 2.3, ADW hasn't seen an update in quite a long time. The latest update, version 1.3.3.7 cleverly, brings a completely redone UI and set of features along with compatibility all the way up to Android 4.1. Both the free and paid versions have been updated, and offer a crazy amount of customization options on the homscreens, app drawer, icons, themes, folders and anywhere else you could think of. It may be a bit overwhelming for some, but if you're willing to put in the time to customize it, you may get just what you're looking for.
There are way too many new features to list, especially in the paid version for $3.00, but overall things seem smooth and well improved. It's good to see that ADW is back in the launcher game with Jelly Bean. You can grab ADW Launcher at the Play Store link above.
Andrew was an Executive Editor, U.S. at Android Central between 2012 and 2020.
For what it's worth, the pro version is my favorite launcher. I actually prefer it to the ICS ROMs for my Bolt, and now that it's ICS and JB compatible, I can take it with me when I buy my next phone.

Used to use ADW EX exclusively - very nice to see it back in the game. I'm a big fan of most of the customization options this new version provides (the spherical app drawer is some SERIOUSLY sweet eye-candy, if a little impractical to use). My only gripe is the way the dock is set up - wish it would revert to a center panel instead of a far left panel (or at least give me an option to do so). Definitely a competitor for Nova and Apex for me - not quite sure if it will come out the victor though...

You can fix the dock,
Go to ADW Settings >> App Dock >> Dock Style >> Tablet (Bottom)

I'm running apex after trying nova, go, and a few others. Maybe this weekend when I got some time to play with it I'll give it a shot

I've been using ADW for a long time and still love it. The gestures to open the notifications, hide the bar, etc are awesome. The update is pretty slick so far. Definitely worth trying if you're in the market for a launcher.

Useless for me, because I can't sort the icons on the app drawer my own way. Like many more launchers out there. So I'm stuck with pretty slow GO Launcher EX...
Also, I can't set the number of icons separately for landscape and portrait mode in GO Launcher. Don't you have any solution for me?

I know Apex can do those things, and I would assume that Nova would as well. Though the app draw sorting would have to be into different grouped tabs. I don't belive you can move them around at your leisure; they have to follow some sorting method (most used, name, install date).

installed it seems smooth etc but honestly could not be asked to set everything up again...have nova set up just how i like etc had adw ex from a while back and remembered it had a feature called desktop importer which would copy the desktop layout of another launcher but seems like its been removed so decided to not use it at the end...

For fear of sounding ungrateful, the update was needed a long time ago. I would have stuck with the launcher if any sort of effort had been made to maintain compatibility with the latest versions of Android. I guess he already has my money so it didn't matter in the end. Just saying, update your app in a reasonable amount of time and your user base would stick with you.

I installed and then uninstalled the launcher. It's awful. I think I will stick with the stock HTC 4.0 launcher because I just love the HTC widgets. And we all know that you can't use stock widgets on a custom launcher.

Tried it on the T-Mo G2X and i loved it, Big Props

It's a nice launcher when it works. I installed it and set everything up, but after a couple of hours, it would close and wouldn't open back up again. So I did a delete and reinstall and was working fine again; after a few hours, the same problem happened again. I'm on a Galaxy Nexus 4.1.2.

Nice to see an update. But I already Nova Prime set up the way I want and I only use that when I want switch from Sense 4. Love Sense 4!!!!!

Nice to see an update. But I already have Nova Prime set up the way I want and I only use that when I want to switch from Sense 4. Love Sense 4!!!!!

I updated adw launcher and now the custom wallpaper doesn't line up with the icon grid. I have tried everything but for some reason the grid is off. Also, the launcher doesn't allow the resizing of widgets. I have a Samsung galaxy S3

finally yay!! it works better now, just need a better dock theme, like the old dock. WOW lots of options here. I need a whole day to set mine up again.

how to i download sony walkman E16i with ginger 2.3.7 please help me guy!

Well I'm now perfectly happy with Nova Prime, but I'm glad to see them come back with a big update.

Awesome launcher. Glad for the major update.
Android Central Newsletter
Get the best of Android Central in in your inbox, every day!
Thank you for signing up to Android Central. You will receive a verification email shortly.
There was a problem. Please refresh the page and try again.