EnGenius Cloud: Everything you need to know about this Ubiquiti alternative
With a good selection of access points and switches, EnGenius has a lot to offer prosumers.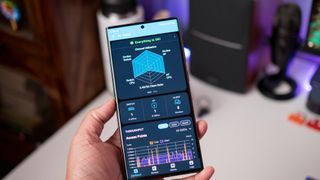 (Image credit: Harish Jonnalagadda / Android Central)
There's an exhaustive selection of products if you're in the market for a good Wi-Fi 6 mesh router. Most of the products have a robust feature-set, are easy to set up and use, and deliver whole-home coverage. While mesh systems have gained a lot of momentum in recent years, I'm not a fan of them as they often tend to be limited when it comes to advanced features and network configurability. That's why I turned to Ubiquiti's UniFi access points and switches for my own home a few years ago.
EnGenius is another brand that caters to networking enthusiasts, offering access points, network switches, and security gateways that are controlled by its cloud-based EnGenius Cloud solution. I used the ECW220 Wi-Fi 6 access point and the ECS1008P Gigabit managed switch for my home network two years ago, and slotted in the beefier ECS2512FP 2.5GbE switch last year into my home network infrastructure.
Like Ubiquiti's UniFi controller, the EnGenius Cloud controller is easy to get started with, and it offers an exhaustive list of features for network management. If you're looking to go this route, know that while EnGenius offers a good selection of switches and access points, it doesn't have a routing solution like Ubiquiti's UniFi Dream Machine Pro — you'll have to use a standalone wired router. The best way to do it is build a custom pfSense solution or get your hands on the MikroTik RB5009UG for routing.
Here's a brief overview of what EnGenius has to offer with its products, and whether you should choose the brand in lieu of Ubiquiti or TP-Link Omada.
Access points
Why you can trust Android Central Our expert reviewers spend hours testing and comparing products and services so you can choose the best for you. Find out more about how we test.
Given the increased prosumer demand in recent years, EnGenius now offers hardware tailored for home users in its Fit portfolio. The EWS357-FIT should be the ideal product for most home users; it's powered by a quad-core Qualcomm platform with Cortex A53 cores, has high-gain omnidirectional antennae that are hidden in the housing, and needs 12.5W over PoE.
The 2x2 Wi-Fi 6 design delivers up to 1,200Mbit over the 5GHz channel and 574Mbit at 2.4GHz, and is ideally suited for home environments. It misses out on the wider 160MHz channels, and like all of EnGenius's products, there's no licensing fee here. The EWS357-FIT retails for just $115 on Amazon, and that's in line with what Ubiquiti and other brands charge for similar hardware.
If you need a bit more grunt, you should take a look at the EWS377-FIT. This access point has a 4x4 MIMO Wi-Fi 6 modem, and delivers up to 2,400Mbit over 5GHz and 1,148Mbit at 2.4GHz. The 2.5GbE Ethernet port works over the 802.3at standard, and like the EWS357, it needs to be powered over PoE and has a power budget of 19.5W. The EWS377-FIT is available for $200 on Amazon, and although you won't find any 160MHz channels here either, the added bandwidth should be more than adequate for home users.
Both access points can be mounted on the ceiling, and are managed using the EnGenius Cloud software. If you need Wi-Fi 6e, you'll need to look at EnGenius's business-focused products like the ECW336, but I wouldn't suggest it as it sells for an insane $850.
Switches
Switching is where EnGenius takes on Ubiquiti and TP-Link, with the brand offering 8-port, 24-port, and 48-port switches that can be slotted in for home use. I have an 8-port ECS1008P that I've been using for over a year now, and it has been a reliable workhorse. I also have a 10GbE switch that's aimed at businesses, but a better alternative for home use would be the EWS2910P-FIT. This is an 8-port Gigabit switch with a 55W PoE power budget and two SFP uplink ports, giving it a 20Gbps switching capacity. The switch costs $179, but is selling for just $149 on Amazon, making it a stellar value.
If you want something with more ports or a higher PoE power budget, the $329 EWS7928P-FIT should be the ideal option. This is a 24-port switch with Gigabit ports and 802.3at/af PoE+ connectivity with a 240W power budget across all ports, and with four SFP uplink ports. you get a total of 56Gbps switching capacity.
Just like with the access points, the switches are controllable via the EnGenius Cloud software, and there's plenty of configurability on offer.
EnGenius Cloud controller software
While EnGenius has a lot of enticing hardware options, its biggest differentiator is the EnGenius Cloud management software. Similar to UniFi, you can control the access points and switches via a web interface, and there are mobile clients for Android and iOS that have a good interface and let you access all the customization options.
You'll need an account to use EnGenius Cloud, and it doesn't work in an offline-only mode. I would have liked to see this feature, but most brands are going this route, and for what it's worth, there's two-factor authentication to secure your account. The EnGenius Cloud dashboard gives you an overview of your network, and you'll be able to see the access points and switches and all the devices connected to either device.
You can change IP assignments, set up VLANs, configure PoE scheduling, and see what ports are in use in real-time for the switches. As for the access points, you can assign SSIDs, set up a guest network, select radios, configure DHCP, and manage VLANs. I like the ease of use combined with the customizability, and there is enough here for users just starting out with a DIY home network as well as enthusiasts looking to tweak every facet of their network.
Should you buy it?
Overall, I like what EnGenius has to offer with its hardware, but it isn't as extensive as Ubiquiti. The UniFi network has worked really well for me over the last 18 months, and the best part about Ubiquiti is that it has a range of security cameras that plug into its hardware and store footage locally.
After the Eufy debacle and the security vulnerabilities inherent in cloud-based security cameras, I wanted a local storage solution, and UniFi Protect has a lot to offer in this area. Ubiquiti has indoor and outdoor security cameras as well as video doorbells, and they work flawlessly with the UniFi Dream Machine Pro.
While EnGenius has decent access points and switches, it doesn't (yet) have a security camera portfolio, and that's a limitation for my own use case. There's also the matter of routing, and while the existing hardware is a decent alternative to Ubiquiti and TP-Link Omada, EnGenius needs to introduce a routing solution to round out its portfolio.
The hardware is a tad more affordable than Ubiquiti and you get a lot of options with EnGenius Cloud, so if you're trying to overhaul your home network and need access points and switches that work reliably, there is a lot to like with EnGenius.
Get the Android Central Newsletter
Instant access to breaking news, the hottest reviews, great deals and helpful tips.
Harish Jonnalagadda is a Senior Editor overseeing Asia at Android Central. He leads the site's coverage of Chinese phone brands, contributing to reviews, features, and buying guides. He also writes about storage servers, audio products, and the semiconductor industry. Contact him on Twitter at @chunkynerd.