Best comic reader apps for Android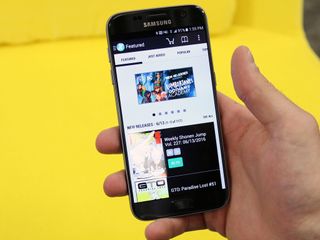 Face front, true believers! Though print comics are still alive, well, and actually thriving, some folks like a portable, digital version of their favorites to take with them (the TSA doesn't take kindly to luggage full of mylar baggies).
You can download comics and manga from many sources and you need a reader that lets you enjoy all of that digital inky goodness with some added features. Here are a few of our favorites.
Excelsior!
Comics by Comixology
Comixology is really the engine that run the digital comics machine. That is to say that you can browse, download, and read comics from just about every publisher via the Comics app by Comixology. In fact, even DC's app is run by Comixology. Comixology works just like Amazon, which is kind of the point, since it's owned by Amazon. You can search for comics, graphic novels, manga, and more by name, add them to your cart, and check out. You can even sign in with your Amazon account or create a new Comixology account. Up to you.
You also have the option to subscribe to Comixology Unlimited, which is basically all the comics you want for $5.99 a month. You have access to thousands of titles and if you're a Darkhorse or Image fan, Comixology Unlimited is the only subscription service that features titles from each of these publishers.
Comixology has titles from DC, Marvel, IDW, Image, Darkhorse, BOOM! Studio, Dynamite Entertainment, Valiant, Oni Press, and tons more.
If you're a digital comic fan in any way, then Comics by Comixology is the app for you.
Download: Comics by Comixology (free)
Marvel Unlimited
If you're a Marvel diehard, then Marvel Unlimited is where it's at. You get access to over 17,000 digital comics from all throughout Marvel's history for $9.99 a month. You can also pay $69 for a yearly subscription or $99 for the 2016 Annual Plus subscription, which includes a Hasbro Marvel Legends figure, three variants, other goodies, and discounts on digital comments and Marvel merch.
If you don't have an internet connection, you can read up to 12 issues offline, so you're never without comics. The Marvel Unlimited library is updated weekly with old and newer issues of comics, which are uploaded as early as 6 months after they hit shelves.
If you're trying to keep up-to-date on Marvel happenings, then Marvel Unlimited probably isn't for you. However, if you're wanting to explore the Marvel pantheon and dig deep into older books, then subscribe and enjoy.
Download: Marvel Unlimited (free, plus $5.99/month or $69/year subscription)
Perfect Viewer
If you don't need a comic reader with an integrated store and you just want somewhere to read your books, then Perfect Viewer is… perfect for you. It has full support for CBZ and CBR files (typical digital comic files), as well as PDF, GIF, JPEG, and more.
The layout is fully customizable and you can switch between scrolling view and page-by-page view depending on your preference. You can zoom in and out on panels and images, and if you get the paid version, you can apply limited colors to black and white images.
If you're looking to open files from Google Drive, OneDrive, or Dropbox, you totally can, but you'll have to install the source plugin. So the app is totally customizable, but you may have to do some finagling before certain desired features can be enabled.
If you're looking for an app that lets you read all of your comics in any way you choose and supports many other image file formats, check out Perfect Viewer.
Download: Perfect Viewer (free)
Astonishing Comic Reader
Astonishing Comic Reader is a basic reader app that just plain looks great. If you'd like a very aesthetically pleasing comic-reading experience, then check it out. It has no integrated store, but it'll line up all of the comics on your phone or tablet in a library-style fashion to make browsing and searching streamlined and pleasant.
You can curate your comics into customizable collections and receive recommendations for related comics via the Intelligent Suggestions feature. You can create wallpapers on the fly and use the Snapshots feature to save moments and share them.
Astonishing Comic Reader allows you to import your CBZ and CBR (comic book) files straight from Dropbox and will track which comics you've read and which you've yet to read. You also have the super-convenient ability to navigate using gestures, on-screen buttons, or the volume buttons.
If you want a comic reader that looks great, lets you read every comic on your phone or tablet, and lets you take snapshots of your favorite moments in comics, then check out Astonishing Comic Reader.
Download: Astonishing Comic Reader (free)
Challenger Comics Viewer
No ads, supports just about every image file format under the Sun, and Multi-Window support: What's not to love?
Challenger Comics Viewer is a versatile and comprehensive comic reader app that lets you enjoy all of the comics on your phone or tablet in many orientations and using gestures, vertical and horizontal scrolling, on-screen buttons – whatever. If there's a way you feel like reading your comics, Challenger Comics Viewer lets you do it.
If your comic files aren't on your device, then you can access them via virtually any cloud storage network or FTP, which easily makes Challenger the most versatile app when it comes to access and availability of your comics. I will say that it's certainly not the prettiest app, but what it lacks in form, it more than makes up for in function.
Basically, if you want a feature-laden, customizable comic reader that can really do it all, then Challenger Comics Viewer should be your choice.
Download: Challenger Comics Viewer (free)
ComicRack
Our readers asked for it and I was a fool not to include it. ComicRack for Android is the perfect complement to ComicRack for Windows and can act as a companion to your entire comic library on your Windows PC. You can wirelessly sync your entire comic library from your Windows PC to your Android phone or tablet if you go with the paid version, which is ad-free. If you go with the free version, you can still sync with your ComicRack for Windows library, you'll just need a USB cable.
ComicRack is jam-packed full of actually useful features, like the ability to manage reading states (completed, not completed, unread, etc.), a fully manageable library (wherein you can search titles), color adjustments so that your comics look as true to real life as possible, and a ton more.
ComicRack for Android has native support for CBZ and CBR files, but when used in tandem with ComicRack for Windows, it supports just about every comic format under the Sun.
If you're after a comic reader app that's loaded to the teeth with features (Twitter integration and live wallpapers and app widgets, oh my!), then seriously consider ComicRack, especially if you have it for Windows. It's a perfect pairing.
Download: ComicRack (free/$7.89)
Comic Chameleon
Are you a webcomic fan and couldn't really care less about any of the other stuff? Comic Chameleon curates all of your favorites with full support of every artist that they publish, giving exposure to lesser known online artists, as well as many webcomic standards, like Dinosaur Comics!
Comic Chameleon features a news tab, which keeps you up-to-date on all of the webcomics it publishes, as well as new app features. If you just got into a webcomic but want to read it from the beginning, Comic Chameleon provides full archives organized by year with thumbnails of each episode/issue.
Comic Chameleon features a lot of NSFW content, so it's rated for adults only on Google Play and, having skimmed a bit of the material on there, it has earned that rating.
If you're looking for a break from "comic booky" comics and want something more episodic or you're looking for a shorter read (some are just one panel), then check out Comic Chameleon and support independent webcomics.
Download: Comic Chameleon (free)
What do you use?
Did we miss an awesome comic reader app? Tell us what you use in the comments below.
Get the Android Central Newsletter
Instant access to breaking news, the hottest reviews, great deals and helpful tips.
Mick is a writer and duty editor for Android Central. When he's not on the job, he can usually be found vacuuming up pet hair or trying to convince his wife that he needs more guitars.