Yahoo Beyond Gold - yet another way to follow the Olympics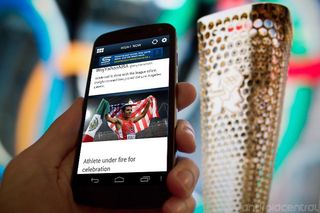 With only a few days left in the Olympics, you may still be hunting around for the perfect way to follow the last few events. Yahoo has made an app called Beyond Gold with a stark, mobile friendly UI and lots of information pulled in from across their content network. We've got plenty of other apps for getting involved with London 2012, so be sure to check 'em out while the games last.
Style
Yahoo Olympics Beyond Gold for Android lays out all of the major sections in a simple two-by-three grid on the home screen. The style seems vaguely reminiscent of Windows Phone, but really, they're just big, colorful squares, which makes for easier navigation on mobile. The format of the content isn't particularly rich; usually, it's just an article laid out in plain text with a headline image. The only real transition animation between screens is a loading bar, which doesn't make navigating particularly exciting.
The schedule section isn't especially well laid-out, and fairly useless without any notification system in place so you can be reminded of when your favorite sport is starting.
The only real downside to the style of Beyond gold is that scrolling down a little bit down the home screen has a Visa ad disguised as more relevant content.
Function
There are a lot of the features you would expect from an Olympics 2012 app - medal tracking, latest headlines, upcoming schedule, and tailoring content to your favorite country. There are a few twists that set the app's coverage apart, however. The "Right Now" section hauls in Twitter updates from correspondents that are on the ground in London. It's just too bad that the Twitter connection doesn't extend to easy following or replying to correspondents through the app.
There's a great photo section which hosts themed galleries, like funny faces synchronized swimmers make, and daily round-ups. Often I'd like to share stuff I find within the app, but unfortunately it Beyond Gold doesn't tie in with the system-wide Share menu.
The sources pulled in for articles are all polished and accurate, including more buttoned-down newswires like the AP and Reuters, but also some of the more colorful stuff from Yahoo staff. Although you can filter stories by sport, a search bar would go a long way to help folks find information on specific athletes or other criteria. I mean, Yahoo's still a search company, right?
Pros
Great photo galleries
Polished, professional news sources
Cons
Bare-bones UI
No sharing options
Bottom line
Like most other apps in this category, Yahoo Beyond Gold for Android is free, and generally well-polished. The app's layout and style is certainly sparse is sparse, but what content is there is high-quality. Diehard Olympics fans may still be left wanting for deeper features (namely sharing options) or a snazzier user interface, but those looking to casually catch up with what's happening should be satisfied with what Beyond Gold has to offer. If you're following the Olympics until the bitter end, give this one a shot.
Android Central Newsletter
Get instant access to breaking news, the hottest reviews, great deals and helpful tips
Simon has been covering mobile since before the first iPhone came out. After producing news articles, podcasts, review videos, and everything in between, he's now helping industry partners get the word about their latest products. Get in touch with him at simon@futurenet.com.
Eh, but I do like their Into Now app.

Olympics. Whatever. Till they add syncronized tea bagging and the 2 lap doggie paddle relay I could careless.

thats handy with less than 24 hours of the olympics left ......

The only thing Yahoo ever did well in my opinion was chatrooms and they have let spammers destroy them years ago now I'm honestly bewildered the company continues to exist.
Android Central Newsletter
Get instant access to breaking news, the hottest reviews, great deals and helpful tips
Thank you for signing up to Android Central. You will receive a verification email shortly.
There was a problem. Please refresh the page and try again.