WWE lays the smack down at CES with a 24/7 network for $9.99 a month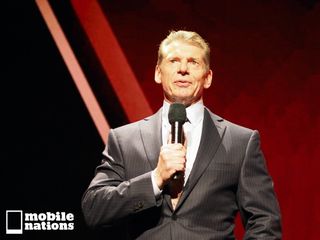 "It's way over the top"
This year's keynotes at CES came to an epic conclusion tonight with the announcement of the WWE Network.
Yes, World Wrestling Entertainment, which has long existed as a mainstay of pay-per-view, is coming to the web. The service will consist of a 24/7 live streaming service of original content along with a massive on-demand library of past content. Also included is access to all pay-per-view shows past, present and future. Streaming will be available on WWE.com, apps for iOS, Android and Kindle, as well as on PlayStation 3 and 4, Xbox, Roku — and at least one platform that Michelle Wilson, WWE Chief Revenue and Marketing Officer, was not allowed to mention.
The price tag comes to $9.99 a month, which if you ask any WWE fan is well worth it. Especially when it would cost well over $600 a year to buy all 12 of the pay-per-view events that WWE produces.
Why is WWE creating its own online-only network when it's clearly made plenty of money off TV productions, live events and licensed merchandise? Because there's still a lot more money to be made. WWE's research indicated that of the 116 million U.S. homes with televisions (that's pretty much every U.S. home), there are 62 million with a WWE fan. Those fans watch five times as much online digital content than non-fans, and are twice as likely to pay for online subscription services like Netflix or Hulu Plus.
So instead of dealing with the hassle of setting up a traditional television structure, WWE decided to go "over the top" and deliver its content over the internet. WWE wanted to enable their fans to access their content at any time from anywhere, so the online WWE Network was their best option, both in terms of speed to market and a direct customer relationship.
Because WWE knows its fans are across the globe, WWE Network will be launching in 10 countries: Australia, Canada, Hong Kong, New Zealand, Norway, Singapore, Sweden, the UK and the United States. Apparently the Norse love them some WWE.
"I'm saying it with an S."
Just how is WWE going to fill up 24 hours for days and days on end? With a mix of live and produced content, reality shows, pre- and post-event shows, and eventually a daily studio show. The on-demand library will include more than 100,000 hours of content, including every single WWE, WCE, and ECW event, including RAW and Smackdown. Even WWE Home Video productions will be included.
The original content brought to life by WWE Network will span the gamut for WWE fans. NXT will be a one-hour weekly reality show chronicling the development of rising talent at the NXT training center in Orlando. Legends House puts eight retired WWE legends into the same house, including Roddy Piper and Hacksaw Jim Duggan. Monday Night War will chronicle the escalating battle between WWE RAW and WCW Nitro.
The only show that felt like a potential dud was WWE Countdown, a fan-survey-driven show that counts down things like the top-voted catchphrases, managers, entrances, and finishing moves. It felt a lot like filler content, but 24-hour-a-day isn't going to be easy to fill.
As the WWE is an entertainment machine, the keynote was by far the most entertaining of CES (save for maybe T-Mobile CEO John Legere). Everybody was well-rehearsed, the delivery was engaged and energetic, and the script was full of in-jokes (including two pointed jabs at Michael Bay's catastrophic failure at the Samsung keynote earlier in the week. It helps when you've got entertainers like Stone Cold Steve Austin threatening to open a can of whoop ass and declaring things to be so because "that's the bottom line because Stone Cold said so" and Shawn Michaels and Triple H engaging in entertaining off-the-cuff banter with Stephanie McMahon. And, of course, Vince McMahon being his usual imposing self. And John Cena, whom the crowd just loved.
"Tap the gizmo, the touch things"
Perkins Miller, EVP of Digital Media took the stage to show how just how the WWE Network will work. Sign-up is a matter of three clicks on WWE.com, made even easier with the option to sign in with Facebook, Twitter, or Google+. You can, of course, create an account without using those services, but WWE wanted to make things as easy as possible.
The service on all platforms will offer 720p HD streaming (shame it's not 1080p, but that can always be changed). There's an enhanced programming guide that allows users to not only see what's coming up on the broadcasts, but to start over on programs that are in progress, go back in time and call back and stream on-demand a program you missed earlier. Additionally, you can set reminders for future programming and have notifications pushed to you via text messages or notifications from the mobile apps.
WWE Network will also support "second screen" content when watching on a big screen. Judging by the Google Chromecast that was included in press kits, they intend to allow streaming from mobile devices to your television (presumably AirPlay to Apple TV will also be supported). Second screen content in the WWE app will include stats, biographies, and more. Additionally you'll be presented with the opportunity to purchase tickets to local WWE events and merchandise.
All of this is being brought to life with the help of MLB Advanced Media, the company that built and runs the websites and streaming services of of the MLB and ESPN, as well as the highly-regarded MLB At Bat mobile app. WWE Network is the largest undertaking that MLBAM has taken on, but in a way is also a natural evolution of their projects.
WWE Network is scheduled to launch in 47 days, on Feb. 24 at 11:05 p.m. EST — right after the conclusion of WWE RAW. The first live pay-per-view event that will hit WWE Network will be none other than WrestleMania 30.
WWE is going online in a big way, and they're going online in the right way. Regardless of whether or not you're a WWE fan, you have to be impressed with the scope of the project and the complete and utter embrace of their fans.
Android Central Newsletter
Get instant access to breaking news, the hottest reviews, great deals and helpful tips
Derek Kessler is Special Projects Manager for Mobile Nations. He's been writing about tech since 2009, has far more phones than is considered humane, still carries a torch for Palm (the old one), and got a Tesla because it was the biggest gadget he could find. You can follow him on Twitter at @derekakessler.
SHUT UP AND TAKE MY MONEY!

Haha, I knew someone would say this. Posted from my "Gift from God" Nexus 5, my "God-Given" iPad Mini 2, or my "Risen" Samsung Chromebook.

I honestly thought the same thing. Love WWE, love Android...

I'm quite curious what the device is they cannot mention is.

I think the one they didn't mention was Xbox One, because they put a lot of emphasis on one, when saying "and there's ONE other platform I can't mention right now."

But they did say Xbox. And, technically, they said Apple with iOS, and the Apple TV is an iOS device, in all reality. But since Apple is the one who likes to make their own announcements, I suppose it could be a dedicated Apple TV app/channel, but I don't think that is it. Hmm... Is one of the cable/satellite providers going to be mixing things up and allow apps on their boxes? Could that be it? Interesting to watch, that is for sure. $10/month, wonder if that is for good or not. I wonder what the WWE gets from the cable/satellite providers for PPV events. If they are settling for $120 per household, they either think they will make it up in volume (perhaps a fair bet) or that the combination of that plus not paying the cable/satellite providers will be a win. I just may have to check this out.

Someone told me it was an in-joke from another keynote, and that there actually is no mystery device.

For people that are still wrestling fans (I used to be), this is an amazing deal. If you religiously order pay-per-view events, this is a savings of over 480 dollars per year. Now, we just need UFC to get in on this. Posted from my "Gift from God" Nexus 5, my "God-Given" iPad Mini 2, or my "Risen" Samsung Chromebook.

I wonder if I could just sign up when big PPVs are happening and then cancel. Like Summer Slam, Wrestlemania, maybe survivor series, and royal rumble Posted via Android Central App

Apparently when you sign up its for a minimum of 6 months Posted From My Awesome Moto G

If it was WWE Divas naked wrestling 24/7 I would sign up, but it won't be and it's just going to be reruns like VH1. They are still going to have PPV specials, that is their bread and butter outside of touring. But if they show all their 1980's wrestle events with the OG wrestlers like Andre the giant, jake the snake, piper, and such, that would be interesting. Better to just make a website to access old shows and have a 24/7 live feed would be a lot better, like a WWE Netflix.

that's exactly what it is mwara244....read a little bit before post and make yourself look like an idiot

I don't think you read the article correctly mwara244. That's EXACTLY what it's gonna be.. but better because the live programming will be included.

The UFC just announced something similar to this a few weeks ago. It's called Fight Pass. You get access to all the past UFC (PPV, Fight Nights, etc), WEC, Pride, WFA, and Strikeforce video library.
Plus, they're having 150 cards specifically on there that aren't going to be broadcast any where other than Fight Pass. They'll also have the international TUF in there. It's the same price as the WWE, but it lacks a mobile app right now and it doesn't get you the new PPV. Posted via Android Central App

Well... That's good to know!! Thanks!! Posted from my "Gift from God" Nexus 5, my "God-Given" iPad Mini 2, or my "Risen" Samsung Chromebook.

"And John Cena, whom the crowd just loved." CES, the only crowd that still loves John Cena. But seriously, that's impressive, and so cheap too.

I was really hoping Cena would've gotten booed during the presentation & that a YES chant broke out but alas it didn't happen. I was really impressed with the presentation and the thought & effort they're putting into this endeavor. I can't wait! Posted via Android Central App

That's $9.98 more than I want to pay...and I'm a WWE fan

I'm thinking you're not /actually/ a fan. Otherwise you'd be incredibly excited about this.

Well I am a fan, and, Wooo!, I'm not excited. I haven't missed a pay-per-view in years(Haven't paid for one either, but you didn't hear that from me) Posted from my newly Kit Katted Droid Ultra

If you never pay for anything and you think $9.99 is $9.98 too much for 24/7 live stream including all live PPV events plus an extensive back-catalog of VOD content, you're not a fan, you're just an entitled asshole.

This is HUGE. I was a big wcw WWF guy. Not much now. But for $10 a month I get all the ppvs? Would be worth it for Wrestlemania and back catalogs alone! Posted via Android Central App

+1 Posted from my "Gift from God" Nexus 5, my "God-Given" iPad Mini 2, or my "Risen" Samsung Chromebook.

If not finding value in watching Jimmy Hart argue with Howard Finkel over using too much hot water in the shower makes me an entitled asshole then I guess I fit the bill. Posted from my newly Kit Katted Droid Ultra

No, it's the fact that you're unwilling to pay a measly $10 a month for live PPVs (to which you admit to never missing) and the entire backlog of content and would rather instead stream for free on a 3rd party site or otherwise acquire for free.

Yeah what is the other platform that can't be mentioned. I am intrigued to know. And this price is insanely cheap. Posted via Android Central App

Chromecast? LOL Posted via Android Central App

Apparently WWE included a Chromecast in their press packs at the event.

Not interested!!! Posted using Android Central App on my Samsung Galaxy S4 T-Mobile

Great! Another channel I won't ever watch. I hate sports. Posted from my Nexus 7(2013).

LOL WWE is not a sport. Posted via Android Central App

True, true. Still hate sports. Posted from my Nexus 7(2013).

Why? Posted via VZW Moto X on the Android Central App

I'm curious too. Sports are about then only thing I watch on TV for full blown excitement now. Posted through my Nexus 7!

This!! Posted from my "Gift from God" Nexus 5, my "God-Given" iPad Mini 2, or my "Risen" Samsung Chromebook.

+1!!!!!! Posted using Android Central App on my Samsung Galaxy S4 T-Mobile

You can't see me. Posted via Android Central App

Would be awesome if ESPN, UFC and other sports networks did something like this so I could cut the cord completely. Posted via Android Central App

Totally on board with this. Give me NFL network, redzone, ESPN and live network sports and Comcast only has me for internet. Posted via Android Central App

20 somethings living in mommy's basement all over the country are celebrating tonight Posted using my Galaxy Note 3 via Android Central App

Actually I'm 28, Married with 3 kids and own my own home and I'll be getting this! Posted From My Awesome Moto G

I'm also 28, engaged, have a great job, and own my own house. But, hey, keep up with the stereotypes!

Wrestling is a joke. A bunch of steroid induced monkeys jumping on each, actually not even touching each other and pretending to hurt each other, who in their right mind watches this brainless nonsense. Posted via Android Central App

It's funny when you see someone try to talk about something they obviously have no idea about. Please, tell me some of your favorite shows. You realize that Walt on Breaking Bad doesn't really cook real Meth, right? Yet people are still quite entertained by it. Amazing!

Wow!!!!! Great Posted via Android Central App

While I'm not a fan of "professional wrestling" myself, I think this is awesome because it shows that content producers are starting to break out of the dinosaur age of cable and embrace the Internet culture of streaming. I hope to see more networks and content companies follow suit soon (looking at you HBO) Posted via Android Central App

While I do appreciate the PPV discount & the back catalogue value of WWE Network? Is really worth more than the annual subscription cost of Netflix, Hulu Plus, or Amazon Prime? No way. To use Vince McMahon's own words, "No chance in HELL!" If WWE is going to put users who don't regularly buy a WWE PPV in a position to choose between Netflix, Hulu Plus, Crunchyroll, or Amazon Prime? I'd say the competitors win because they offer a smorgasbord of genre's & additional properties that the price justifies the value. I've seen some of the YouTube stuff for WWE Network & I wasn't impressed. If this is the future? The McMahon's need to rethink this. They really aught to hook up with an existing brand & make it apart of Netflix, Hulu Plus, & Amazon. It's an okay idea but I don't think it's $9.99 or $119.88 plus tax a year for just one brand. That would be like subscribing to one studio's streaming network. Warner Studios is trying this & most people aren't interested.

Being that it includes ppvs, its an awesome deal. But I'm wondering if they raise the price after six months.

Is this still a "thing"? I thought it fizzled out in the 90's. Posted via Android Central App

The show consistently gets the highest ratings on USA network and is one of the highest rated shows on Mondays. Pretty sure that means it's a "thing", yes.

I remember when wrestling was good. Mid-South Wrestling and then UWF. Never cared for the cartoonish WWF.

What a waste of bandwidth Posted via Android Central App

Good deal if you are a fan.
I'm a NBA fan and I paid $120 for the league pass - some people say they'd rather pay zero and watch illegal streams but to me, that was a great deal.

FFS people still watch "professional" wrestling? Eh whatever, I guess they are very talented oversized gymnasts/actors. They couldn't even put the smack down on the World Wildlife Fund...

Sounds like they have a winner on their hands.

Good. Maybe we can actually have sci-fi on Syfi again. Posted via Android Central App

To be the man you got to beat the man! Posted via Android Central App

I am so excited for this it is silly. All of the back catalog I can watch AND PPVs for $10 a month. One more reason why I don't need cable. I love it.
Android Central Newsletter
Get instant access to breaking news, the hottest reviews, great deals and helpful tips
Thank you for signing up to Android Central. You will receive a verification email shortly.
There was a problem. Please refresh the page and try again.