How your phone can help you walk more (and not hate it)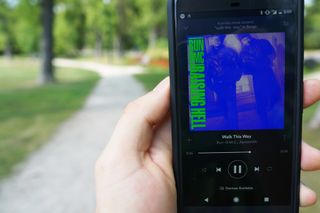 In the first Tech for your Health column, we discussed using apps and technology to help establish better nutrition habits. With all that extra energy that comes along with eating right, it's time to step up your physical activity.
They say you need to learn to walk before you can run. While that idiom relates to mastering basic skills before tackling more complex projects, it's also fine advice to take literally when you're easing into a healthier routine. It's incredibly easy to procrastinate and binge on technology indoors, when fitting in just an extra 30 minutes of walking into your daily routine can make a big difference in your health, physical and mental.
We've got some tips if you're considering tech to help break you free from your couch-potato habits.
A fitness tracker isn't going to fix your bad habits
Fitness trackers have been the trendy workout accessory for years now, with the space blowing up with tons of brands trying to jump into the emerging market. If you were to believe the marketing hype, slapping a $200 activity tracker to your wrist is all that's been stopping you from achieving your fitness goals.
But if you're the initial goal is to simply get a bit more active and you're only looking to track your daily step count you can totally get by using the device you already carry with you at all times: your phone.
There are a number of free step counting apps that use the sensors built into most Android phones to give you a fairly accurate assessment of how much activity you get in a day. Google has continued to develop and flesh out its own health app, Google Fit, and if you haven't checked it out you really should. Not only does it let you set and track activity goals for yourself — whether that's a daily step goal, active minutes, or weekly run goals — but it also syncs up nicely and aggregates information from other fitness and nutrition apps you may also be using. It's a great free app that should help you get started down the path to a more active lifestyle
Alternatively, if you're using a Samsung phone, you've got a pretty decent health tracking app pre-installed. Samsung Health offers a full suite of functions and services for tracking your activities and diet. Samsung has also been including a heart rate sensor in all its flagship devices since the Galaxy S5, allowing you to receive a more advanced breakdown of your health vitals without the need to buy a heart-rate monitoring fitness tracker. It also plays real nice with the Samsung Gear S3, Samsung Gear Fit 2, or any of their other smartwatches and fitness trackers.
Now don't get me wrong, fitness trackers can be great tools for keeping you honest and tracking your progress (and I'll be looking at them more in-depth in future columns). Fitbit is the household name and has developed a number of great features within its app that I've enjoyed using, especially the daily and weekly Fitbit challenges. You can compete with your friends, family, and co-workers to Fitbit complete challenges — because a little healthy competition is never a bad thing.
But like I touched on in my previous column about nutrition, you're best off taking your time, doing your research, and work on setting new habits before you start investing in a fancy piece of tech. I've known too many people (myself included) who end up with a growing collection of fitness trackers that just end up collecting dust in a drawer after a couple months of use.
So use your phone to start, work on building those healthier habits, and then when you feel you're fully committed to your goals you can grab
Find apps that inspire you to get outside
It shouldn't be too much of a challenge to get outside for an hour or two each day and take a walk around the block, and yet it's something I still struggle with on a weekly basis. Working from home I've spent countless evenings transitioning from work to leisure without leaving the house, spending the entire evening just laying around staring at my phone — it's the ultimate tool for my procrastinating needs.
Ideally, I'd like to get into the habit of waking up early and going for a morning walk, but I'm not quite there yet. So I've sought out other ways to use my phone to help me get steps in throughout the week. If I need to do a quick trip to the grocery store, I'll check out the walking time estimates in Google Maps, find a podcast or playlist that'll fill that time nicely, and head out on foot rather than taking my car. Small decisions like that have a way of compounding over time, and once you get used to the new habit it'll just become second nature.
Podcasts and music are a natural accompaniment for any walk or run, but there are other great apps and games available for mobile that can help you get outside and get moving. In spite of its haters, Pokémon Go is still going strong with a number of new features and Pokémon released this summer. But there are many more cool apps worth trying out — check out the rundown we published at the start of summer!
The best apps and games for getting out and enjoying the outdoors
Ready to start running?
In the next column, I'll be stepping things up and looking at using tech to help you transition from walking to running, but if you're already feeling ready to hit the pavement, might we suggest a Couch to 5K app to get you started!
Sign up for Black Friday email alerts!
Get the hottest deals available in your inbox plus news, reviews, opinion, analysis and more from the Android Central team.
Marc Lagace was an Apps and Games Editor at Android Central between 2016 and 2020. You can reach out to him on Twitter [@spacelagace.