Todoist's Material re-design makes task management look better than ever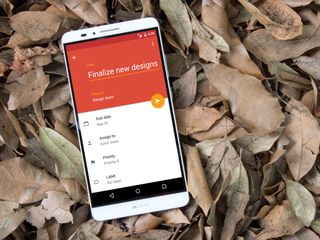 Before it pushes out to the masses through the Google Play Store, the new version is going through a beta testing phase that anyone can apply to take part in (links for that at the bottom of this post.) One of Todoist's strongest points is its powerful feature set, something that has won it fans the world over. It's about as cross-platform as a service like this could get with apps on pretty much everything, web apps, plugins, Android Wear support and much, much more. But, since the advent of Material Design with the arrival of Lollipop, it's not hard to say the Android app had a distinctly 'last-gen' feel about it.
Which isn't the end of the world, since the features were still there.
But all that's about to change. As you'll see from the old vs new shots above and below Todoist for Android is getting pretty. Really pretty. Thankfully for Todoist, at least, the beauty is more than skin deep and beneath the new paint job the same great app resides. It's been brought right up to date.
If you want to test it out for yourselves ahead of the general release, hit the link below and follow the instructions. It won't be too long of a wait until everyone gets it, however, if you're feeling less adventurous.
Love the app Posted via the Android Central App

I absolutely love it too!! I was hooked from day 1. This is great news Posted via the Note 4 or Tab S 10.5

Pretty sure it was an app of the week on here that got me hooked Posted via the Android Central App

I don't know what the hell's going on but I can't get the beta, and it's pissing me off! Posted via the Note 4 or Tab S 10.5

The yellow screen looks a bit weird and out of place I think - almost like it's floating way to far "above" the rest of the UI.

Nice, my Remember the Milk account expires in a couple of months. Time to give Todoist another try!

I ditched RTM for Todoist over a year ago and haven't looked back. Did they ever update the RTM UI?

Their mobile app UI hasn't changed recently, and the regular web UI hasn't changed. That said, there's a beta web UI that's being tested, and it's a huge step up from the current web UI (secret beta, can't share screenshots). They say the mobile apps will be updated along with the web site when the beta nears completion. That said, as nice as the new RTM UI is, there's still way too much going on it it compared to Todoist. And I hate that stupid cow icon.

Still no 2 way sync with google calendar though right? That was the deal breaker for me when I tried it. I have too many other google calendar collaborators to give that up. I was disappointed for sure because I really liked it. Posted via the Android Central App

It may be near-impossible to implement full synchronization between these two (a lot of data - projects, sub-task levels, labels etc. would be lost in the process).

Hi Andy, we're going to implement sync with Google Calendar in just a few weeks. Please check the "Product News" section of our blog for more info!

If you use Sunrise Calendar it supports todoist.

Why don't they revamp their service instead. Only 250 items per list. What a joke!

as long as it doesn't have a location based reminders, desing can't supplement that lack of functionality for me

Todoist have the location based reminders.

https://youtu.be/HHGskXODO30 https://todoist.com/help/reminders I use this feature every day :)

You need Todoist Premium (subscription) for location-based reminders.

I suggest you give the devs a little money and upgrade to Premium. Location based reminders are enabled then.

Subscription? Forget it. I'd pay $500 for an app that i like before I'd pay $.01 per month to rent one. Offer a purchase option and I'm there.

$500 would buy you over 17 years at the current rate of $29/yr. I suspect you may move on to some other to-do manager by then, making the yearly price much cheaper in the long run.

What's with the excessive whitespace? When I look at my task list, or am editing a task, I want to see as much as possible while maintaining a neat and orderly display. In the comparisons above it appears that a lot of information per page is lost. Also, where is long-asked-for dependent tasks feature, Evernote and Onenote integration, Google Calendar integration, proper handling of "every 1 day" vs "after 1 day" tasks? These are all basic features for which the Todoist support forum has been clamoring for, literally, years.

Material design is all about white space. It looks great.

I will however, agree that DEPENDENT TASKS are URGENTLY required.

Todoist is supposed to be an app to make a person more productive. Period. There's a difference between proper and functional use of white space and excessive white space. This redesign is an example of excessive white space. Edit: Sorry, neglected to hit the Reply button.

White space is refreshing. Clutter will make it heavy on your head.
I say this despite having 800 tasks.
Todoist has got this right bang on target.

Looks like a useful update for an already great app Posted via the Android Central App

You say it's stunning. What is stunning is that someone knows so little about basic UI design (let alone design for people with poor vision) that they choose to put tiny white text on a bright yellow background. That's about as terrible contrast as its possible to get - making it almost illegible. Similarly the orange "Task" and "Project" text on the red background is equally terrible. The white text on red works OK. This choice of colours works terribly in a properly lit office on my 27" high-res monitor. What would it be like on the screen of your smartphone in bright daylight - it doesn't bear thinking about! Good design is not about making things "really pretty" its about making things that are fit for purpose! This choice of colours is definitely not!
PS Even if the colour choices are user selectable such terribly low-contrast colour combinations should not be possible.

Thanks Mike - I was beginning to think I was the only one... I dislike Material Design in general. It is usually an unreadable mess. I also find the floating add button an annoyance. I don't add all the time on mobile devices, it's not what I do most - yet there it is, in the way, all the time. I also detest the garish primary colors - the whole design is a complete distraction. I stopped using Google's Gmail app because looking at it is like a stab in the eye. Type Mail is far better. In general Google's UX/UI is dreadful but because they do something everyone follows along regardless. I'm a paying ToDoist user - I am looking elsewhere because of:
- a sync bug in the current version of the Android app that has lingered for months and renders it unusable.
- their move toward Material Design which is, apparently, far more important than bugs that cause data and productivity loss
- feeling blown off by their support So I wish them well, I really do, but their bad design choice is a big part of me going to another app.
--Jo
Android Central Newsletter
Get the best of Android Central in in your inbox, every day!
Thank you for signing up to Android Central. You will receive a verification email shortly.
There was a problem. Please refresh the page and try again.