We have your first look at Tivo's massive, amazing Android update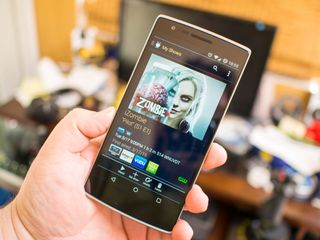 As a longtime Tivo user, the experience had with the Android app to date has been just shy of absolutely miserable. The first release was little more than an iOS port that didn't scale correctly when using larger screens or devices with higher than what was considered normal resolutions at the time, and when the app did finally improve enough that it was usable on all devices the UI was outdated and sluggish. It didn't matter what device you used the Tivo app on, scrolling through the Guide with a finger flick was inviting pain.
That was then. This is now. This is the new Tivo for Android.
DVRs did a lot to change the way a lot of people watch TV, and Tivo is largely responsible for leading the charge with that particular experience. Things have changed a little with smartphones, LTE, and at least a dozen truly great streaming video apps out in the world, making it a little harder for those who aren't interested in cutting the cord to justify the cost of a Tivo. The company has made some strides over the last year to help make that decision a little easier — namely the ability to stream anything and everything straight from the box to your mobile device — but with competing services picking up speed what Tivo really needed was an entirely fresh approach to the living room.
Coupled with the software update to the Tivo platform we saw initially at CES this year, the Android version of the Tivo app has been completely redone. Not only does the app let you take advantage of the new features found within Tivo itself, but the updates design and dramatically improved performance of the app makes the experience feel as though it's a new platform altogether.
The folks at Tivo set us up with early access to the new app to demonstrate just how different the experience was, and since my personal Tivo is a generation old at this point we were able to use a Roamio Pro to get the full experience. To say there was a performance difference in the app after the update is the understatement of a lifetime. Everything from the fly-in Material Design menu to scrolling through the live Guide was amazingly smooth, with no noticeable lag when using the app as a remote control for the Tivo. The UI had also been updated to match the deeper blues and darker shades of the newer Tivo user interfaces, which not only stand out and look nice but serves to make using the phone as a remote less distracting when the lights are out and your screen brightness is down. It's an all-around huge improvement, both long overdue and deeply appreciated.
Since we're using a Roamio Pro for this test, live streaming live TV and recorded content is another feature worth mentioning. Tivo has worked hard to make the streams as smooth as possible for mobile devices, transforming the feature from an afterthought to something worth using whenever you need it. Streams over Wifi start in seconds and are immediately watchable, with streams over LTE taking only slightly longer. Tivo adjusts the stream quality quickly to meet whatever your data connection is, with none of the strange audio issues the previous version of the app experienced. These adjustments make it possible to take your entire Tivo experience anywhere and actually enjoy the experience, and as tired as this phrase is the whole setup truly did "just work".
Tivo's big new change on the DVR side of things is the addition of OnePass. This new tool is an evolution of the Season Pass setup that Tivo has had for years, leveraging the ability to stream content on your Tivo box to complete a season that may be missing some episodes. For example, if you've just discovered Marvel's Agents of Shield this week, and decided you need to watch the whole show from the beginning, you can tell OnePass to pull from Amazon Prime Instant Video, Hulu, and others as well as recording any previously aired and new episodes that are set to broadcast in the future. The end result is a single list of episodes from multiple sources that lets you binge watch the show you've just discovered with minimal effort on your part. The OnePass manager works similarly enough tot he old season pass manager that existing users should feel right at home, and toggles for things like purchasing episodes that aren't available as part of a streaming subscription offer just enough flexibility for every use case.
By the time you read this, most of the modern Tivo devices will have already gotten the software update on the DVR end of things. Users will have already been prompted to check out OnePass and seen the small differences the change made to the system UI, but the big changes can all be found here in the app. It's fantastic to see Tivo finally taking mobile — and Android — so seriously. Even if you're not likely to enjoy streaming from your Tivo, the new app has almost everything you need to seriously consider sliding that peanut-shaped Tivo controller in a drawer and never using it again.
Cool. I can't wait to give it a spin. I remember the time when there was no official TiVo Android app and we had to rely on a hobbyist who created a hacky one. TiVo was late to the game. I'm sure there will be "What's a TiVo? Do they still exist? Why would anyone need this?" comments forthcoming. To them I say FU in advance.

As a watcher of more than one sport, cable cutting is still years away for me, and TiVo is still cheaper than the cable company's box... It used to be just cheaper and easier to use, but the huge range of improvements over the last year have raised the value proposition a lot IMO.

You won't hear that from me. I'm with you, dude. Love my TiVo. Still the best experience.

Is that the OnePlusOne in the picture? Posted via the Android Central App

Definitely is. Seeing those pics makes me miss my 1+1. Awesome phone just a little too big for my liking.

You can only stream from your TiVo DVR if it is on a wired connection. Bummer.

I've been streaming wireless all day. My TiVo is on WiFi.

Hmm, their site said it must be wired. I'll have to try WiFi tonight.

My Roamio Plus has been on wireless from the start and I've been able to stream shows with the old app since the day they enabled it for Android (last year)... Even from outside the house on LTE etc. Certain things work quicker wired tho, I plan to wire it up soon when I move tho since the router will be in the same room.

This pleases me. I have a Roamio Plus with lifetime service. I didn't even know they were reworking the Android app. It definitely needed some work. OnePass is a great feature. I just started using it to add Netflix and Amazon shows to "My Shows". Posted via the Android Central App

Only took them a solid five years

This is perfect timing! I just purchased a Tivo Roamio Plus and a couple Tivo Minis over the weekend to replace my Tivo Premiere and Tivo 2 units. Part of my decision was based on being able to stream to my mobile devices (HTC One M7 and Nvidia Shield Tablet). I'm in the process of setting up the new Tivo units but now I'm even more excited to see this new functionality in next hour or two. Thanks Tivo!!

Sweet, I'm glad the app is finally going from something barely tolerable to something slicker and more modern. Maybe now I can stop using using the DVR Commander app; for managing certain things it was much much quicker than TiVo's own app, uglier tho and it meant two apps for managing one device. To be honest, TiVo has always been cheaper for me in the long run (with lifetime subs on the three units I've had) than renting the cable co's boxes, but the bevy of improvements they've made over the last year or so has raised the value tremendously... Amazon Prime streaming, much faster UI, Android support (now improved), OnePass, huge improvements to the way they make online content accessible... They're finally living up to that one box motto, the Nexus Player (or even the Fire stick) are still faster for certain things but the TiVo sure is convenient. They need to refresh music streaming over the network next, and/or add more services beyond Pandora/Spotify. Although after the DNLA update I'm using my Beeps for that more than anything else...

So glad I use kodi, this tivo thing sounds shitty from my HP 17 all in one

Something must be wrong with your hearing. TiVo has always been amazing....their Android app experience, though, not so much.

Nothing wrong my hearing from my HP 17 all in one

What is kodi? Do they still exist? Who would want such a thing?

Lol of course from my HP 17 all in one

The update adds compatibility for the Nexus 6 and Nexus 9, but more importantly, it can now stream to rooted devices!

About time! I've been complaining about the lack of Nexus 6 support, and heard nothing back from them.

Really? Heck yeah, now I can re-root my Nexus 7 and actually stream to my phone... More excited about the latter actually, never felt much of a need for root on the N7, indispensable on phone tho.

I would never put that peanut shaped remote in a drawer, the Tivo remote has to be my favorite design of a remote control, EVER. I am thrilled that they finally got around to updating the app. I always felt like a second-class citizen when using it as it was so obviously a port from iOS, seeing updates about streaming, but only to Apple devices. Now it seems like Tivo might actually give a crap about Android, which is very nice.
I've been debating upgrading my Premiere to a Roamio Pro as it has been making some not-so-great sounds. The addition of streaming to Android is a big factor, and 2 extra tuners is nice, but I just don't know if its worth the money to shell out for a new box.

Streaming on Android has already been there. Downloading to Android is what they need to bring.

So that was my question: can it download shows to my phone/tablet's storage so I can watch on the plane without an internet connection? I have a Directv GenieGo but honestly it's a dreadful experience, takes forever to get shows transferred to the mobile device and drops the resolution down to 1024 (to curtail piracy?), which looks terrible on anything larger than a 4" screen.

Not yet. Although I expect it to have that feature eventually.

At the rate Tivo moves at addressing the needs of Android users, "eventually" will probably be when none of us have a Tivo anymore. Didn't iOS get that download feature 2 years ago?

When is this app update rolling out? It's absurd that the current TiVo app is still not compatible with the Nexus 6.

Just downloaded it on my Note4. Posted via the Android Central App

Yup, live on Play now, just updated on my N5.

Oh yeah, just updated, this is massively more usable... Some elements still take a sec to load but that might just be my spotty LTE here, the UI itself is super fluid whether content is loading or not. Even the icon went all material design! They also added a capacity indicator like the Roamio has had since inception AND progress indicators from the last DVR update, very nice. Still can't browse the deleted folder tho, guess I'll keep DVR Commander installed in case I need to do that remotely.

Looks like they finally fixed the streaming problem I was having with my LG G3. New app stream perfectly and really nice that I can watch live shows on my phone. Tivo was lacking in Android support, but from my run through this app it looks like they finally did it right and give them props for finally delivering a solid Android based app.

Hate to interrupt the new TiVo app love fest but I just updated it and found a big issue, at least for me. I have what is considered a smaller Android phone, a 2013 Moto X. Seems the TiVo Guide is scalable but in my case, the channels are in boxes not large enough to show the entire channel number. They show the network logo, but only the first couple digits of the channel number. Channel 1205 now shows as 12 and the network logo. This ought to be adjustable to show the entire channel number, maybe take some of the show title real estate away to create the room needed to show the whole channel number and logo. Not a deal breaker. The app does run better but the old 2.0 version showed the entire channel number in the Guide, the new one does not. My 2 cents. Posted via the Android Central App

Looks like a scaling issue for sure, on my slightly larger Nexus 5 I don't see any channel #s clipped but my lineup only goes up to the 900s. All channel logos show up properly to the right of the channel #, a couple of the local channels which show their call sign rather than a logo have the fifth letter slightly clipped tho (WKAQ will only have half the Q visible for instance). I can see how clipped #s would be a nuisance, should try to send them a note and/or screenshot.

Thanks for that info on your Nexus 5. Interesting the difference going from my 4.7" Moto X screen to your 5" Nexus screen. I am also wondering if the resolution comes into play. My Moto is 720 vs. your Nexus is 1080? I will capture all this and send it and a screen print to Tivo. Posted via the Android Central App

Yay! I am excited. The TiVo app on my Nexus 10 has always been frustratingly slow and buggy. I thought they were never going to get everything working well. For YEARS I was yelling at them to freaking support Android. And then what we got was.... well.... sucky. But better than nothing. And then no streaming! Then they FINALLY added streaming and it was spotty and freaky. Can't wait for this to push out!!!

OMG! I just updated and played with it. O M G- it is 1000% better! So far I love it!!!! Not only is it better organized and easier to use, it is tremendously faster. And streaming- I used to have to wait forever staring at a spinning circle before it would even start (and sometimes it would never even store) but now it just works! HAPPY!!!!

I assume the streaming does not work with TWC putting the copy once tag on everything?

Streaming doesn't count as copying, so it should work.

Some cable cos mess up the "do not record" etc flags that should only go with premium channels tho, right before Puerto Rico's two larger cable cos merged one had flagged pretty much every channel in a way that TiVo couldn't send the recordings to a PC and lots wouldn't stream. When the new one took over they started fixing it but it was slow and I'm not sure they every unflagged all the basic channels.

Surprised to see all this TiVo love. I thought I was a rarity with my TiVo. I am thinking about buying a wonderful one, this might seal the deal. Posted via the Android Central App

Downloaded on my Nexus 6 and loving it so far. Posted via the Android Central App

"TiVo did a lot to change the way we watch tv"
That's an understatement if I ever read one.
They invented the DVR in the late 80's and introduced time shifting live tv to the world not to mention the ability to record a program and completely, legally skip thru 20 minutes of commercials in seconds and showing us 1 hour network programming is really only 40 minutes long or less. Thirty mine programs 20 minutes long with 10 minutes worth of commercials, again I can skip thru in seconds not watching one of them if I choose.
To this date they still produce the best functioning DVR in the Roamio Pro and Plus models a with 6 tuners and up to 3Tb HDD's. Yeah, i guess you can say they did a lot, or maybe everything! I'll get down off my Fanboy soapbox now.
:-:) Posted via the Android Central App

ReplayTV played a role in there too, to the victor go the spoils tho. :p I actually bought a RTV only to return it because it didn't work at my location, left for college, then a year later bought a TiVo. I've had three and they've paid for themselves compared to the cable co options... Which reminds me, I need to fix the TiVo HD and sell it off or stick it in another room... I know the only thing wrong with it is the drive (unless my S2 which had a more severe death) and it's still got a lifetime sub attached to it. When it broke down it was just a good excuse to buy a Roamio+.

Welp, the new app doesn't support my DVR, and the old app now suddenly does not support my DVR.....win?
Android Central Newsletter
Get the best of Android Central in in your inbox, every day!
Thank you for signing up to Android Central. You will receive a verification email shortly.
There was a problem. Please refresh the page and try again.