TaxCaster: start thinking about your 2012 tax bill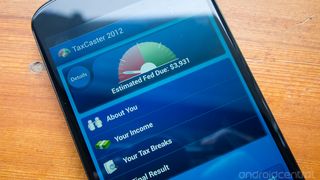 The sooner you start thinking about your taxes the better, and TaxCaster does a great job of helping you estimate what you'll owe before you get started on it officially. We looked last week at what the IRS had to offer to check your tax return status once you're done, but sometimes you just need an app that'll help get you started first. This won't file your taxes, but it'll surely get you on the right path.
Hang around with us after the break to see a quick overview of TaxCaster.
The folks over at Intuit, who operate Mint Personal Finance (opens in new tab) and more recognizably the TurboTax software, have put out a few different apps to help with filing your 2012 taxes. TaxCaster is probably a good starting point if you haven't yet filed your taxes, as it's a no-commitment calculator to help you get a better idea for what your tax bill will be before you file. The app is simple, but that's just what you want a tool like this to be. Just like Intuit's other offerings, TaxCaster is extremely well designed -- and holo, which is great -- to help you navigate through the interface with simple menus, buttons and explanations.
The interface is clean and easy to use, with a prominent meter at the top of each page indicating how much you can expect to owe in taxes or receive as a refund (which is similar to the way TurboTax operates). There are 3 main categories -- about you, your income and your tax breaks -- that each have sub-categories to break things down to simple sets of three or four questions each. As you move through the categories, you'll be asked general questions pertaining to your family situation and finances for the previous year.
With each answer, if the information provided changes the amount of taxes you'll owe the meter at the top will reflect that. The fields can be filled manually or with a slider, which makes it easy to calculate some hypothetical situations to get a better idea of how certain filings will affect you. For example you could see how it would change your final taxes owed if you were to claim different assets as being for your business, or which way of deducting the expenses would save you the most money.
When you get all the way through the questionnaire and have entered values that accurately reflect what you earned in the previous year, you'll get a "Final Result" estimating your tax bill. You will get an itemized list of what hurt or helped you the most among your income or deductions, and you can then go back to review what you entered to make changes accordingly. The app will also recommend which level of TurboTax may be the best choice for you given the information you provided.
When it's finally time to go file your taxes, you may be in for less of a shock if you take a few minutes to plug some rough numbers into TaxCaster and get an idea for what Uncle Sam is going to ask of you come Monday, April 15th.
Android Central Newsletter
Get instant access to breaking news, the hottest reviews, great deals and helpful tips
Andrew was an Executive Editor, U.S. at Android Central between 2012 and 2020.
Please..
Not On The Telephone...:-)

I like how the assumption is that you are going to owe something and not get a refund.

Honestly, this app will do both ways (you getting a refund or paying), but for some reason it is off by how much it gives as a result. I don't know if it's a bug in the app or what, but I went to attempt to use it before you could officially file (since I would only use a 1040EZ with one W2), and it said I would be getting back about $1100, but then when I filed with the same info using TurboTax, it only got me $730. Honestly, at that point, it's bearly worthwhile to bother using.
Android Central Newsletter
Get instant access to breaking news, the hottest reviews, great deals and helpful tips
Thank you for signing up to Android Central. You will receive a verification email shortly.
There was a problem. Please refresh the page and try again.