Lenovo's Phab 2 Pro offers a glimpse at augmented reality in the real world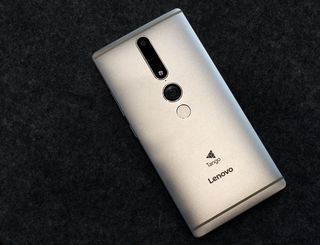 The first consumer-centric Tango-enabled smartphone is on sale today. Lenovo's Phab 2 Pro is officially available for $500 (opens in new tab) and there are already a number of compatible apps available in the Play Store. Here's a quick glimpse at what you can do with this giant augmented reality-enabled phablet device.
Realistic gaming — sort of
Over the last few months, Google has worked closely with a number of developers to put together a library of apps that show off Tango's capabilities. Many of those apps are game titles, though that's not necessarily a bad thing. After all, there was plenty of skepticism around virtual reality when it first hit the scene. The upside is that Tango's mobility lets you take the fantasy world inside your smartphone and experience it outside wherever you are — even on the train ride to work.
Ghostly Mansion (opens in new tab) is a great example of this. Your objective in the game is to scour the room you're physically in to search for objects that might help you figure out why you're dead. The room is merely projected through the Phab 2 Pro's 6.4-inch display, but because of its motion tracking mechanisms, I was able to keep my head inside the game despite not having the phone physically strapped to my face. In fact, I was so engrossed into following what was on the screen, that I had to remember to look ahead not to run into something or someone. I now understand all those Pokemon Go-related injuries.
I had just as much fun with Slingshot Island, which plays more like a sophisticated version of Angry Birds. After you choose the real-life placement of the fantasy island, you'll have to launch boulders, cluster bombs, and other sorts of artillery towards the giant fortresses erected on the land. And to do so, you have to physically pull-back with the Phab 2 Pro to fire off the slingshot.
The result is a game that smartly exemplifies Tango's interactive abilities while illustrating how immersive augmented reality can be in the real world. For instance, I could "freeze" the angle of the slingshot and then walk around to see what exactly the projectiles would hit. This particular game mechanic becomes a requirement in later levels of Slightshot Island as the fortresses become harder to penetrate with just the standard weaponry.
Not all of the applications will whisk you away to another world, however. I played around with the Phab 2 Pro's built-in augmented reality "pets" but they're a bit disappointing. Both the cat and dog, which are available in the camera app as an AR prop of sorts, do not interact with your environment too well. I enjoyed the AR scenery a bit more since it didn't require me to actively interact with a virtual object.
Tango is not a one-trick pony
Games are not Tango's only trick, though they're certainly a great example of what's possible with the underlying technology. The team behind Tango hope that the Phab 2 Pro will show the technology's educational abilities too. "If you really want to understand the scale of the dinosaur, today you have to go to the American Museum of Natural History and you have to stand next to a [dinosaur's bones] to get a sense for how big they were," said Nikhil Chandhok, Director of Product, a few days ago at a media roundtable at Google's offices in San Francisco. "But [the Dinosaurs among us (opens in new tab) app] actually gives you a sense of scale... and that is a very practical teaching tool."
Chandhok also sees Tango's effectiveness in connecting emerging markets. "I think there will be more communication apps that will take advantage of the Point Cloud to build new communication experiences."
Johnny Lee, Director of Engineering, hopes to see Tango bring experiences to other parts of the world that might otherwise feel isolated. "Part of the appeal of [AR] is that it's something that makes the transaction more efficient," added Lee. "You have a greater chance of buying something you really want without actually having to have a retail presence nearby. [Retailers can bring] larger scale shopping to places where physical retail stores are much more difficult to reach."
Is AR the future of smartphones?
Augmented reality is nothing new. We've seen it utilized in plenty of industries and mobile apps, and it's one of the underlying technologies making headway in the game industry. However, that doesn't mean that Lenovo's Phab 2 Pro phablet doesn't have its challenges ahead. There may be more than a few dozen apps currently leveraging Tango's technology, but that doesn't prove its effectiveness in the long term. For Tango's technology to have the pervasiveness of GPS and cameras in smartphones, there has to be a legitimate use for it.
Fortunately, Tango is taking its chances months after the relative success of other augmented reality apps like Pokémon Go. That helped show that the market is there; It's merely the implementation that will reel consumers in. The Phab 2 Pro might have trouble proving its worthiness as a 6.4-inch smartphone, but its existence will also help regular users and developers alike acclimate to the idea of using a phone in this interactive manner.
Florence Ion is an editor and columnist at Android Central. She writes about Android-powered devices of all types and explores their usefulness in her everyday life. You can follow her on Twitter or watch her Tuesday nights on All About Android.
Cool stuff. Much better than Pokémon go, which wasn't really ar. It was just a ball throwing physics game that had your camera and gps on.

I definitely find AR more interesting than VR, but interested in this phone for the large display and good price for the specs. But will it be supported with security and OS updates?

great question about security updates.

Isn't it a 6.4" display, not a 6"?

yesssss let me fix. apologies.

Still trying to understand why anyone outside of a total phone nerd would want this phone or a phone with Tango in it. Seems like something you'd show off to someone then promptly forget about. Now if it was included in a phone that wasn't a monster I wouldn't turn my nose up, but for the vast majority of user's not only is Tango not a selling point, it isn't even something they know about.

I'm not really interested in Tango as much as I am a solid phone to replace a Nexus 6.

Same here, my Nexus 6's screen just got shattered yesterday. This could be a good relatively cheap replacement until a suitable replacement with note 7 features comes along. Also, the phone is more aimed at designers and professionals, not really gaming right now. It accurately measures a space in 3 dimensions, it's not simply applying a cartoon onto a 2d image. You can scan a room and quickly see how removing a wall would look or how a new appliance might fit into a space.

That's funny, my 6's screen cracked yesterday after a fall. Amazing how you can go from being happy/content with your phone to needing to look for a replacement.

Off the top of head, Interior Designers could make use of this.

Pretty cool, I'll be interested to see where this goes.

Will it work on Sprint network ?

Has anyone tested it as a phone? I have been looking for a large screen phone for a while. How's the screen? How's the cam?

Interesting
Now I have to make a decision between this and Pixel XL
My question is about software update. Are we going to get any? They lost me with Preinstalled Software (McAfee® Security, Netflix,SwiftKey)

Updates might be iffy, but at least at the current price differences you could almost buy 2 Phab 2 pros or 1 Phab 2 Pro and in a couple of years buy a Phab 4 Pro :)

Anyone seen reviews about how it is as a phone / data device?

you had the camera, but there's no specs?

Where are the apps that use the camera system for grabbing 3D info in the world around you? One-click 3D modeling of interior spaces or simple 3D scanning of real-world objects?
Android Central Newsletter
Get the best of Android Central in in your inbox, every day!
Thank you for signing up to Android Central. You will receive a verification email shortly.
There was a problem. Please refresh the page and try again.