SongPop review - the Draw Something of music trivia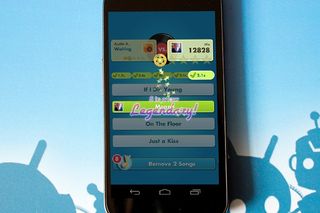 SongPop is quickly becoming one of the more popular social games available on Android by seriously testing musical knowledge. Players take turns trying to identify five tracks within a specific genre from a multiple-choice list. Points are awarded based on how quickly correct answers are supplied, and once both players have had a go, their results are compared and a winner declared. Things can be made a little bit easier by buying power-ups with coins earned through gameplay or in-app purchases. Those power-ups can knock out two of the options in a list. Coins can also unlock new playlists, expanding your horizon of challenges.
The asynchronous set-up is and in-app purchase model is similar to Draw Something, but after one round, you'll see that SongPop is a very different beast.
Graphics and audio
SongPop's graphics and animations are extremely well-polished and colorful. Bright explosions punctuate victories, sharp numbers fade in for the countdown to a new round, and the overall UI layout is simple, straightforward and clean. Since accounts are linked up to Facebook, your list of ongoing games includes profile pictures for all of your opponents.
In the free version you'll have to deal with ads, but those can be knocked out for $1.99. The premium version also includes high-quality audio playback and the ability to play with twice as many people concurrently. Beyond the music quality, the sound effects are also well-done.
My only real usability complaint is that there's no communication or friending system in place. It would be great to be able to send taunting messages to one another, or compare achievements. Speaking of which, achievements get pushed to your activity feed on Facebook by default, and there's no in-app option to turn them off. After not playing for awhile, I recieved a challenge as a post on my wall, which is a little tacky.
Gameplay and controls
The controls are dirt simple - just tap the box which you think relates to whatever music clip is playing. Navigating the user interface is highly streamlined, and usually you don't need to make more than two taps from the home screen to get playing. It's also worth noting that the game is fully cross-platform with Facebook players and iOS, meaning you'll never be lacking for opponents.
Though the multiple choice format stays the same throughout SongPop, the question types change up a bit between having to identify artist or song. It would be neat if there was more graphic-rich question, such as album art, or picture of the artist, but those two question types are plenty for the time being.
Players alternate picking genres, so one doesn't always get the advantage. Though you only get three playlists to pick from in any given round, using a power-up allows players to shuffle in a new selection. Over time, players get to see how they're doing on any given week
Independent from who you're playing against, high performance in playlists unlocks new songs in that playlist. That means if you're able to identify tracks quickly and get many of them right in a row, you can quickly expand your library, which ultimately makes the game more challenging.
Pros
Fun, challenging multiplayer trivia
Polished, colorful graphics
Cons
No in-game friending system
Bottom line
SongPop's popularity may crash just as meteorically as Draw Something's, but for now, it continues to be played by many, and with a solid free version available, there's little reason not to join in with your friends. Though I'm about as inept with music trivia as I am with finger-painting, I had way more fun with SongPop than Draw Something, mainly since SongPop has a lot more pressure and competitive edge. If you end up loving the game, the $1.99 upgrade is worth it, though I can't say I'd be particularly tempted by the in-app purchase of coins; just keep playing, and you'll earn enough to unlock the new playlists.
Android Central Newsletter
Get instant access to breaking news, the hottest reviews, great deals and helpful tips
Simon has been covering mobile since before the first iPhone came out. After producing news articles, podcasts, review videos, and everything in between, he's now helping industry partners get the word about their latest products. Get in touch with him at simon@futurenet.com.
I enjoy songpop despite being really awful at it. Feel free to challenge me: smartmelon

I play it a lot. Tons of fun. I usually loose. :-) But it's all good!

There's no way to sign up without using Facebook? I have a Facebook account but I'd rather not use it for this, specially when the app posts stuff to my feed with no option to disable it...

I dont have facebook, and I play it all the time.

Like draw something, it has a massive flaw. SongPop's is the fact that it posts the songs the person you are playing has guessed. If you are the cheating type, you can take that information and win every game knowing what your opponent played.

It only post there guess id the time that they guessed it, so if you do cheat as you say and guess it after they do you will lose because they are guessing it quicker then you.
Android Central Newsletter
Get instant access to breaking news, the hottest reviews, great deals and helpful tips
Thank you for signing up to Android Central. You will receive a verification email shortly.
There was a problem. Please refresh the page and try again.