Samsung ChatON gets SMS support in Germany and Brazil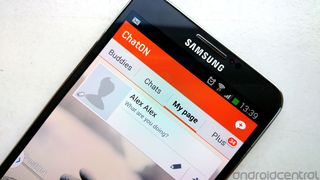 Hot on the heels of Google Hangouts growing SMS and MMS support, Samsung's ChatON messaging app has also been updated with the ability to serve as your sole SMS and MMS app. The new feature, which at present is only live in Germany and Brazil, combines text conversations with ChatON messages, and also merges your phone contacts into your ChatON buddy list. The app has also been updated with a new badge added under the ChatON icon, allowing users to see the number of unread messages.
While ChatON is bundled on Samsung smartphones, the app supports a wide variety of Android phones from other manufacturers, meaning that like Hangouts it can presumably take over SMS duties on non-Samsung phones too. We haven't been able to get any one-on-one time with ChatON's SMS integration just yet, but it's unlikely this feature will stay exclusive to a couple of countries forever. In the meantime, if you're in Brazil or Germany and want to take this new functionality for a spin, hit the Google Play link above.
Alex was with Android Central for over a decade, producing written and video content for the site, and served as global Executive Editor from 2016 to 2022.
What? No United States?! Come on!
I'm kidding. Just making fun of the constant "Why doesn't Google put so-and-so out to everyone and not just the US?!" comments.

This is Samsung's way of making it up to our friends across the pond who couldn't get the 50.They can have the update,I'll keep my 50. Sent from my Note 3 rockin Jelly Bean 4.3

Nahhhh Google Hangouts performs and look better than ChatOn. I'll stick with hangouts Posted via Android Central App

Why would I use chatOn? It only works with Samsung devices, too restrictive. Sms integration in Hangouts is great and that's why I use Hangouts. If it wasn't for sms integration, I would not hangout Posted via Android Central App

I don't use it, or Hangouts, I'm an old fashion SMS guy. :-)
but ChatOn works on any Android phone or tablet.

Does anyone actually use this app? Posted via Android Central App

Give it a rest samsung, no one wants to use your crappy ChatOn

I actually use the app everyday. My son, who is seven, and my daughter, who is nine, have a 3.6 and 4.2 Samsung Galaxy Player respectively because the thought of giving them a full smartphone at their ages is not an option in our house. However, because we all use Samsung devices the kids can still send text, video, and voice recorded messages to mom & dad without the need to have additional data plans or fool around with downloading messaging apps in the playstore.

I get messages from boots on there evrry now and then!! Posted via Android Central App

Who uses chat on no1 Posted via Android Central App

How can I tell if my DROID RAZOR HD IS GOT ALL ITS UPDATES IT NEEDS I HAVE WONT TAKE MY SD CARD GETTING ADIFFRENT ONE TOMORROW TELLS ME MEMORY IS GETTING FULL ALOT AND I JUST ORDERED A SECOND ONE DROID 4 I THINK GO AHEAD AND TELL ME HOW STUPID THAT WAS BUT MY LG NEED REPLASED WISH I HAD WENT WITH A NEW LG UPGRADE BUT I WILL TRY THEN MAYBE TREAD BACK BUT I DONT REALLY KNOW IF I HAVE ALL I NEED ON THIS I had to restore again so halp would be very thankful. Posted via Android Central App
Android Central Newsletter
Thank you for signing up to Android Central. You will receive a verification email shortly.
There was a problem. Please refresh the page and try again.