Rovio's Bad Piggies hits Google Play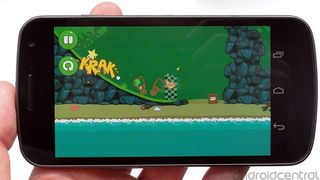 Right on cue, mobile game developer Rovio has released Bad Piggies, the swine-centric Angry Birds spin-off, on Google Play and other platforms. The game is available now as a free download from Google's app store, and comes in regular and HD (tablet-optimized) flavors.
Bad Piggies sees players take on the role of the mischievous green pigs from Angry Birds, building all manner of precarious vehicles in order to reach the end of the level, and steal some eggs along the way. The pig-focused gameplay has a lot in common with an earlier Rovio title, Amazing Alex. Players build contraptions, out of parts in a 2D grid, before taking them for a spin in the game world.
Our early impressions are that it's a fun little game, and with two zones consisting of 45 levels each, in addition to an unlockable sandbox mode, there should be plenty of content to keep you entertained. We'll have a full review of Bad Piggies up before long, so stay tuned. In the meantime, you can grab the game from the Google Play link above.
Alex was with Android Central for over a decade, producing written and video content for the site, and served as global Executive Editor from 2016 to 2022.
Still trying it out.
But seems good.

theres 2 versions. regular and hd. downloading hd as im typing this.

so its not a bad game at all. the concept is to try and build a contraption that will take u towards the "end of the level" so you can collect the treasure map that leads to the eggs. thats the only way to beat the levels is by collecting the map. you get 1 star just for doing so. the other 2 stars are earned by beating it under the time suggested and collecting a box with a star on it. the game will actually make players think as to how they should build their contraption. (though its been very easy so far, i only played several levels, im sure it may get a little more "tough") its something completely different than angry birds. if you are interested in a new game and enjoy rovio games, then def check this out since its free anyway. oh and i received the angry birds trilogy on the ps3, its actually pretty cool bc u get to play on your tv and the graphics are hd so if you love angry birds in general, then i def suggest you pick this one up. it has the regular angry birds, seasons, and rio, theres over 200+ levels and this will get you going for a long time. the controls are really easy and awesome to use. on the ps3 you just pull back the analog and push x to release. very simple. very fun and addicting again. also, they added bonus levels that are HUGE. each bonus level has over 15+ pigs which will give you over 200k+ points and you get a bunch of birds to use. also they do online leadership boards which is really cool and brings out the competitor in you.

So is it just ad supported, or does it have IAP? Also, which would be better to install onto a high res phone, the regular one or the HD one? -Suntan

have a hd screen. go for hd, right now they are both free

Does it suck as much as angry birds?

Not nearly as much as your comment.

Being awarded stars makes an annoying chime of sorts for each star, I hate that. Thanks shaytoon for pointing out I'm collecting map pieces, I thought it was cheese. Not a bad little game so far, I'm surprised they released it for free.

seems good but it definitely won't get the popularity rating that angry birds got. but the gameplay seems to have enough oomph to keep u busy for hours.

It's already the most downloaded paid app on iOS, according to Cnet, so definitely going to be as popular.

Ad supported or is this really FREE free?

it is free and i dont recall any ads (maybe it was a banner in the corner) i dont remember honestly

Nice! Free for the Android devices. The iOS HD version is $2.99! Guess my son will just be playing this on the N7. :)
Android Central Newsletter
Thank you for signing up to Android Central. You will receive a verification email shortly.
There was a problem. Please refresh the page and try again.