Reply wants to add Smart Replies to all your messaging apps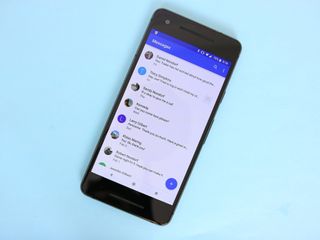 Two years ago, Google announced a new feature for Inbox called "Smart Reply." Smart Reply could automatically recommend replies for you to send based on the context of messages you received, and it later expanded to the likes of Allo and Android Messages.
Area 120 is a small "experimental program within Google", and it's dedicated to creating unique apps and services — many of them that never see the light of day. One of Area 120's latest projects is called "Reply", and its goal is to bring Smart Replies to a heap of other messaging apps.
In an email that was sent out to individuals signed up for Area 120's Early Access Program, Reply is said to work with Hangouts, Allo, WhatsApp, Facebook Messenger, Android Messages, Skype, Slack, and even Twitter DMs. As you can see in the screenshot below, Reply looks a lot like Google's native Smart Replies.
However, Reply doesn't just replicate Smart Replies. Instead, it makes them even better.
In another screenshot that Area 120 shared, the team shows that Reply can take Smart Replies and elevate them to the next level. For example, if you get a text from your significant other asking when you'll be home, Reply can determine where you're at, where "home" is, and how long it'll take for you to get there — resulting in the following:
Additionally, Reply can determine when you're driving and reply to any texts to let people know you're behind the wheel, messages that Reply determines are more important than others (such as "Where are you?!") can still notify you even if your phone is on silent, and vacation responses will automatically be sent out if someone tries to contact you and Reply sees that you've noted on your calendar that you're taking some time off.
Reply is only available for Android users that are part of Area 120's Early Access Program, and while it's an ingenious idea, don't expect a public launch anytime soon. Reply is still very much so in its early development days, and it's entirely possible that Google will scrap the project at any given moment.
Android Messages is Google's best chance to compete with iMessage
Joe Maring was a Senior Editor for Android Central between 2017 and 2021. You can reach him on Twitter at @JoeMaring1.
This would be useful. I mostly enjoy Verizon's messaging app but unfortunately it wasn't among the messaging applications referenced as potentially getting this. But for my wear 24 smart watch I'd take a look at Android's messaging app. The receive and reply to messages only works with Verizon's messaging app on wear 24....

'Canned' responses - ehhh Unique - yes. Interesting - yes. Would I use it? - maybe - highly impersonal - staged. Can be good for long stressful days when I don't want to think about things. That's about it...

Don't mind it as an option as long as in isn't to intrusive. Use it quite frequently in Inbox.

Considering how out of context the allo responses can be i hope this does a better job.

you have to use it more and it learns,i only talk to my girlfriend on it and its learned how i talk and knows the context of how we speak to each other i could use the smart replies to facilitate a whole convo without interferrng

Every day tech improves to the point that it won't be long before human interaction is removed from our lives completely
Android Central Newsletter
Get the best of Android Central in in your inbox, every day!
Thank you for signing up to Android Central. You will receive a verification email shortly.
There was a problem. Please refresh the page and try again.