PolitiCards review - the unlikely mix of Android, politics, solitaire, and movie quotes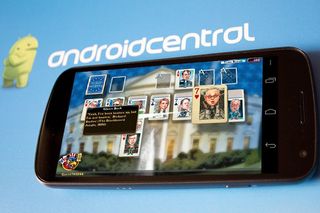 PolitiCards recently launched on mobile, bringing the unlikely combination of political cartoons, movies, and solitaire to Android. Both sides of the American spectrum are amply represented, including Barack Obama, Mitt Romney, Nancy Pelosi, Glenn Beck, and pundits like Arianna Huffington and Donald Trump also show up. The twist is that they're all paired up with movies that roughly fit into their personality. It's not every day you see Bill Clinton done up as The Big Lebowski.
Illustrations aside, PolitiCards offers nicely polished gameplay with smooth graphics and animations.
Graphics and audio
PolitiCards Solitaire earns high marks for its graphics and audio. The background music cycles between a couple of high-quality, classic political fanfares, while gameplay is punctuated with smooth animations and the occasionally surprising lighting effect.
UI elements and the cards themselves are really small when playing on a smartphone, which can limit any appreciation you might have for a card's artwork. Through a not-so-intuitive tapping combination, you can pull up a card to see an associated movie quote and a slightly larger view of the card, but still not quite enough to do it justice. The UI looks particularly cramped on the home screen, where a small ticker shows some of the latest top scores on the leaderboard.
Gameplay and controls
PolitiCards Solitaire has straightforward control, where players can just as easily double tap cards to send them to the appropriate row, or drag and drop them as they see fit. Swipe gestures can be used to flip over a new set of cards from the deck, or go back a step, but be careful - undos and hints will penalize your score. Players earn bonuses to their score based on speed and completion. There are online leaderboards, if you're into that kind of thing, but it requires you to register in order to keep tabs on your progress and achievements.
My major complaint is that the game only includes two types of solitaire, with the others held captive through in-app purchases. IAPs are expected for optional stuff like new deck art and backgrounds, but folks that are serious about their solitaire will be quickly bored with the modest selection of game types and resent having to spend more in addition to the $0.99.
Pros
Smooth gameplay
Original artwork
Cons
Few game types
Some elements undersized on smartphones
The bottom line
Being a Canadian, I can only relate so much to American politics, but at least I can get the movie references in PolitiCards. I'm also not a huge solitaire fan, opting for slightly more high-octane mobile gaming, but those that spend a lot of time following U.S. politics are also probably looking for more low-key gaming on their phone.
Even once the novelty of the political/movie references dies down, the core gameplay is still great and highly extensible thanks to in-app purchases. Personally, I prefer mobile games that are a little more fast-paced, but for those that are big fans of solitaire, PolitiCards and its IAP cousins are a good pick.
Sign up for Black Friday email alerts!
Get the hottest deals available in your inbox plus news, reviews, opinion, analysis and more from the Android Central team.
Simon has been covering mobile since before the first iPhone came out. After producing news articles, podcasts, review videos, and everything in between, he's now helping industry partners get the word about their latest products. Get in touch with him at simon@futurenet.com.