Two guys talk about the Galaxy Note 8 and stuff [#acpodcast]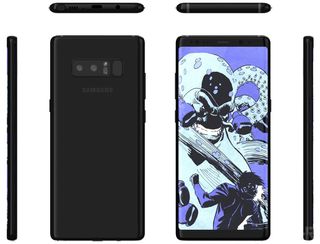 With the announcement of the Galaxy Note 8's launch date, we break down all of the latest rumors and what we think Samsung needs to do to knock it out of the park. Looking back at three months with the Galaxy S8 gives us some perspective as well. We also have some quick takes on Google Play Protect, Android O's Bluetooth improvements and YouTube's strong-handed new filtering of some search results.
Show notes
Android is an open road, not a dead end
Google's 'Andromeda' looks to be hiding in plain sight
Samsung Galaxy S8 review: Three months on
Bixby Voice now available for every Galaxy S8 and S8+ in the U.S.
Samsung confirms Galaxy Note 8 launch for August 23
Galaxy Note 8 renders give clean look at boxier design, Infinity Display
Samsung Galaxy Note 8: What we know so far, the video
Galaxy Note Pro: Why Samsung should sell a $1500 phone
Google Play Protect now widely available
Android O fixes a lot of what's wrong with Bluetooth
YouTube is taking an even stronger stance on 'extremist' videos
Andrew was an Executive Editor, U.S. at Android Central between 2012 and 2020.
Jerry's volume kept fading in and out. Other than that you two did great.

Yeah. Podcast producer and I figured out my mic was dying at just the wrong time. I'll be back as loud and blustery as ever next time :)

I was curious myself. You've never seemed to be that guy on a podcast that talks like, three feet away from the mic. I didn't know if you were leaning away or what.

I definitely will not buy this smartphone, no more Samsungs for me there to bloatty if you will just plain nonsense , I'm using the keyone just a perfect smartphone the apps are all there ,games to my liking but I don't remember when I played a game on my smartphone? It's not my glass of beer ..cheers

Before you rush judgement on saying Samsung puts all the bloat you need to look at the carrier who is to blame too. Have you ever seen the apps the carrier have pre-installed on their carrier branded phone? Also the bloatware thing is old. If you don't want a phone with "bloatware just buy the non-carrier factory unlocked phone. Problem solved.

Bloatware is one thing - yes I'm with AT&T - both have their bloatware on it. My issue was waiting 170+ days for the Nougat update for my 7 Edge. I don't think the unlocked version is any better for updates... So both are - have - real - issues that should not be ignored.

I don't understand why people/phones need the latest update immediately. It's not like the radio, GPS, or wifi wasn't working in MM and Nougat was going to fix it.

An example would be Android O is supposed bring refinements to Bluetooth... An OEM who updates to 'O' sooner than later will have a bigger draw to consumers in general... I use Bluetooth alot - so I am generally interested in this release. Personally I would rather support an OEM who is actively supporting their consumer or customer base with timely security and OS updates. It shows they care about their customers. It's as simple as that - and I'll support that.

Completely agree. The OS is already feature packed and stable at the point Android is at by now. Add to that many updates carry their own bugs. In my experience phones work best with the OS that shipped on them. Timely updates are low on my list of priorities when I purchase a phone especially if it is operating smoothly from the start.

I've said this before and I always end up coming back but I think I will stick to my resolution from here on out. There is simply too many great options at great prices that don't have the typical Samsung negatives now.

Every phone in existence has negatives.

Great conversation guys. Good on ya.

Just get a Google Pixel simple as that end of discussion.....

The S-Pen doesn't work on the Pixel.

It was quite funny to hear you both waiding through piles of phones around you on the table. If you ever get really sick of it, send a few my way. I'll play with them for you. I can't see the point of buying these high end $1000+ phones like the Note 8, when my two current phones still work.

The last few pods have been awesome as they have been less about specific phones and more about general environment issues and it makes me feel smarter by association listening to you well informed and intelligent peeps talk it over. Jerry / Andrew - I really enjoyed this podcast specifically. I do enjoy all the AC podcasts but you two are my favourites to listen to as I think you do so well at translating the ultra-nerdy stuff ( which is all very cool ) into plain enough language that simpletons like myself can understand it. Keep up the great work and thankyou.
Android Central Newsletter
Get the best of Android Central in in your inbox, every day!
Thank you for signing up to Android Central. You will receive a verification email shortly.
There was a problem. Please refresh the page and try again.