The misery of carrier stores [#acpodcast]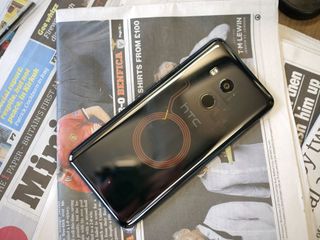 Alex Dobie takes center stage this week as he, Daniel Bader, Andrew Martonik, and Jerry Hildenbrand talk about Alex's hands-on experience with some recently announced devices, the Razer Phone and HTC's U11+.
Razer's maiden voyage into the smartphone market is targeted towards gamers. With a unique 120Hz display, 8GB of RAM, and a huge 4,000mAh battery, it offers an opportunity for high frame rates on a mobile device. But can the Android gaming experience really take advantage of its potential? And how satisfactory of a phone is it in other respects?
The HTC U11+ has a lot going for it from a hardware perspective. On the software side of things, it includes Android Oreo and HTC Sense. But there's a catch—HTC currently has no launch plans for the U.S., and there are no British carriers for it in the UK. In a market with so many excellent, readily available phones, how can this dark horse contender gain any mindshare with consumers?
Show Notes and Links:
Razer Phone: Everything you need to know
Razer Phone specs
HTC U11+ hands-on preview
HTC U11+ specs
HTC U11 Life review
The HTC U11+ started life as a Google Pixel 2 XL project — kind of
Carriers in the US and likely everywhere bracket partially functional display models to theft proof holders resulting in shoppers inability to evaluate the feel and true functionality of their in store offerings. Heck it's often difficult to just test the camera. Probably better to order online with returnable evaluation period.

It's not worth it in my opinion buying from a carrier store. Their devices are frequently to much of a base model or you'll overpay for a model nicely spec'd out. Not to mention they'll often not carry the manufacturer or model that you want... (Looking at you Cricket, my local Cricket store says that Cricket has opted against carrying any Moto phones nevermind the Moto G5 Plus being a good seller). Nee or used, buy unlocked and get what you want, I'll never buy locked again. You'll also enjoy the ability to jump carriers when one gets to expensive...

"It's not worth it in my opinion buying from a carrier store." It is when your carrier heavily discounts the device you want vs. the unlocked model. Also, if you're on Verizon, good luck using an unlocked phone that isn't a Pixel, Galaxy, or iPhone.

I have used Moto devices with no issue and am currently using the PH-1 without any problem as well.

Well I'll split hairs with you, IF you can find a great deal on the device that you want then yes it is POSSIBLE to find a good deal to buy from a carrier store. But in my opinion more often than not, I'd rather have the selection of items to compare and contrast opposed to whatever the store might have on hand or otherwise be pushing. I've been with Cricket for the last several years for example, and they always seem to have either really nicely equipped phones that are expensive or they'll have good deals...on base model phones that are cheap. I tried for the first time an unlocked phone a couple of years ago and got exactly what I wanted at a reasonable price. I'll probably never buy locked again but understand that there can be deals to be had...

Long ass podcast but I find the salespersons to be extremely ignorant of basic phone information. And sometimes they don't even know about online plan specials. Im looking at AT&Ts unlimited data plan for tablets

Here is the thing I'm curious about. It always seemed to me that gaming is a prime use case for VR, but Daydream require an OLED panel, which this phone does not have. Does this look like a miss to others, or am I misjudging that market?

For a few podcasts in the pocket cast app you could fast forward to topic you wanted to hear based on how it was listed in the show notes Why did you stop doing that or did pocket cast take it away. Last podcast that had it was 355
Android Central Newsletter
Get the best of Android Central in in your inbox, every day!
Thank you for signing up to Android Central. You will receive a verification email shortly.
There was a problem. Please refresh the page and try again.