Android Central Podcast: Winning the Title II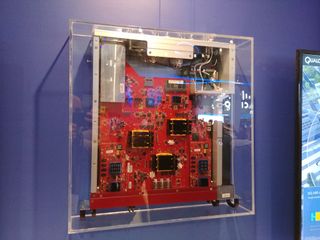 This week, your hosts Daniel Bader, Jerry Hildenbrand and Andrew Martonik talk about what's new in the world of smartphones, and the regulators that influence the carriers we pay to get cellular service for those phones.
Andrew gives his thoughts on the Samsung Galaxy S8, and the team talk about whether the new phone is a foundational phone that has problems — more like the Galaxy S6 than the Galaxy S7.
The BlackBerry KEYone is coming soon, but who is this phone for, and should you care? Daniel and Jerry give their thoughts.
The FCC is moving to repeal Title II, removing specific clauses from so-called net neutrality mandates that protect consumers from having "fast lanes" imposed on the internet. This is a big deal.
AT&T launched a "5G Evolution" network this week, but it's more of the same — both in terms of technology (nothing new) and deceptive marketing (same old, same old).
This episode of the Android Central podcast is brought to you by Mint Mobile (opens in new tab). Looking for a great deal on high-speed 4G LTE in the U.S.? Use offer code ACFREESHIP at checkout when you purchase one of their inexpensive plans.
Tell your friends about the Android Central podcast, and be sure to subscribe so you see the show as soon as it's released! Thanks for listening, and we'll talk to you next week!
Daniel Bader was a former Android Central Editor-in-Chief and Executive Editor for iMore and Windows Central.
Nice can't wait to hear the podcast tonight !!!

Very nice discussion on title ii people need to understand how much of a threat this is to the access information.

I have yet to hit the Bixby button. Accidentally or otherwise.

Love the way Samsung offers so much choice and options. Cant blame them fro experimenting with Bixby. If it works consumers win.

So pleased that the fixed line broadband market is open in the UK. I can't believe that in some markets you don't get a choice.

Finally had a chance to listen to the podcast.... Good topics as usual. Great commentary as usual. I actually didn't get to finish the podcast - I'll see if I can do that tonight... Do I think we need to dummy up a phone to make it usable to most people? No. Its all about the interface and how it is presented. I love options. I love a fully capable phone. That's why I buy the top end model - I want a bit of intrigue and astonishment when using it. I want the phone to impress me. And impress me again - and again. To work flawlessly. Continually. Without fail. Make me passionate about that phone. And I'll buy it again and again and again. Should it be easy to use? Yes. Most definitely. Intuitive. That's why I want something more than just hardware. Samsung makes great hardware - no doubt - but I want more... Who can step up to that - seriously - I don't know. I may just have to settle for second best - or make compromises​ - as most of us do... A-I's... Google has been playing with this for awhile... That doesn't mean they have the total picture on how that should go. So this could get very interesting.
Android Central Newsletter
Get the best of Android Central in in your inbox, every day!
Thank you for signing up to Android Central. You will receive a verification email shortly.
There was a problem. Please refresh the page and try again.