Android Central 307: A burning need for Allo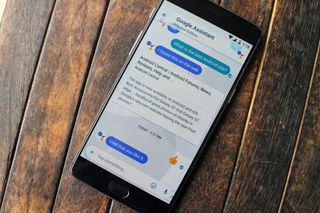 (Image credit: Android Central)
In episode 307, Andrew, Jerry, and Daniel chat about Allo, Google's smart, AI-powered messaging app. After so much hype, does it live up to our lofty expectations, and does Google capitalize on its ambitious bot strategy?
Plus, replacement Note 7s are here, and with it the "safe" green battery icon. But will it make a difference to Samsung's battered reputation?
And the new Xperia X Compact is one of the best small phones on the market, but what's with its $499 price? Come on, Sony.
Finally, Jerry walks us through the things to look for when buying a pair of Bluetooth headphones, which are getting a lot of press since the release of the iPhone 7.
Thanks to this week's sponsor:
Harrys:

(opens in new tab)

Use promo code AC to save $5 off your first purchase — start shaving smarter.
Android Central Newsletter
Get instant access to breaking news, the hottest reviews, great deals and helpful tips
Daniel Bader was a former Android Central Editor-in-Chief and Executive Editor for iMore and Windows Central.
The greatest show on earth!!

Coupon code doesn't work for me, didn't work last time it was offered either, I know it not you're fault just mentioning it to see if anyone else has the same problem . . .

For Harry's? Worked for me on my first purchase.

Dollar Shave Club all day erreday

I like the ideas for Bluetooth audio. I'm not sure sure why the iphony7 is relevant here. Bluetooth audio can stand on its own merit. It doesn't need to hold hands with apple in order to work.

Agreed. I hate LeCo and Motorola just as much for doing it as I do Apple.

The iPhone has a much bigger impact on the mobile market than Motorola or LeEco. And the iPhone event was just a few weeks ago, so the topic of wireless headphones is, well, topical.

Great podcast with minimal interruptions, just like the good ole day's!

Don't make me block you. :)

Allo app is still useless untill ios and other phones get it.

iPhone? https://itunes.apple.com/us/app/google-allo-smart-messaging/id1096801294...

I got it on android and my iPhone 7 at the same time on release day.

I'm still confused over the 5-axis stabilization on the XZ and XC. Wouldn't they have outright said that it has OIS to make it clearer? This whole marketing spin and discrepancy between different reviewers and sources just isn't helping.

Because other phones also have OIS. They want you to think their phones have some special sauce in them to make you buy their phones.

Just call it "Optical SteadyShot with 5-axis stabilization" then, or something.

I don't disagree. But the day I try to understand certain marketing decisions is the day I commit myself to a mental institution.

Here they go again on their own....going down the only podcast they've ever known.....

Maybe it's just my age... But I was hoping for an 'All powerful massaging' application. Allo is not that. I like regular SMS messaging apps. I "NEED" to communicate with my contacts and other people constantly. Allo is not evidently an SMS app. I can't set it as a default sms app. That doesn't work for me. Jerry you guys are trying to sell this app. You said you didn't know what people object to this app in this podcast.??? I'm listening to the podcast now.... Sure it seems Allo has abilities... Which seem great... But no SMS... Integration....?? Personally I think they could have expanded Allo's capabilities. It seems that Google has created a similar app to WhatsApp... To where it can monitor key words possibly for marketing aspects etc. I agree, this is made for India. Just not for me. This is a chat app made for groupies. Not a messaging app made for everyone. I'm just not one of those that need to be a groupie.... Come join me... Type of deal. Hype. Hype.

I couldn't get anyone in the immediate family to install this... Again no SMS... They liked the regular messaging app and didn't want to go to a group only "chat bot" type of deal. Allo seems to have the "OK Google" hot word interface working to some extent... Maybe that interface will grow with new capabilities in the future and draw people in....??? Don't know. Chat app, yes. General all around messaging app, no.

The high standard of this podcast is back! Keep it guys, great work!!!

What phone is in the photo?

Why didn't google just rebrand and update the hangouts UI and add the assistant stuff to it? Hangouts is everything people seem to want in Allo but it's much closer to imessage than Allo. Allo is not going to do well at all in my opinion.

Much better podcast this week. People spoke in turn and didn't speak over each other. No Flo this time must be the reason for the improvement in the quality of the podcast! Keep up the good work

Thought the show 'flowed' (pun intended) a lot better this week. I have no doubt she is a lot more intelligent and hard working than myself, but I felt the podcast suffered with the added person.
Android Central Newsletter
Get instant access to breaking news, the hottest reviews, great deals and helpful tips
Thank you for signing up to Android Central. You will receive a verification email shortly.
There was a problem. Please refresh the page and try again.