Android Central 202: Jerry's Moto X Conundrum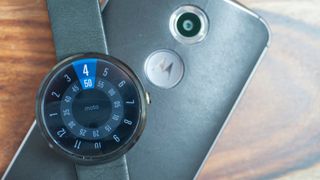 We've got our pals JR Raphael and Russell Holly on hand this week as we continue our journey into the Moto X and Moto 360. Plus more on Samsung's newest lineup, where things stand with the new Google Hangouts and Google Voice integration, we nail down what Apple's latest means for Android — and we answer more of your questions live!
Hop in, folks. This one's a biggie.
Thing 1: Hangouts, Google Voice and you ...
Google Hangouts and Google Voice are finally playing nice
Video Hangouts on Android no longer require Google+ account
Thing 2: More Moto!
Moto 360 vs. the LG G Watch R!
Don't try to force a strap that's too thick onto your Moto 360* Moto 360 teardown reveals antiquated hardware, smaller battery
Moto responds to iFixit battery size confusion
The unlocked and unadulterated Moto X might be called 'Pure Edition'
Wireless charger roundup and giveaway — 15% off all charging mats!
Thing 3: Yes, we'll talk about Apple
Thing 4: Other things
HTC plans 'Double Exposure' event Oct. 8
HTC reported to be working on its own camera to tackle the sturdy GoPro
HTC rumored to launch an Android Wear smartwatch in early 2015
Android version numbers are in: KitKat on one quarter of active devices
NVIDIA reveals Nexus 9 tablet launch timing in lawsuit
Our thanks to this week's sponsor!
Squarespace:

(opens in new tab)

Use offer code android at checkout to get a free week's trial and to save 10 percent.
Get the Android Central Newsletter
Instant access to breaking news, the hottest reviews, great deals and helpful tips.
I really love these podcasts, but man! You gotta keep them shorter than this! I can't watch an hour and a half at work! hahaha

I really love these podcasts but man! I want them longer! Seriously dude, if you think the podcast is too long, watch half of it, and maybe watch the last part later in the week. Let us who love the podcast, enjoy it in full length (more is better) without giving the impression that most people thing it's too long.. it's NOT! AC Guys, please don't take his opinion seriously - I wouldn't want to miss one single minute of your show. You're doing great and I wish the show was LONGER. There. Got that outta my system. Carry on

This. Hell, I'm just grateful that AC does a weekly podcast. No other MN site consistently does a podcast every week at the same time. Keep up the great work guys!!!

Android All-Stars on the show.

I'm gonna tap that thing on accident a million times. "on accident".....

If only they had gotten someone that wasn't Russell Holly. Then this would be worth listening to. Posted via Android Central App

I agree. Posted via the Android Central App

lol!! Posted via Android Central App (Moto X)

It's ok, Russell. It's good to have haters. I like your insight and very much enjoyed this podcast.

bbbboooooooooooooo to you sir, I love when Russell is on.

-1! Posted via Android Central App

Great show, thanks guys Posted via Android Central App

Jeezus that opening is just lame and way too long and not funny. There's a reason Howard Stern and tv talk show hosts get paid a lot of money. They are good at filling air time. That small talk stuff you try to do is just painful to listen to. No offense, dude, but just intro your guests and get right to the tech talk.

I'm just trying to figure something out ... Does that make you Eric the Actor? Or Nicole Bass?

And Baba Booey to ya'all. Just knock off the small talk and get to the tech talk. Thank you.

I've been listening since around 195 and this has become a must download podcast for me every Friday after work. You guys are great. Posted via Android Central App

I need a longer podcast ... oh, say about two-and-a-half hours. And another one for Sunday night, please. Posted via Android Central App

Totally agree on the size increase of the Moto X being disappointing. Bring on the Moto X 2014 mini!!!

I know the pinkie twich feeling lmao. My OPO is huge but I'm 6'3 with decent sized hands so I can hold the OPO with one hand, the cost is my pinkie doing strange things after about 20 minutes lmao Posted via...The One

I'm really hoping to see an Android Wear clip similar to the iPod shuffle. Give me something small that can take advantage of All Access and doesn't have to sit on my wrist where my Garmin already is. Posted via Android Central App on my Droid Maxx

Awesome show, it's been a busy month so of course the show is going to go long. Great guests, great hosts....
I'm going to wait on the Moto X, maybe a price drop or the Moto Hint will compel me to buy it. Posted via Android Central App

I just got my X in May. I'm probably not going to make it for this year's Moto X. Probably next year. Posted via Android Central App

i just knew when i got done watching yall's podcast this week that i would be stoked to buy the new x. but the exact opposite happened. is it really that bad and/or unremarkable? does android wear really negate the need for the x?
it seems like last year they could have made a 7" phone with those new features and everyone would have still wanted it. now that they have been around for a year and everyone is used to them... a 5.2" screen is too big and you might as well buy a g3. i have to admit that i am a bit disappointed, as i am now back to square one on what phone i want to buy to replace my og motox.

Just watched the podcast and Jerry said something that I totally agree with, any phone that is larger than 5.2 inches should have S-Pen like functions. Why buy or make a phone that has just a huge screen when you can buy the new Note 4 or last years Note 3 and has what I consider the most powerful tool on any hand held device today the S-Pen. Nothing even comes close. Just use it to it's full capabilities and it will blow you away what it can do. Jerry didn't say all that he just said anyone buying a huge phone why not buy the Note with the S-Pen?? Agreed. The Note 4 is IMO the best hand held computer made today, no other hand held device can do what the Note can do.

Maybe some of us don't want Samsung and their crappy bloated UI? I love big screens whether it has a pen or not. I disagree with Jerry on that front. Sorry dude.

aijphoney 6 1810mah ... - aijphoney 6s 2915mah ...

Can anybody tell me what the Samsung Bluetooth headphones they were discussing are called? I happen to be in the market at this very moment. Posted via the Android Central App

www.ultimaterootingguide.in has step by step Android Rooting guides and Android ROM guides with Live Chat Support. We even help you to solve your tech related queries.

Why do we never discuss Li-ion degradation with battery capacity? I know that the guys at Android Central replace their phones far more often, but many plan on keeping theirs for awhile (and not constantly throwing away perfectly good phones). Moto X is a non-removable battery, so this is important. If you lose battery capacity the more you charge it, it makes sense to start with a larger capacity battery. If the Moto X had a battery at least the size of the S5, I'd be all over it. Using the Note 3, I would find it hard going to something with significantly smaller battery, no matter the efficiency in the OS.