Pinterest for Android review - mobile scrapbooking for fashion enthusiasts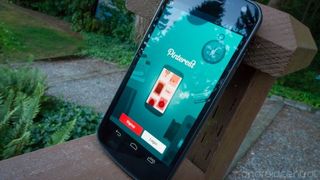 Pinterest finally launched an Android app, offering all of the scrapbooking appeal of the growingly popular social network in a mobile format. Right off the bat, it's clear that the Pinterest guys took their time and made sure that experience was as smooth and reliable as the web version.
Just like the site, users can browse through boards of items surrounding themes they're interested in, post pins to their own boards, repin items from others, leave comments and likes on specific items, and share pins out to other social networks.
Style
Pinterest has a few elements that are closely aligned with the Android design standards, but for the most part, it has its own distinctive style. The familiar white and grey color with red highlights is there, and screens transition with fast, simple wipe animations. Swipe gestures are employed to switch between the three main tabs (search, the home feed, and your profile) and between tabs on a single users profile (boards, pins, likes, and about). It would be nice to be able to swipe to go to the next pin on a board or in the current feed, instead of having to back out and tap in on the next one.
Rather than being a banner overlay, pricetags are shown beneath the description of pins, which is nice since viewing area is at a premium. Both landscape and portrait views are supported, and depending on the image being viewed, switching orientation may sometimes be necessary to get a decent look at an image. A bit more on that later.
Function
Pinterest on Android provides pretty much all of the same functionality of its web counterpart. In addition to browsing through pins of boards you follow, you can also flip through categories spanning all users, or launch searches for more specific subject matter. Performance-wise, I found Pinterest to be especially snappy on Android. The only real slowdown has been load times for images; all of the UI elements pop into place pretty much instantly on my Galaxy Nexus.
Pinterest for Android plugs into the global share menu, so you can add pins to your boards no matter where you find neat stuff on your device. The app itself launches into the camera or gallery app to pick your image when adding a pin. You can also create new boards from the app, though profile editing isn't yet available.
Although the web version doesn't have the function, I'd love to see a "random" button available for each of the categories. This would enable fast, easy, StumbleUpon-style discovery that is really ideal for those times you just have a minute or two to kill. Sure, you can keep swiping through the endless lists, but jumping directly from pin to pin would be just as enjoyable.
My one functionality niggle is that getting a full view of most of the content generally involves clicking through on a link, which means opening up a website in the mobile browser, or launching an app (in the case of YouTube videos). On desktop this doesn't tend to be a big deal, but for mobile, that means more apps running, more battery drain, and more load times. It can be particularly irritating if sites redirect you to a mobile version of their site where the content isn't viewable or requires extra taps to get to it. Ideally, full-resolution photos and video would be loaded in-line with the pin rather than launched through another app. For pins that are more about the link than the image, the current set-up makes sense, but Pinterest is by and large about eye candy - it should support a full-screen view, if not pinch-to-zoom.
Pros
Responsive, stylish UI
Full complement of functions
Cons
Needs a few more optimizations for mobile experience
Bottom line
Pinterest is still by and large a network to share fashion or homemaking projects, peppered with the odd neat gadget, artsy picture, and infographic. Personally, I've been trying to contribute content that doesn't have to do with shoes or drapes, but really, no matter what you're interested in, you'll find some cool stuff on Pinterest. While Pinterest still has an upward battle squeezing its way in between Google +1 buttons, Facebook Like buttons, and Tweet buttons across the web, this mobile app will go a long way to keeping people invested and active in the network. Despite a few minor complaints, this is an excellent step for Pinterest on mobile, and it can only get better from here.
Get the Android Central Newsletter
Instant access to breaking news, the hottest reviews, great deals and helpful tips.
Simon has been covering mobile since before the first iPhone came out. After producing news articles, podcasts, review videos, and everything in between, he's now helping industry partners get the word about their latest products. Get in touch with him at simon@futurenet.com.