Oculus Go: A Parent's Guide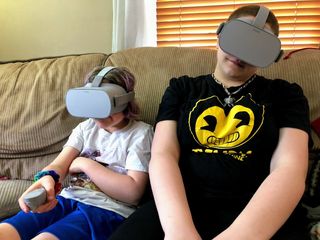 (Image credit: Android Central)
With its low price point and untethered portability, Oculus Go is the kind of thing that anyone can use anywhere, which makes it easy to share and even easier to learn. On top of having a massive app store with over 1,000 listings and hardware you can easily stow away, Oculus Go is also incredibly comfortable to wear. Like most VR headsets, Oculus Go can be used as both an educational tool and a game console. That makes it an appealing accessory to use with kids.
This is everything you need to know about Oculus Go for kids, from safety tips provided by experts to the best apps for fun and education aimed at younger ages.
Is Oculus Go safe for kids?
We constantly tell kids to sit farther away from the TV, and now you think it's OK to strap a television to their faces? Well, not really.
VR headsets use a pair of lenses to create the illusion of depth against a pair of side-by-side images which feel farther away than they really are. The experience isn't particularly different from what you experience with 3D glasses or the depth image on a Nintendo 3DS console. That doesn't mean there's no risk associated with wearing these headsets, but like everything the key to safety with children is moderation.
To get a good feel for how VR headsets can impact children, we sat down with Dr. Joe Cohen. He's a pediatrician with a healthy appreciation for new forms of technology and had a lot to say about the best ways to stay safe in the headset.
Check out our podcast with Dr. Joe Cohen!
If you'd rather go by the official warning from Oculus, the documentation in the packaging and on the website makes it clear the recommended age is 13+ for using Oculus Go. This is the same age restriction Oculus includes on all of its products, for several reasons. For starters, it is difficult to guarantee a firm headset fit on smaller heads. The same is true of lens spacing, meaning it may be impossible for the image to be clear when someone small is looking through the fixed lenses in Oculus Go. If the image isn't clear, eye strain may become a problem.
Like everything, use case-by-case judgement with your kids. Have them try the headset on, tell you how the picture looks to them, and make sure it is a comfortable fit using the included straps. If that works well, make sure your child takes breaks at least once an hour while using it. Follow those steps, and everyone will have a blast using this headset.
How do I know what Oculus Go apps are safe for my kids?
Everything you install on an Oculus Go comes from the Oculus Store. That store is controlled entirely by Oculus. Developers submit apps to the store, and they are approved by someone at Oculus before they are made available to purchase. That submission includes a content rating and a comfort rating.
The content rating for Oculus Go apps is the standard ESRB ratings for games, just like you'd see on game consoles and app stores. That means E for Everyone, T for Teen, and so on. These ratings are located on the left side of every Oculus Store listing, and clearly break down what content is safe for kids and why.
The comfort rating for Oculus Go apps was created by Oculus, and was designed to help people understand what the effects of that app might have. If you are prone to things like motion sickness, for example, you probably want to avoid roller coaster simulators. Not every app is clearly labeled like that, so instead, each listing includes warnings for comfort. If you see a pair of green rings and the word Comfortable next to it, you're looking at the best possible comfort level. A pair of yellow boxes with the word Moderate means there's a fair bit of motion and you might want to make sure you are seated for the experience.
Following these guides will make it easy to determine what apps are most appropriate for you and your family. Stick with the comfortable apps rated E, and work your way up from there.
How do I keep my kids from making purchases without me?
Few things are worse than discovering your kids have been buying apps by opening your credit card statement at the end of the month. To avoid something like this ever happening on your Oculus Go headset, the Oculus app invites you to create a pin to enter when you buy apps. You have to enter the pin in order to make any purchase, both in the headset or on your phone.
Oculus asks you to set up a pin any time you add a card, but if you want to change that pin, you need to:
Open the Oculus app and tap the Settings tab at the bottom.
Tap Reset Oculus Pin.
Enter your Oculus Password.
Enter your new Pin.
Tap Submit to finish.
Once you have this set up, all you need to do is make sure your kids don't learn the pin!
What are the best educational Oculus Go apps for kids?
It's not hard to talk yourself into buying a game console for your kids, but Oculus Go really does a lot more than that. There's a massive educational section of the Oculus Store worth exploring, with topics ranging from walking around with dinosaurs to preparing you for public speaking. Here are a few of our favorites!
Hello Mars
Take a trip through the images captured by the Curiosity rover on Mars, including a virtual ride to the surface just like the rover did. This is a great free app for exploring the world around you, experienced in the most immersive way possible.
Cerevrum
This virtual world is all about child-friendly exploration, with a heavy science focus. You are dropped into a weird world full of unusual creatures, and you must use your research skills to uncover the secrets of this world. It's also a lot of fun, which never hurts.
The Body VR
Take a trip through the human body the only way you can without a Magic Schoolbus. This app shows you down to a cellular level how our body functions, allowing you to explore the from the skeletal system all the way into the brain. It's an incredible amount of information, all viewed from a cool new perspective.
Ready to pick up an Oculus Go? Here's where you can pick one up!
Get the Android Central Newsletter
Instant access to breaking news, the hottest reviews, great deals and helpful tips.