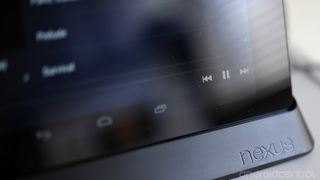 After what's felt like an eternity, we finally have our mitts on the official ASUS dock for the Nexus 7 tablet. This would be the dock that finally takes advantage of those four little gold contacts on the side of the tablet , allowing you to charge the device without having to worry about plugs. That's a technology that goes back to the Nexus One days (and you'll recall how that dock took its sweet time to get to us, too), and we're glad to finally have it with Google's premiere 7-inch tablet.
Google's still not selling this dock, though, and availability is spotty with other online retailers. We picked ours up for about $40 before shipping.
This isn't an intricate accessory by any means, but it's very much a welcome one. A few quick thoughts after the break:
If you ever used the Nexus One dock or the Galaxy Nexus dock, you know what you're getting here. Plug in a microUSB charger -- you'll have to provide your own -- then place the tablet in the dock. Easy. (And easier than the less symmetric Galaxy Nexus, by the way.)
No note that this isn't the same kind of wireless charging as what's on the Nexus 4. Those gold pins are important.
Once you do that, you'll be asked if you want to use the dock for audio playback, using the 3.5mm audio jack that's on the back of the dock. If you blow past it or want to change it later, go to Settings>Sound>Dock for the options. There's no setup here -- the audio out just works.
In addition to charging the tablet, placing it on the dock fires up the new "Daydream" screen saver feature that's in Android 4.2. By default, you'll get a desk clock. Go to Settings>Display>Daydream for more options. (See our full post on the Daydream feature here.)
This dock charges your tablet and outputs audio only. It does not sync to a computer. (Technically you probably shouldn't even try to power it off a computer.)
And, well, that's it. There's no trick to getting the Nexus 7 in and out. No surprises here. It's a simple -- and stylish -- dock. And that's why it's baffling that we're just now seeing it hit consumers' hands, and you can't even buy it directly from Google Play yet. Strange. It'll cost you about $40 or so, depending on where you pick it up, and that's not a bad price for being able to forgo the charging cable every time you need to juice up.
Image 1 of 9
Get the Android Central Newsletter
Instant access to breaking news, the hottest reviews, great deals and helpful tips.