NBA 2K19 vs. NBA Live '19: Which should you buy?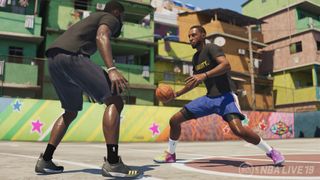 Best answer: With unmatched presentation and depth, NBA 2K19 is the best basketball game you can buy.
Amazon: NBA 2K19 ($59.99)
There are few other battles in sports gaming more fierce than the one between the two big NBA games. We're talking about NBA 2K19 and NBA Live '19, authentic options coming from 2K Sports and EA Sports, respectively.
This rivalry has been ugly ever since it sparked up way back when on the Sega Dreamcast. It's largely been in 2K's favor to date, including one especially dark time for NBA Live that saw its game needing to take a year off. But EA has been on a campaign to restore their franchise to the heights it once achieved, and the competition is reaching a fever pitch. NBA 2K19 vs NBA Live '19: we break down the comparison straight ahead.
NBA 2K19 has the gameplay edge
Alongside stellar presentation, 2K Sports has always had a leg up on basketball gameplay. We don't expect that trend to change much for NBA 2K19. 2K has built on its sports engine for years now, and although there are still some annoyances to deal with — such as some overzealous player animations which makes you feel as though you've lost control of your team — it's still the golden standard.
NBA 2K19 features a heavy dosage of simulation-style basketball with an overwhelming amount of shooting, dribbling, and passing techniques to master. We'll also give 2K the nod for its excellent GM Mode and online features. This game offers a pretty deep team management mode that lets you control every single aspect of running a successful franchise. And you can compete in most of these modes online, including both on the blacktop and in more league-based modes.
2K should also offer the superior team-building mode — called MyTeam — where you collect your favorite players' cards to have them play on your basketball team. We haven't always loved this mode in NBA 2K games, but the team at 2K Sports has figured out how to keep the mode fresh with regular content updates in recent years.
NBA Live '19 is catching up
Although NBA 2K19 has dominated this arena, Live '19 is making a roaring comeback. It also aims for simulation-style gameplay, though it's not quite as deep as its competitor.
We're a long way from the days of the Jesus glitch and a world of terribly clunky controls and nonsensical animations. EA has continued to build on the solid foundation they established a couple of years ago, and the company can finally boast a competent basketball game that's worth considering.
One of the ways that will improve this year is through overall player movement. The game feels much smoother than last year's thanks to a new streamlined dribbling mechanic and the physics-based Real Player Movement engine.
NBA 2K19 will still trounce Live overall, especially as some minor issues — such as a wonky passing system, an unrealistic rate of dunks, and questionable AI — still exist. But the gap will be greatly narrowed with this year's entry.
The One vs. MyPlayer
One area EA is looking to better compete in is the rags-to-riches category. NBA 2K's MyPlayer mode has been the model of RPG-style sports career modes for years now. Creating a superstar and taking him from your local neighborhood courts all the way to the hall of fame is always a journey worth experiencing. In recent years, 2K has added a story element that'll help keep you engaged throughout the early parts of your player's career.
How does EA look to top that? With their version of that mode called The One. It plays on the same concept that MyPlayer does. Build your superstar up and take him to great heights. You'll use your superstar in a variety of both single player and multiplayer game modes. Where EA gets the edge is in the way you can build and progress your player.
There are tons of options to create the exact kind of player you want, with each position having its own subset of playing styles and archetypes. You can even create WNBA players this year, and the women can compete on the same courts with the men in certain modes.
NBA 2K19 does this as well sans the WNBA fun, but we're going to give EA a huge nod for not locking player progression behind a massive wall of microtransactions. It's true, in both games you can max out your player without spending a dime, but the grind in NBA 2K19 is so tedious and long that you're almost forced to spend money if you realistically want to keep up. NBA Live 19 has microtransactions too, but EA looks to offer a much fairer proposition that doesn't require you to surrender either your life or a limb.
Basketball authenticity
In terms of presentation, both NBA 2K19 and NBA Live '19 present a very believable night on the court. Live, in particular, will have significantly improved player face scans, some of which look even better than the lifelike scans featured in NBA 2K19.
It's a bonafide wash graphically, but 2K19 will likely have the edge in overall presentation. NBA Live 19's commentary engine still lags behind, and the broadcast graphics and halftime shows in NBA 2K19 make you feel like you're sitting on the couch watching an actual game of basketball.
Which game is best?
NBA Live '19 is on the up-and-up, but it simply can't contend with years worth of quality NBA 2K development atop a very solid foundation.
Our pick
The best basketball simulation there is
NBA 2K19 once again looks to be the best basketball game you can buy. It's a much deeper game than NBA Live 19 is right now and should be the only one on your list of considerations.
Get the Android Central Newsletter
Instant access to breaking news, the hottest reviews, great deals and helpful tips.