Multi-user support shows itself in Jelly Bean, but it's definitely not finished yet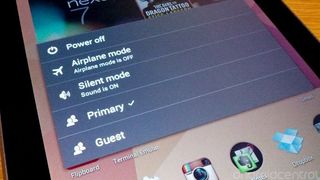 Something a lot of us really want to see in Android, is support for multiple accounts on a device. With the ever increasing uptake of tablet use, it would be pretty awesome to be able to have one tablet with a different account for each member of your family. Lord knows, you wouldn't want your kids Justin Bieber apps littering your home screens so being able to give them their own sign in would be positive for all. You do it on your computer, so why wouldn't you want to do it on your tablet.
Over recent days and weeks since the launch of Jelly Bean, various parties around the interwebs have been diving into the code and really getting into the details. Your average user -- and sometimes average Android Central writer -- wouldn't even know where to begin or what we might hope to see. Thankfully for us the community is filled with those who are never happier than when knee deep in code, and what has been recently revealed is reference to future multi-user account support. It's clearly not even close to being ready for the prime time -- if it was, we'd have it already -- but it is there. And, with a little bit of tinkering, you can see it for yourselves on your Jelly Bean device.
The key word is tinkering, and the key components are root access and a terminal emulator on the device. Heading into the terminal, you have to enter the command for superuser access, "su", and once you're in you can go ahead and create yourselves a new account. The next command you'll need to enter is:
And that's it. When you come out of terminal back to the home screen, hold down the power button and the menu presented to you will look a little bit like that you see here. Upon selecting your alternatively created user account, it'll be as if you've just fired up your device for the very first time. Tutorials and all.
So, it's pretty cool to try out, and it's great news that it's there -- somewhere -- because it just reinforces the chances that future builds of Android will be seeing this as a full feature. But, while cool, it's far from usable. For one, any app updates that your main account notifies you of allows a backdoor into the Play Store and all the apps you've already purchased. Hitting the Play Store icon from the app drawer does prompt to add a Google account, but with a hole the size of that you aren't going to want to put much faith into it just yet. And, without passwords to protect each login, you're really better off not bothering.
But, we need to remember again that this isn't a feature yet, and it is far from finished. The story is, it should be coming in the future. Maybe a future Jelly Bean update, maybe the next version of Android, who knows. They're obviously working on it though.
Just for a little extra if you want to take a look at this for yourselves, hit the break for a walkthrough video.
Android Central Newsletter
Get instant access to breaking news, the hottest reviews, great deals and helpful tips
I have had multi-user access on my Transformer Prime for ages now. Try an app called SwitchMe, looks like it works just like the Jelly Bean effort. Except it actually works and can be password protected. It will be nice to have it as an official option tho. :-)

I'll wait til it doesn't require root, but still cool to know it's out there

I use Euroskank rom(20120725.005613) with my N7, and I notice the author actually enable the feature under setting > personal > users & restrictions which I can control everything from there(checkboxes which app the guest acct have access) without going thru the terminal emulator. Before I see this post I thought it was the rom's feature, now its good to know its actually Google's internal function. GJ Google! :)

Thanks. Works great! What is the command line to remove a user?

While this is neat, for me, it would be even more neat to have "lockdown" support so we could use Android tablets at work. Options to prevent people from installing apps, launch only approved apps, restrict sites, prevent any settings changes (except selecting WiFi access points). Stuff like that.

Oh heck no, at least not for work. That's a big reason why so many people absolutely hate RIM. My Blackberrys were locked down so tight to meet security regulations they barely qualified as smart phones, and IT could barely keep up administering the dang things. My company is now Bring Your Own Device and uses the Good client for Exchange integration. I can now actually use my phone as a smart phone and IT has a lot fewer headaches to deal with. I'd much rather see more secure apps available. BYOD is what most companies are turning to now, and locking down personal devices would definately not go over well. F Still, I would like to lock down specific accounts for family purposes.

Agreed. Instead of work giving me a phone and then disabling everything let me get my own phone and install one or two "work" apps on it.

Boo! Logic and reasoning like that are the reason why people started bring their own devices in to work. And part of why RIM (infamous for allowing IT to have control and lockdown of devices) to get passed up by Android and iOS. Not gonna happen with Android. It would destroy the whole nature and idea of openness that Android is all about.

This would be great just for the fact that I would not have to keep logging my wife off of facebook from the N7 to stop seeing her damn notifications. Folders make it easy for my kids to have a nice place for their apps, but I still really like the idea. Just make it easy to switch users. An On-The-Fly widget would be great if possible. Also, the only thing that would annoy me, is if the "User" was set up by Gmail account, only because all the kids apps and better tablet apps are under my account. If so, I would hope that you could do at least multiple user setups per Gmail account.

Good point about the Google accounts. It would be nice to have multiple Google accounts on one device, so everybody has access to their stuff. But for everybody's apps to be available to everybody on that device they would have to change to a device-based license rather than user-based. So having multiple accounts under the same user may be the way to go. Or maybe a "household" setup like what Amazon does with Prime.

Just set up an account on my Gnex, and user apps are shared between accounts, but not the app data. That means I could give my phone to my little brother under the guest account, he can play angry birds without having to install it or even log in, and it will start from scratch as if it was just installed.
It's not free of issues (recent apps list allows you to jump into recent apps of other accounts in their saved state, and you can't disable or uninstall apps in a secondary account) but its a good start

SwitchMe will allow you to install completely separate versions of all of your apps. You can use a different Google account for each profile. I use one google account so that all of my purchased apps are available for the whole family. You can set up different user accounts for each app, email, facebook, etc.

Looks good. I can't wait for this to get flushed out. Sometimes I wonder if Google puts stuff like this out there to see what the dev community will do with it before they decide how they want to implement it. I'm just saying...

I believe ChevyNo1 has implemented this on his SimplyStunning ROM for the Nexus 7... :) Just read it today

I'd be happier if Google could figure out a way for users to delete unwanted apps from the Play Store.

The Play store is pretty much unusable and always has been. Pretty pathetic Google can't or won't do better.

Hi all! This seems pretty easy indeed, but I just installed Terminal Emulator and typed in "su", then "pm create-user NAME_OF_USER", and I haven't been able to go any further as I got stuck after "Error: couldn't create user". I surely must have missed something, but then what ...? I rooted my Samsung Galaxy Nexus with Nexus Root Toolkit under Windows 7 64bits and flashed CM 10.1 with TWRP if that's of any help to understand why I can't go any further ... PS: I have both Superuser and SuperSU apps. Could THAT be the problem? --
Samsung Galaxy Nexus Maguro yakju
CyanogeMod 10.1 w/ TWRP

Well, that was because CM 10.1 is 4.2.1 and not 4.1 ...
Android Central Newsletter
Get instant access to breaking news, the hottest reviews, great deals and helpful tips
Thank you for signing up to Android Central. You will receive a verification email shortly.
There was a problem. Please refresh the page and try again.